Not a game: 'Even computer simulation of war with N.Korea is provocation'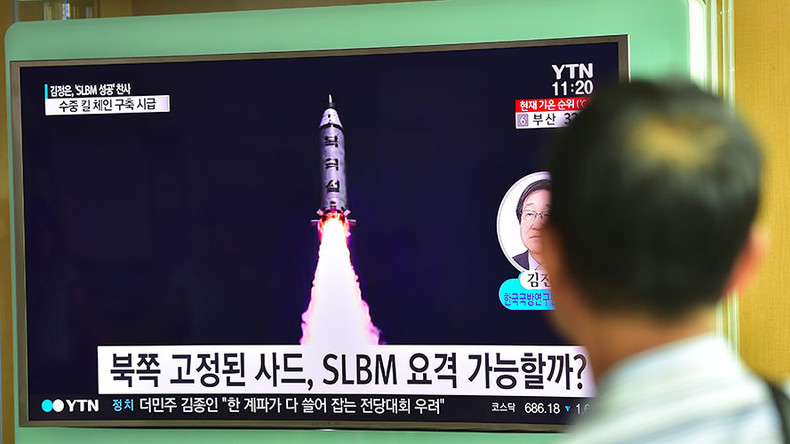 The upcoming exercise is mostly based on computer simulations, involving 40,000 military personnel from the US and South Korea, as well as other nations, including the UK and Australia, says Gregory Elich of the Korea Policy Institute.
North Korea is on edge as the US-South Korea annual military exercises prepare to kick off on Monday. Pyongyang has said the exercises, called Ulchi Freedom Guardian, demonstrate the "most explicit expression of hostility" by outside foreign powers and may "evolve into actual fighting."
The US maintains the games are solely defensive.
RT: How provocative, do you think, are the military exercises being conducted by the US and South Korea?
Gregory Elich: It is definitely provocative. I don't think it is quite as provocative as the military exercises the US conducts in February – March, called 'Foal Eagle,' which are large-scale and involve military hardware. The particular exercise coming up is substantially computer simulation. They do involve about 30, 000 military personnel from the US and South Korea, as well as some other nations, including the UK and Australia. These are mainly computer-based simulations, rather than physical exercises. However, what are they simulating? They are simulating a war with North Korea. So that is a provocative step in itself, and right on North Korea's doorstep.
RT: So an angry reaction from North Korea. How might it respond once the war games start?
GE: They've already sent one response. The Korean central news agency quoted Rodong Sinmun newspaper as saying they will conduct 'merciless strikes' if the US shows any signs of conducting a preemptive war. Of course, this is reported in the US media as North Korea threatening 'merciless strikes.' They left out that 'if' part of that statement. So it is a way of implanting a false narrative in people's consciousness that North Korea is threatening a unilateral war. So North Korea is going to be probably on high alert through these exercises. But again there is a very low probability of a military conflict as a result of these exercises. It is more of a way of sending North Korea the message that the US is not open to dialogue… And North Korea does want dialogue. During a conference on August 6, the North Korean foreign minister approached the Japanese foreign minister and said North Korea is interested in dialogue with the US. He asked the Japanese minister to act as a go-between. That proposal went nowhere. Pyongyang also said that it would not abandon its nuclear program unless the United States drops its hostile policy. So there is an open door for policy if the US chooses it.
High-risk level
John Dunn, Emeritus Professor, King's College, Cambridge
RT: What do you make of the US holding these exercises given the recent spike in regional tensions?
John Dunn: I think they are just getting on doing what they have done for a very long time. Obviously, whatever else is true about President Trump, he is not likely to stop doing something - which has been part of the strategy, if you can call it that, for handling relations with North Korea for decades - merely because he is threatened. It is a very dangerous situation, because what has happened in the past, when North Korea has been attacked – has always been to attack South Korean military or naval targets or land areas. It wasn't facing any serious danger of retaliation. Obviously, if it would attack American forces, there would be retaliation. So it would be a much more dangerous thing for North Korea to do. It is very difficult to tell with North Korea what to take seriously, and what not to take seriously. That is the bottom line. Nobody knows what you should take seriously in the last instance. What clearly should be taken seriously is the level of risk involved in any direct confrontation between American and North Korean forces.
The statements, views and opinions expressed in this column are solely those of the author and do not necessarily represent those of RT.