'Turkish President Erdogan has given up on the European Union'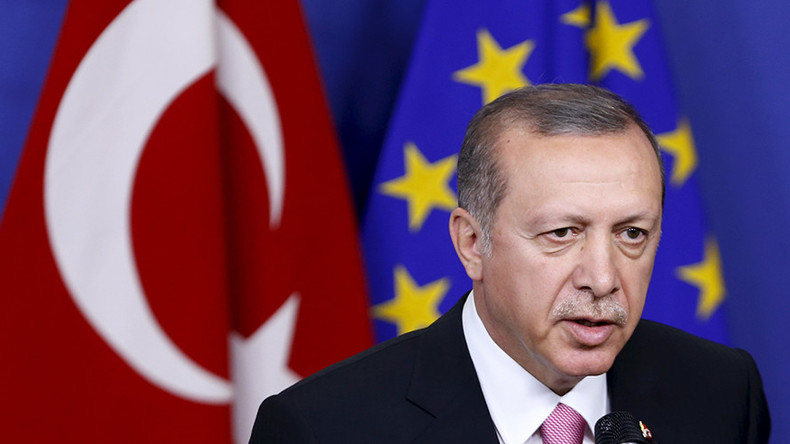 The relationship between Turkey and the EU are further deteriorating, Dr. Rainer Rothfuss, geopolitical analyst and consultant, told RT. Rainer Rupp, publicist and former German intelligence officer, also joins the conversation.  
Turkish President Recep Erdogan urged nearly 3 million German Turks not to cast their vote for Chancellor Angela Merkel's Christian Democrats, Martin Schulz's Social Democrat Party (SDP) or the Green Party in the upcoming German federal election because of the alleged anti-Turkish stance of the parties.
"You should give them the most beautiful lesson by providing your democratic right… You should vote for those who are not hostile to Turkey," Erdogan said Saturday, the Hurriyet daily news reported.
Erdogan's comments triggered a strong reaction from Sigmar Gabriel, the German Foreign Minister, who accused Erdogan of interference in the electoral process.
"That is an unprecedented act of interference in the sovereignty of our country," Gabriel told the RedaktionsNetzwerk media group, adding: "Erdogan's interference in Germany's electoral campaign shows that he wants to incite people in Germany against each other."
Erdogan fired back, telling the German diplomat to "know his limits."
RT: To what extent do you think Erdogan's call will influence the way the Turkish community in Germany votes?
Rainer Rothfuss: I think it will not have a strong influence on the Turkish community because they – with their German passports – seek to integrate into German society. And if Erdogan tries to divide the population with German passports, no matter what is the ethnic background, this is very unwise. I think Erdogan has harmed the relationship between Turkey and Germany a lot by interfering in such a blunt and open way into the German electoral process, and I wonder what the objective is because it just helps those parties he has been criticizing because now they can rally to show they are against this 'dictator' Erdogan, and they will collect more votes even among the regular German voters.
I think it is the most unwise thing that a head of state can do to interfere in the elections of a sovereign country, and therefore I also think that the relationship with the EU are further deteriorating, and this is just a way how you can further measure this. We have moved into a dead-end road between Turkey and the EU and I ask myself how mutual trust can be found again.
I think [Erdogan] has given up on the European Union. We can see that in his rhetoric, and in his rapprochement with Russia and discussions of buying the S-400 [Russian-made missile defense system], for example. I think he is not interested anymore with the European Union. And I think it is more than just a verbal deterrence. I think it reflects some deep schism that has developed between Germany, the EU, NATO and Turkey. - Rainer Rupp, to RT.
RT: What would it take for Turkish-German relations to start improving now?
RR: I hope that Erdogan will return to a normal state of affairs in politics and not lash out at individual persons anymore because this is a level of policymaking that is not really productive. And of course there were tensions because Erdogan was banned from making propaganda for his own election, his own referendum, in Germany. But we are not talking about election campaigns taking place in Turkey, but he's really meddling in internal German affairs. This is not very wise, but on behalf of the German government, it is also necessary to improve relations with Turkey because it's a very important partner…
The statements, views and opinions expressed in this column are solely those of the author and do not necessarily represent those of RT.