'By creating failed states, West creates new markets for security firms'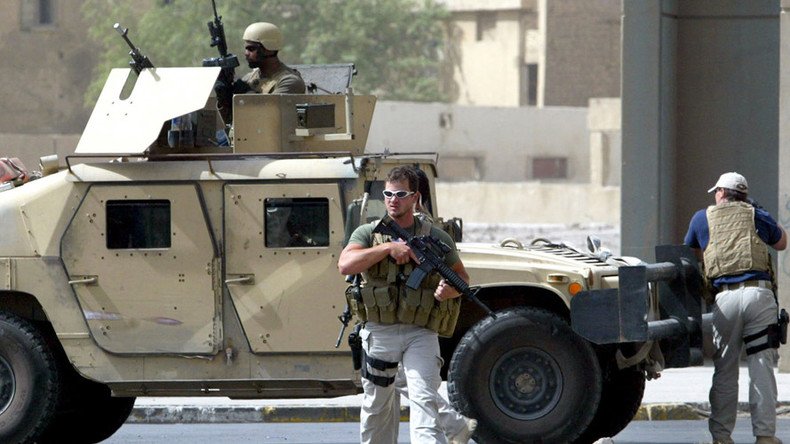 Private security is a huge growth industry that goes hand in hand with the Western strategy of creating failed states which can't ensure the safety of their people, says writer Dan Glazebrook.
The US Court of Appeals on Friday ordered the retrial of Nicholas Slatten, a Blackwater security guard charged and convicted of being involved in a massacre in Baghdad's Nisour Square in September 2007 resulting in the death of 14 unarmed Iraqi civilians.
"The Court concludes that the district court abused its discretion in denying Slatten's motion to sever his trial from that of his co-defendants and therefore vacates his conviction and remands for a new trial," the US Court of Appeals stated.
The court also ordered the re-sentencing of three operatives from the private US security contractor formerly known as Blackwater, indicating that the sentences of 30 years were too harsh.
Political analyst Dan Glazebrook says the court's decision only means there will be a retrial and the accused are not acquitted, but it might be "part of a broader move by the West, and especially in Britain and the US, to make it absolutely clear to the rest of the world that they have impunity."
Glazebrook said there had been similar rulings by British courts, including the High Court blocking a bid by an Iraqi general to bring a private prosecution against former Prime Minister Tony Blair over the war he launched in Iraq.
"The International Criminal Court consistently refused to touch anyone from Europe or North America for their crimes. And we've also seen the collapse of trials against British Army soldiers, similar to the recent case in the US, and the overturning of sentences and convictions of British soldiers for war crimes. I think this is really the kind of a broad trajectory of showing to the world that British, US forces have impunity and that extends to their mercenaries as well," Glazebrook said.
The analyst recalled that in 2011 the then Iraqi Prime Minister Nuri Kamal al-Maliki refused to sign a deal that would grant US troops and mercenaries immunity.
"That was a big cause of friction between the US and Iraq at the time. There had been scandals of private contractors in Afghanistan running private torture dungeons," he told RT.
According to Glazebrook, private security "is a huge growth industry."
"In an era of overproduction and ongoing stagnation and recession and so on, it is really important to see that what the West is doing is creating one failed state after another. And that is creating new markets for private security. Because it is creating a situation in which you are destroying states that could provide security for people, and you are basically saying anyone with the money is going to have to pay private security firms to deliver these services. This is really a growth industry that's led by Britain, the US, and Israel… and it goes hand in hand with the Western strategy of creating failed states which create the markets for this," he said.
'Blackwater case shows lack of public scrutiny over mercenaries'
There is a lack of public accountability and scrutiny over the activities of private military and security companies (PMSC); international tribunals and international rules should be used to attribute responsibility to the security contractors, says Felipe Daza, founder of 'Shock Monitor.'
Daza argues that Friday's decision by the US Court of Appeals is actually "a positive message."
However, he told RT, this move is coming late and "it's not enough."
"I would like to give you a figure to show you the proportion of the impact of Blackwater, for example, in Iraq during the occupation. In October 2007, a Committee on Oversight and Government Reform from the US assessed that during the period from 2005 to 2007 Blackwater was involved in 195 incidents involving firing," he said.
Daza said that even Blackwater "reported that during this period 16 Iraqi casualties occurred and [there were]162 incidents with property damage."
"You can imagine a grave impact on human rights provoked by Blackwater," he said.
However, he went on to say, the majority of these cases "were not going through judicial process."
"From our reports, we could tell you that in the sector of PMSCs we analyzed about 200 right now. Only 50 percent of these incidents undertake a judiciary process, and only 10 percent of these cases resulted in effective reparation and compensation for the victims," Daza said.
He hopes the ex-Blackwater security guards will get "tough sentences" if the case goes to retrial "because it is the most notorious case of PMSCs in Iraq".
"Reexamination is positive but it is not enough… There is a lack of public accountability and scrutiny over these activities. We need to use international tribunals and international norms in order to attribute responsibility to the security contractors," Daza said.
The statements, views and opinions expressed in this column are solely those of the author and do not necessarily represent those of RT.
You can share this story on social media: