Was it 'insane' of Trump to hire Scaramucci or is he 'Machiavellian genius'?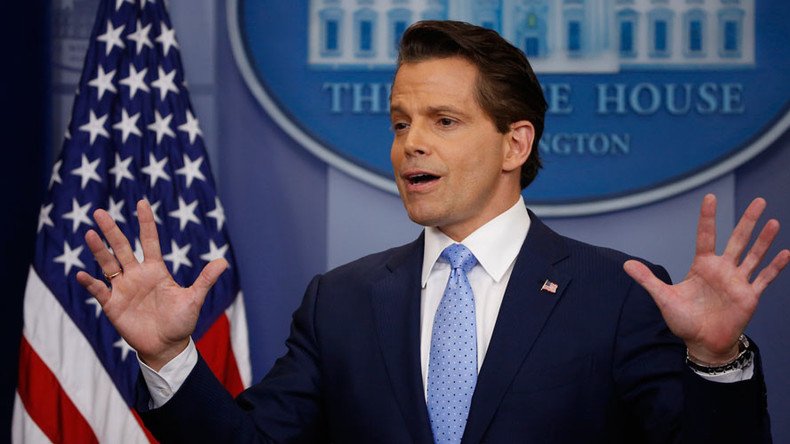 For Trump detractors the dismissal of incompetent Anthony Scaramucci is manna from heaven, says media analyst Lionel. Scaramucci would be better than having a boring risk-averse communications director, argues journalist Mike Cernovich.
After just ten days in office, Anthony Scaramucci has been sacked as White House Communications Director. His dismissal is widely regarded as an attempt by the US president's new chief of staff John Kelly to assert his authority.
RT spoke to experts for their take on Trump's decision to dismiss Scaramucci.
The political analyst and writer Charles Ortel described the move as an absolutely "correct thing to do."
"I think Anthony Scaramucci has accomplished a lot in his life; he is going through, as it turns out, his second divorce. It will probably be very difficult, the birth of a new child. And those comments were just so far over the top; it left Trump with no alternative but to do what he did do," he said.
As to why Scaramucci – who had no experience in the industry – had initially been picked as a communications director, Ortel argued that "in his job, he was heavily involved in big industry conferences with very famous people."
"He started out there in Las Vegas gathering hedge fund people. He has made many presentations. Did he go to journalism school? No. But did he have a lot to learn? Obviously, yes. Will he get a chance to learn it? Not so much," he said.
Lionel, political and media analyst, says the dismissal of Scaramucci is "a brilliant decision after a stupid decision of putting him there in a first place."
"Scaramucci is the Jordan Belfort, the Wolf of Wall Street, he is a jerk, he is a punk, and he has no business being anywhere near the White House," Lionel said.
"In New York, we run into these Wall Street clowns all the time…The last thing this president needs is a lightning rod…It is hard to find people more incompetent and out of his league than this child who basically was saying "I am going to fire you and you."…This was funny," Lionel added.
"Did Donald Trump appoint Scaramucci because he is incompetent and insane as the president or is he a Machiavellian genius - deliberately placed [him] to cause a distraction?" Lionel said.
According to the media analyst, this latest scandal is "manna from heaven" for Trump detractors.
"But then again it distracts because as you know our mainstream media just want any low-hanging fruit that they could jump on to make the president look bad. Meanwhile, you have a world calamity that is facing us; we are not even talking about that…we are talking about potential World War. But now we are talking about Anthony the Mooch," Lionel said.
Journalist Mike Cernovich called the dismissal "a disaster and a terrible thing."
"General Flynn was fired. Jeff Sessions is being attacked. And now Scaramucci is out. If you are a person with considerable talent, then do you really want to give up your job? Scaramucci sold a company... Jeff Sessions was a Senator of Alabama, and he would have been Senator forever. Do you really want to give up your life and take the chance of working in a Trump White House if you are somebody who has talent? In my view, you are going to be very cautious about that. So, the kind of people who now are going to be applying for jobs in the Trump White House are going to be mediocrities," Cernovich explained.
He said: "In terms of Scaramucci's rampage, which people called vulgar, Trump has said a few things that were inappropriate, too. Scaramucci was very well liked by the base; he is very aggressive. They needed somebody forward-thinking. Trump right now doesn't need the risk of those people like Sean Spicer. He needs people who are sometimes going to go over the line because they are maybe a little too aggressive: that is how you push your message forward – you are going to cross lines."
In Cernovich's opinion, Scaramucci would be "far better than having another boring risk-averse communications director who views his or her job as to answer emails from the Washington Post."
The statements, views and opinions expressed in this column are solely those of the author and do not necessarily represent those of RT.
You can share this story on social media: