Economics first: 'US Congress clearly targets Nord Stream-2'
Published time: 27 Jul, 2017 16:28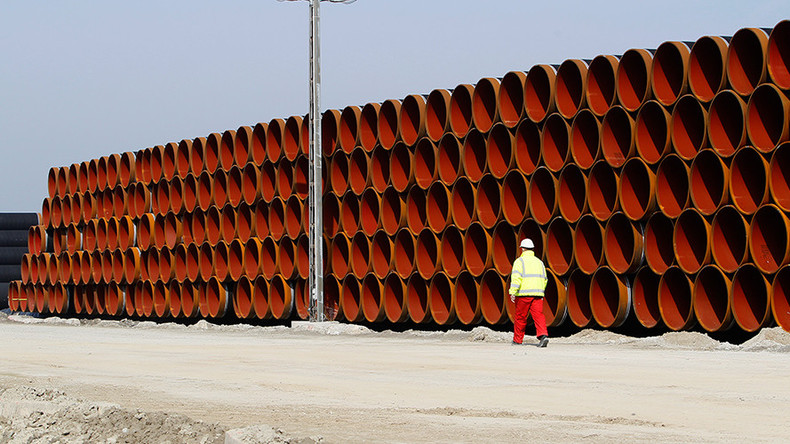 Economics is the key motive for new Russia sanctions, experts say. Even if the US oil and gas industry wants to push Russia out of the European market, proximity and the historical development of European energy markets will make that impossible, they add.
RT discussed the new round of economic sanctions against Russia passed by the House of Representatives with analysts.
Francis Perrin, Senior Research Fellow at the French Institute for International and Strategic Affairs
RT: France says the sanctions could be a breach of international law. To what extent is that true?
Francis Perrin: France is referring to the extraterritorial character of future US sanctions. It is something, which is not totally new. You will recall that in the 1990's – it was [Senator Alfonse] D'Amato law; the US Congress decided to impose sanctions against non-US companies working in Iran and Libya. So it is part of an old story revisited according to the present context. As far as France is concerned, extraterritorial sanctions are not legal, because the US can only sanction US companies, and not European companies, or more broadly – non-US companies.
Frank Schauff,Chief Executive of the Association of European Businesses (AEB) in Russia: "As a business association we are in favor of calming down the conflict, we are not in favor of sanctions. And I am not sure if counter sanctions against the US are going really to help and solve the problem. We assume that there need to be political talks in order to clarify the situation between Russia, the EU, and the US."
RT: France participates in the Nord Stream-2 pipeline project. Will this force Paris to stand up to the US over the sanctions?
FP: Clearly the Nord Stream-2 project is targeted by the US Congress. You will recall there are some new projects of gas pipelines from Russia to Europe. The most two advanced are the Turkish Stream: Russia - Black Sea, Turkey, Europe; and the Nord Stream-2: Russia, Baltic Sea, and Germany. As far as the Nord Stream-2 project gas pipeline is concerned, we have Gazprom with little more than 50 percent interest in the project. We also have five European companies; two German companies: Uniper and Wintershall, the Anglo-Dutch Royal Dutch Shell oil and gas group, the OMV, Austrian oil company, and ENGIE, which is the gas group in France. So as far as the EU and these different countries are concerned, their fear is that if the bill is adopted by the US Congress, which is very, very likely and if it is not vetoed by President Trump, which is not very likely, some of these European companies could be in the future targeted and sanctioned due to their participation in the Nord Stream-2 gas pipeline project between Russia and Germany.
Ben Margulies, International Politics, Warwick University
RT: Why is the US apparently not listening to the EU's concerns over the sanctions? Who benefits from this bill?
Ben Margulies: There are certainly interests in the US that want to promote the sale of American gas as opposed to Russian. That would have been one of many interests that are pressing on Congress in their decisions to enact these sanctions. So it is not if the sanctions are some vast plot by the US oil and gas industry. That said – even if the US oil and gas industry wanted to push Russia off the European market, simple proximity and the historical development of European energy markets would make that impossible. It would take years to reorient European energy consumption. So the effect on gas markets and oil markets in Europe isn't going to be particularly large.
Gerry Sussman, Portland State University
RT: German officials suggest these sanctions are all about boosting US gas supplies to Europe, rather than countering foreign aggression. What do you think is the motive?
Gerry Sussman: Economics is always the first motive. US economic domination of Europe is very sensual – they can't brook competition from Russia or any other country – that is certainly part of it. It is also politically a way of building some sense of solidarity in a Congress that is otherwise passing almost no legislation. So this builds some coherence between the two parties to make it appear that they are actually engaged in some activity. Russia is a convenient scapegoat. We know that the premise of these kinds of actions are not proven. The premise about Russian intervention in the American election is unproven, and yet they act as if it were…
The statements, views and opinions expressed in this column are solely those of the author and do not necessarily represent those of RT.