'Tens of thousands of Americans die each year because they have no access to healthcare'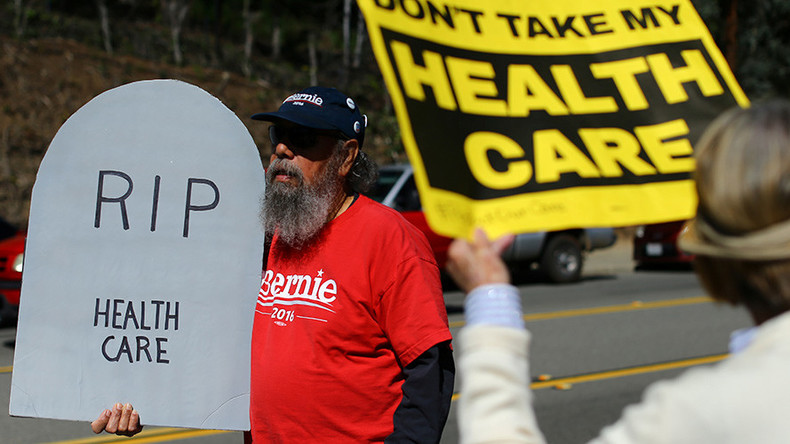 In many countries, people can see a doctor when they are sick, but in the US it is still the case that tens of thousands of Americans die each year because they have no access to health care, says former congressman from Florida, Alan Grayson.
The Senate GOP is reeling after having to postpone a vote on their healthcare bill. Now they are hitting back at the Democrats with a new ad released by the RNC. The ad shows footage of Democratic lawmakers attacking Republican attempts to repeal and replace Obamacare.
It comes with a challenge to the Democrats to come up with their own plan to replace a bill even they admit is flawed.
RT America's Ed Schultz speaks with former congressman from Florida, Alan Grayson, for his views on this pressing issue.
RT: What do you make of this back and forth? Do the Democrats have to lay out exactly how they would fix Obamacare?
Alan Grayson: This is a new blood libel from the Republican Party. We have a healthcare program in this country, it is called Obamacare. It is a strong effort to achieve what every other major country in the world has achieved and that's called universal healthcare. What this debate has done – it has fleshed out a division among the elites in this country, both Democratic and Republican. The Republican elites believe that healthcare should be only for the healthy and the wealthy. And Democratic elites don't believe that, they believe health care should be for everyone, as the public feels.
RT: The Democrats gave up on the public option. Last week Chuck Schumer says some of our members are even talking about the public option. It's almost like they're revisiting territory that they should have taken a long time ago. But what I've noticed in this debate is that there's really only a handful of Democrats, Bernie Sanders in the lead, that's willing to even talk about universal healthcare. If you take a poll in this country, the majority of Americans want it. Where is this going to end?
AG: It's going to end with universal healthcare. That's where it's headed because that's what the public wants and the Republicans and their corporate owners are not going to be able to resist that forever. We started on this road in 1965 when we extended universal healthcare to everybody on their 65th birthday and we're going to finish the job. It's just a matter of time and deciding how and when. It could happen because of a public option, it could happen because we'll gradually lower the age of qualification and eligibility for Medicare. But it is inevitable because healthcare is a human right.
RT: The Democrats, their best move at this point? What is your opinion?
AG: To keep fighting for universal healthcare and to make it a moral issue. The public is with us. As you point out, overwhelmingly the public here understands what that in virtually every country in the world that has the pride of calling itself a successful country everybody can see a doctor when he or she is sick. In this country it's still the case that tens of thousands of Americans die each year because they have no access to healthcare, because they can't see a doctor when they're sick.
The statements, views and opinions expressed in this column are solely those of the author and do not necessarily represent those of RT.
You can share this story on social media: