Shhh...A football tournament in Russia has been a great success!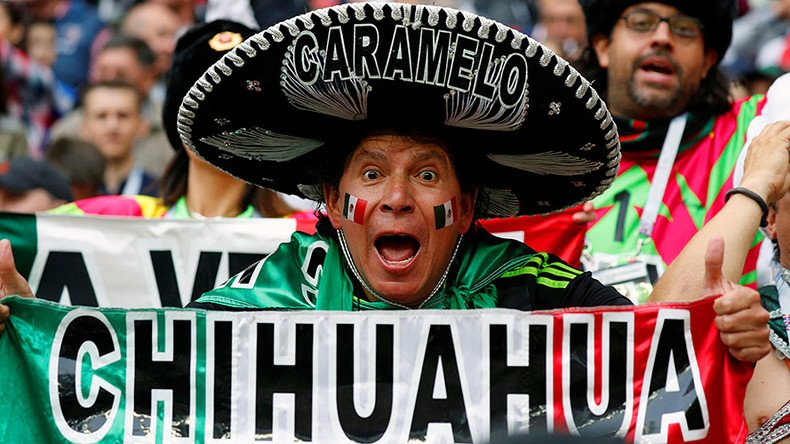 Reigning World Champions Germany will play South American Champions Chile in the final of the 2017 Confederations Cup in St Petersburg on Sunday. The tournament has been a highly enjoyable prelude to next year's World Cup in Russia, both on and off the pitch.
Matches have been played in front of enthusiastic crowds across the country, and the experience of fans has been very positive.
That's in sharp contrast to the negative predictions made by sections of the Western media beforehand.
Now, we can take it as a general rule that whenever major sporting tournaments are held outside the US, Australia, Canada or Western Europe, there will be a doom and gloom prognosis about the event. Stadiums will not be built in time, or if they are, they will not be safe. Fans will be victims of muggers, murderers, hooligans, racist attacks, earthquakes, terrorism - take your pick. Those attending face the danger of being arbitrarily arrested and will encounter shocking police brutality. There will also be lots of articles about the unsuitability of the country in question to host the event. Human rights issues and problems of corruption will be amplified. The gap between the wealthy and poor in the country concerned will be a big issue for those who don't seem particularly interested in the gap between rich and poor at home. Let's think back to 2010.
When the football World Cup was held in South Africa (the first time the tournament had been held on the African continent), we were told the country was too dangerous for supporters to visit. There were predictions of fans being caught up in a "machete war." One newspaper columnist in Britain joked that he was "updating his will" before going.
The tournament was very well policed, and while much of the football was sterile, off the pitch, it was a great success. "The crime and crumbling stadiums that the doom-mongers warned of failed to materialize," said The Guardian. "It was hard to find many overseas visitors with negative words for the hosts, save for the odd grumble over prices or transport, with the warmth of the welcome and infectious enthusiasm almost universally praised," wrote Owen Gibson in a piece entitled South Africa leaves a World Cup legacy to remember.
There were similar warnings about infrastructure and fan safety before the 2014 World Cup in Brazil. But, surprise, surprise, the tournament, like the one in South Africa, turned out very well. As indeed did the 2012 European football championships held in Ukraine and Poland. "Are Poland and Ukraine ready to host a festival of football?" asked CNN in December 2011. Guess what? They were.
With tournaments held in 'official enemy' Russia, new 'concerns' are added to the usual doom-monger pre-tournament mix. Before the Winter Olympics in Sochi 2014, there were inevitably the standard stories about "rampant corruption" and unfinished stadiums/hotels. The Washington Post helpfully presented its "15 Alarming Signs that Russia is not very ready for the Olympics" which included a warning about "loose terrorists" and journalists "live tweeting gross and hilarious hotel mishaps."
To these "signs" that Russia wasn't ready, there were also added dire warnings that LGBT people planning to visit the Games would be in danger. Russia's recently-passed law banning the promotion of homosexuality to minors was dishonestly presented as one which banned homosexuality altogether. There were calls by Western 'liberals' for the Games to be boycotted. Interestingly, Britain had a very similar law ('Section 28') which banned the promotion of homosexuality by local councils and schools, which was in force from 1987 to 2003,yet there were no calls for sporting tournaments held in the UK during this time, such as the 1996 European Football Championships, to be boycotted. Sochi showed us that the double standards when it comes to Russia and the issue of gay rights are off the scale. As I noted in a 2014 OpEdge, the French President Francois Hollande, boycotted the Opening Ceremony of the Sochi Games, yet he made a two-day visit to Qatar, where homosexual activity, unlike in Russia, is illegal, and talked gushingly of the "mutual respect and understanding" between his country and the Gulf state.
"Isn't it strange how Western leaders' concern over gay rights seems to evaporate when they visit Gulf countries, and there's business to be done?" I observed.
In fact, the Sochi Games were a great success for people of all sexual orientation. Western media pitched up at the Mayak gay club desperately looking for tales of persecution but left disappointed. "The regulars at Mayak say they have no trouble from police or skinheads in Sochi, a relatively tolerant city by Russian standards. Indeed, the only unwelcome visitors these days are foreign camera crews, nightly visitors thrusting their cameras into the face of punters and demanding to hear their horror stories," wrote The Guardian's, Shaun Walker.
Contrary to the WaPost's 15 'alarming signs,' Russia had proved itself very ready to host a major sporting tournament.
"Sochi promised excellent sports venues, outstanding Olympic villages and impeccable organization. It delivered all that it promised. The athletes themselves praised every aspect," was the verdict of IOC President Thomas Bach.
By now though the Russia-bashers had moved on trying to sabotage the 2018 World Cup. In April 2015, appropriately enough on April Fools' Day, it was reported in the LA Times that a group of US Senators, including the rabid Russophobe John McCain, had sent a letter to FIFA, world football's governing body, calling on them to move the tournament away from Russia. According to these uber-hawks, allowing Russia to host the World Cup "inappropriately bolsters the prestige' of President Putin's "regime at a time when it should be condemned." Got that? According to McCain and co, the only countries whose leaders they approve of should be allowed to hold major sporting events. FIFA, I'm pleased to say rejected McCain's ludicrous interference. But that hasn't stopped the doom-mongers doing all they can to put football fans off from going to Russia to watch the 'beautiful game.'
In February 2017, the BBC's Panorama, a once excellent program noted for its objective journalism, promoted the neo-con anti-Russian agenda with a completely o.t.t. edition entitled Russia's Hooligan Army. One leader of a Russian fan group, Vasily Stepanov, told RT how his words had been misconstrued in the film and in subsequent Western newspaper reports. "Yes, I did participate in the film, but I am amazed at how they twist my words in the media now," he said.
The Russian Embassy was so incensed by the documentary it issued a statement which said: "One gets the impression that its goal is to sow fear in British society and warn the fans against traveling to Russia."
A similarly sensational warning to fans planning to visit Russia was made in a piece published by Mail Online in October 2016, which said that drunk English supporters would be held in ''fearsome detention centers" where they would be "stripped naked" and "tied to a bed" until they sobered up.
Before the Confederations Cup, there were further scare stories. A traditional Russian pancake festival, which features wall-to-wall (stenka na stenku) sparring, was presented as "The Ultras in Violent Action."
The caption "People are living in Fear," appeared under a picture of old ladies selling shawls.
It's just as well the fans traveling to the Confederations Cup didn't read any of this tripe, or if they did, they ignored it. "Sochi is like our country," was the verdict of one fan from Cameroon. "There is so much sun; people are very sociable. You do not feel like you are out of your country, you feel like you are at home."
Mexican fans were equally upbeat about their experiences. David 'El Rey' said of the Russian people he had met in Kazan: "They are very welcoming, very humble. The complete opposite of what is thought at times from the outside…..Everybody is just awesome, super friendly. And the atmosphere, as you see here, has been like this the whole time, nonstop and it's very, very welcoming."
A New Zealand fan said, "We came open-minded and have been greeted warmly."
Meanwhile, The Guardian reports: "Despite fears about hooligans, Australian supporters have found friendly hosts and efficient organization."
The very positive experiences that supporters have had in Russia augurs very well indeed for next year's World Cup. "Russians are so excited to have football fans come to them next year it's reminiscent of my trips to Brazil, Ukraine and South Africa: all maligned pre-tournament, all lauded post-tournament," writes the commentator and former Liverpool and England player Stan Collymore, who has been reporting on the Confederations Cup for RT.
Who would you rather listen to, and trust, on the suitability of Russia holding the next World Cup: the well-traveled Collymore and football fans from all over the world who have attended matches in Russia, or Senator John McCain and a bunch of embittered neocons? Hardly a tough call, is it?
Ignore the doom-mongers and start planning for your World Cup trip in twelve months time. Win, lose or draw, a great time will be had by all.
Follow Neil Clark on Twitter @NeilClark66
The statements, views and opinions expressed in this column are solely those of the author and do not necessarily represent those of RT.
You can share this story on social media: