The Comey nothingburger: Why ex-FBI director's testimony won't topple Trump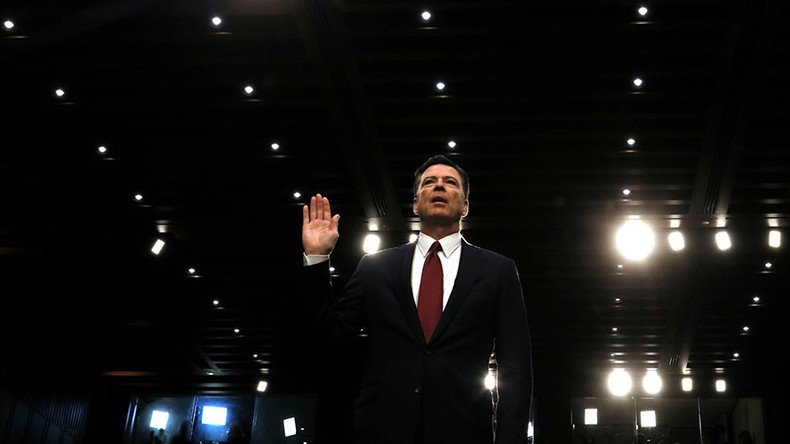 Far from sinking President Donald Trump for alleged obstruction of justice and collusion with Russia, the Senate testimony of former FBI chief James Comey revealed media lies, the prior administration's improper political pressure, and his own disloyalty.
Comey's appearance before the Senate Intelligence Committee on Thursday, a month after his surprise firing by Trump, created an unprecedented media frenzy in Washington. Major cable networks featured "countdown clocks," bars across the US capital organized viewing parties, and the committee even took the unique step of releasing his prepared remarks the afternoon before.
Three hours later, the result was closer to cartoonist Ted Rall's prediction than to mainstream media's fever dreams. Comey did start out accusing Trump of lying about himself and the FBI and asserted (without offering any proof whatsoever) that Russia had absolutely attacked the US during the 2016 presidential election.
He also confirmed Trump's claims about a lack of a FBI investigation, and dropped a bombshell about former Attorney General Loretta Lynch, who allegedly asked him to describe the Clinton email probe in terms used by Hillary Clinton's presidential campaign (which he dutifully did), and falsely claimed he leaked his notes to the press after Trump tweeted about having tapes - when the New York Times report based on them appeared a day prior.
Let's look at some of those things in turn and their potential fallout. Many a Democrat was smiling when Comey accused Trump of "defaming" him and the FBI by saying he had lost everyone's confidence.
"Those were lies, plain and simple," he argued.
Just days before he was fired, however, Democrats - and Hillary Clinton personally - were accusing Comey of costing them the election with an October 28, 2016, letter about Clinton's emails. Republicans had lost faith in him months earlier, in July, when Comey took the unusual step of giving a press conference announcing the closure of the Clinton email probe, and saying "no reasonable prosecutor" would have pressed charges.
"You can call us wrong, but don't call us weasels. We are not weasels," he told the House Judiciary Committee in September, in defending his actions. It was an odd choice of words because nobody had used that term.
On Thursday, however, Comey revealed weasel-y actions of his own. First, he obeyed then-Attorney General Loretta Lynch when she told him to call the Clinton email investigation a "matter," in language mirroring that of the Clinton campaign. Secondly, Comey revealed he began taking notes about his meeting with then president-elect Trump after a combination of "gut feeling" and "nature of the person" made him believe "he might lie about our meeting."
"I was in a J. Edgar Hoover type situation," Comey told Sen. Susan Collins (R-Maine), referring to the notorious founding FBI director. Comey argued he didn't want Trump to think he was trying to hold something over him. But when Trump allegedly asked him for loyalty, or about his ousted aide General Flynn, or about clearing him publicly (like he did Clinton), Comey literally chose to do just that - he wrote it up, shared it with the FBI leadership, and didn't bring it up with anyone at the Department of Justice.
Later on, Comey told Sen. James Lankford (R-Oklahoma) that many news stories based on supposedly classified information, including many about Russia, were "dead wrong." He also compared journalists to a flock of "seagulls at the beach," explaining why he chose to leak his notes through a friend. He trusted that same media to correctly report the content of his memos, which he incorrectly claimed were released only after Trump's tweet about "tapes."
For all of Comey's protestations that the FBI is the pinnacle of professionalism, there are ample examples to the contrary. Leaving aside the Clinton email probe, there is the matter of FBI agents posing as journalists to infiltrate a rancher group that clashed with the Obama administration.
Then there was Comey's crusade against encryption, parallel to the FBI's efforts to force Apple into creating and handing over a master key to iPhones because the agents investigating San Bernardino terrorist Syed Farook screwed up and accidentally locked his device. The FBI eventually paid a foreign company (reportedly Israeli) an undisclosed amount of money (rumored to be close to $1 million) for a hacking tool - and found nothing whatsoever helpful to the case.
Perhaps what Comey really wanted was to tell the Senate and the People of America how virtuous he was - and Trump wasn't. Fair enough. But he ended up saying a whole lot more besides. Now citizen Comey may find himself under investigation for leaking privileged information to the press, as Trump's lawyer Marc Kasowitz announced Thursday afternoon.
To observers of goings-on in Washington over the past year or so, Thursday's train wreck had every hallmark of a very familiar scenario, in which the media and the Democrats loudly herald something to be the certain downfall of one Donald J. Trump, only to suffer the same fate as Charlie Brown over and over again, as Lucy snatches that football away.
Meanwhile, President Trump is left to savor the big juicy nothingburger, cooked way past well-done and served with a ketchupy mess. Just the way he likes it.
Nebojsa Malic, for RT
The statements, views and opinions expressed in this column are solely those of the author and do not necessarily represent those of RT.
You can share this story on social media: