Iran attacks: 'Saudi Wahhabi ideology is main culprit'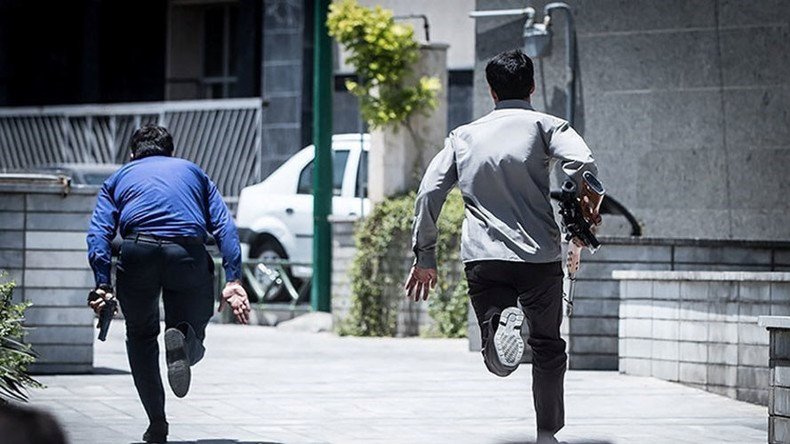 It's highly possible ISIS was, as it claims, behind the attacks in Iran as the group is interested in stirring up a Sunni-Shiite conflict, analysts told RT. However, other groups and regional player involvement can't be ruled out, they add.
ISIS has claimed it is behind the twin attacks at the Iranian parliament and Ayatollah Khomeini's shrine in Tehran that killed at least 12 people and injured dozens more.
Mark Almond, director of the Crisis Research Institute, doesn't rule it out as it is "certainly a possibility" that ISIS was behind the attacks, however, other terrorist groups could also be involved.
"ISIS has an interest in stirring up a Sunni-Shiite conflict. Iran is the major Shia power in the Muslim world, and there are big tensions between Iran and its Sunni neighbors – particularly Saudi Arabia. But also Iran has been helping both the Shia-led government of Iraq… to fight against ISIS in Northern Iraq and Mosul. Also, it helps President Bashar Assad in Syria against ISIS. So they have an agenda that makes sense for the ISIS group to try to stir up trouble to distract attention to attack its enemy," he told RT.
The expert also mentioned an anti-Iran Mujahedeen group based in Iraqi areas "controlled by the US or by its Kurdish allies."
"So one other dangerous conflict along with the Sunni- Shia conflict – is some Iranians are already pointing the finger at the Kurds of the Northern Iraq, and saying these attackers were trained or facilitated in the Northern Iraq in the Kurdish area. So we have conflicting claims but they are symptoms of deep antagonisms within the region."
"One big ramification [of the attacks] is how it links into the current crisis between Saudi Arabia and Qatar – between the biggest Sunni fundamentalist state and its oil and gas-rich neighbor - because Qatar has good relations with Iran. Saudi Arabia, its allies, and President Trump have said that Qatar is a problem because of its relations with Iran, because of its media, its Al Jazeera station is supporting radical critics of the monarchies. But also because they say it support fundamentalist terrorist groups in Syria and Iraq, which is a little bit the pot calling the kettle black, after all. It is rather like Saudi Arabia is in a sense the paymaster of terrorism accusing the quartermaster of terrorism of supporting terrorism."
Middle East expert Catherine Shakdam said it was "expected" that ISIS would claim responsibility for the bloody events in Tehran.
"I'm going back to what Prince Salman said in Washington just a few weeks ago. Then the kind of behavior ISIS has demonstrated toward Iran and the threats that have been made by many radicals, because Iran is being perceived as representing, even though it doesn't claim to do so – Shia Islam. Then, therefore, Iran has become a target," she told RT.
The political agenda has also to be considered, she added.
"Iran has just conducted quite successfully it is presidential elections, everything went according to plan: it was peaceful, it was progressive. Iranians decided what future they wanted for their country – they reelected President [Hassan] Rouhani."
The timing of the attack and the fact the parliament was targeted makes it clear that there is a desire to spread fear and "make people have a sense of insecurity and maybe doubt in their officials and how they can protect them within their own borders and territory," Shakdam told RT.
The analyst is confident there is "more than a connection" between the attacks and Saudi Arabia.
"We have to stop tiptoeing around the idea that Saudi Arabia has nothing to do with ISIS. If anything ISIS is the weapon that Saudi Arabia has wielded around the world to promote its agenda. ISIS has bred on Wahhabism. Wahhabism is the state religion of Saudi Arabia," she said. "We have to wake to this narrative and stop looking the other way just because Saudi Arabia has a lot of money to throw at people and media so that people turn away and remain silent."
Praising Saudi Arabia as a US friend because of their arms deal, Trump said that would bring Americans "jobs, jobs, jobs."
"I don't know about 'jobs, jobs, jobs,' what I know that on the back of this deal then you had the Manchester attack, and then you had the Baghdad attack, where people were murdered just as they were stepping outside having ice-creams," Shakdam said. "You have to realize that foreign policy has a direct impact on what is happening in the world today in terms of terrorism and the promotion of terrorism."
Saudi Arabia, in her opinion, was offered a carte blanche. The Saudi regime, according to the analyst, "are the ideologues" of ISIS."
"And now they are trying to pin it on Qatar. I am not saying that Qatar is an innocent party here…But at the same you can't just blame one, and not understand that it's stemming from the same idea, from the same ideology, from the same narrative of exclusion, sectarianism," Shakdam added.
Saudi Wahhabi ideology is to be blamed for the Tehran attacks even if the Saudis were not involved, says Mohammad Marandi, political analyst, University of Tehran.
He recalled that ISIS "attempted to carry out different attacks in Iran over the past few years, but their people were captured."
"One main reason why the Iranians are in Syria and in Iraq was, because from the very beginning in Syria these groups were being funded from the outside, and the Iranians knew that if Syria and Iraq fell, then this catastrophe that we're seeing in these two countries and have been seeing, will extend to Iran. I think it is quite probable that ISIS was behind it. But at the end of the day, it is Saudi Wahhabi ideology that is the main culprit," he told RT.
Hamed Mousavi, a professor of political science at the University of Tehran says that just weeks ago ISIS published an anti-Iran video.
"In that video, they make it very clear that they believe Iran, Russia, and Assad are fighting ISIS forces within Syria and in Iraq. Essentially they want to retaliate. They have openly said that they would do so," he told RT.
"Nevertheless, within Iran, the mood is very anti-Saudi at the moment because Saudi Arabia in recent weeks [has] threatened Iran on numerous occasions – both Mohammad bin Salman [Al Saud], the deputy crown prince, as well as Adel al-Jubeir, the foreign minister of Saudi Arabia. In Iran, if this turns out to be ISIS, then Iranian authorities will see Saudi Arabia as being responsible for this," Mousavi added.
The statements, views and opinions expressed in this column are solely those of the author and do not necessarily represent those of RT.
You can share this story on social media: