In Europe, Donald Trump is making Russia great again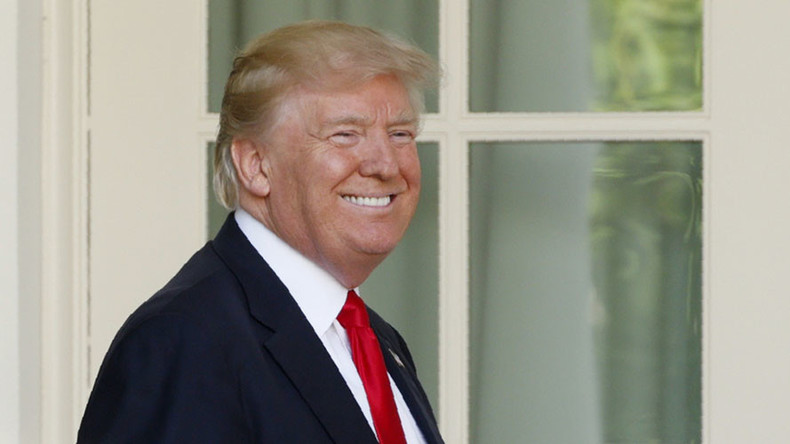 Under Barack Obama, America succeeded in driving a wedge between Russia and the European Union. After a few months of Donald Trump, it appears Russia is slowly moving back into the French and German good books.
The old cliche says "Americans were Europeans who went west and Russians were Europeans who headed east." And by the middle of the 19th century, Washington was expanding into the Wild West, and St Petersburg, the then Russian capital, was busy forming cities in the Far East of Asia.
Then, one hundred years later, they spent the second half of the twentieth centennial competing for influence in Europe, before the US was able to claim victory after the fall of the Berlin Wall, in 1989. However, drunk on power during its "unipolar" moment of world hegemony, Washington indulged in a series of arrogant policy overreaches which jeopardized its popularity in Europe. Most notably, they included George Bush's illegal invasion of Iraq and the Guantanamo Bay horrors plus Barack Obama's drone wars and his ill-fated TTIP (Transatlantic Trade and Investment Partnership) initiative.
Now, it appears the new president, Donald Trump, has gone so far with the hubris, chutzpah, and vanity that he may have permanently destroyed relations. Because by withdrawing from the Paris climate accords and wavering on US commitments to its NATO military club, he has finally forced Europe to accept that it may no longer be able to rely on the United States going forward. And this has acute geopolitical ramifications.
Back in vogue
As a result, Russia has suddenly been brought in from the cold. For evidence, witness Emmanuel Macron's haste in inviting Vladimir Putin to Paris. Not to the mention the optics of the decision to give him the full VIP treatment with a visit to Versailles. Meanwhile, in Berlin, the anti-Moscow rhetoric has been noticeably toned down in recent months, and even the notoriously Russophobic British press have become a little tamer.
For Atlanticists, these are tough times. The American foreign policy establishment has long believed that Russia's primary external goal is to destroy the Berlin-Washington partnership which guarantees the latter a foothold in the old continent. Putin's Kremlin has always denied this, insisting the current NATO set-up is the issue, not the idea of cooperation itself. At the same time, Russians suspect the US has spent the past twenty years working to prevent a German rapprochement with Moscow which could see Uncle Sam frozen out. Now, for the first time since World War Two, the notion that Germany and America are inseparable partners is no longer set in stone.
Last week's Der Spiegel provides evidence of this tectonic shift. The house journal of Berlin's liberal elite explains how "for three-quarters of a century, the US led and protected Europe. Despite all the mistakes and shortcomings exhibited by US foreign policy, from Vietnam to Iraq, America's claim to leadership of the free world was never seriously questioned. That is now no longer the case."
For her part, Angela Merkel appears openly exasperated, publicly questioning whether transatlantic ties can endure. Speaking in Bavaria last week, she warned "we Europeans must really take our fate into our own hands." And Der Spiegel insists she has "to a certain extent, at least - terminated the trans-Atlantic friendship with Trump's America." The magazine also believes "Merkel's aim is that of creating an alliance against Trump." The sort of bombast which, in recent years, was usually directed at Putin.
Large consensus
This new thinking is also reflected in the words of German Foreign Minister Sigmar Gabriel. Earlier in the year, he stated: "Russia is the most important neighbor of Europe. Of course, the country is included on the agenda of the new foreign minister. It is the most important partner for negotiations."
Meanwhile, over in Paris, there is talk of how the new administration is trying to pull Russia back into EU's orbit. "The idea is to keep Russia close to Europe," an adviser to Macron told the Financial Times.
And it was also notable how earnest the French were in publicly absolving Moscow of any blame for the pre-election hacking of Macron's emails.
Furthermore, France's interests in normalizing ties to Moscow go beyond simply responding to the growing rift with Washington. Energy security is a major issue in Paris and Iran plays a vital role. "Total has a lot of money there. France and Total cannot trust the Americans on Iran, but they can trust the Russians," says Forbes' Kenneth Rapoza, an expert in this field. "Some in the market believe there will be a French-Russia detente. No one in the mainstream political press will write about it because Macron leaning to Russia is akin to Trump leaning to Russia and that just opens up a whole can of worms."
A New Dawn
Ukraine remains a sticking point, especially in Poland and the Baltics. However, Trump's behavior is even calming Brussels-Moscow estrangement over that conflict. "Putin may have put his foot down in Ukraine, and we didn't like it, but he's not trying to destroy the f**king planet," a prominent EU official told this writer at the weekend. "For all our disagreements with the Kremlin, at least they are a consistent bunch. The Americans have just lost the plot."
And this last point is important. Because Europeans are starting to realize how much America has changed. "During the George Bush period, we bit our tongue and imagined he was a one off. Then came Barack Obama and everyone felt normal service had resumed. But, Trump makes Bush look like Mary Poppins. We have to accept that around half of American voters are going to continue to support these kind of 'rogue' candidates, so the US as a long-term partner is now a very unsafe option," the Eurocrat added.
Trump came to office promising to make "America Great Again." And perhaps he will achieve his aim. Nevertheless, his leadership style is making many Europeans look again at Moscow and reappraise their attitudes to Putin.
To paraphrase an Obama statement from early 2014: "If in fact, they continue on the current trajectory they're on, then... that will isolate America and will have a negative impact on the US economy and status in the world."
Of course, he was referring to Moscow, and I have switched the words "Russia" and "America" around. But, without question, the shoe is on the other foot now.
The statements, views and opinions expressed in this column are solely those of the author and do not necessarily represent those of RT.
You can share this story on social media: