'Libya becoming completely failed state' – former US Ambassador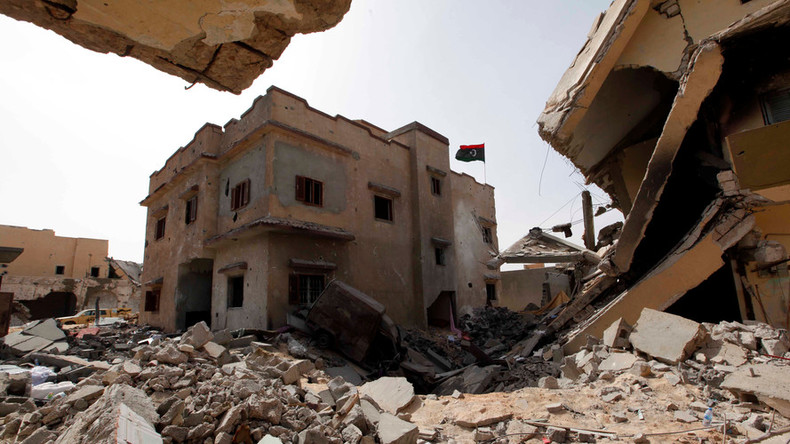 Nothing has changed the dire situation in Libya since the fall of the Gaddafi regime, said John Graham, former US Ambassador to Libya. A couple of weeks ago there were three separate governments, now we may have a fourth, he added.
On Monday, Egypt has launched another bombing raid against militant positions in Libya. Egyptian warplanes hit the city of Derna, close to the border with Egypt, said Libyan military commanders,
Egypt started its campaign against militants after the killing of Coptic Christians in Egypt last week. On Friday gunmen, disguised as soldiers, opened fire on worshippers traveling to a monastery south of Cairo, killing 29. The Christian minority has been the frequent target of recent attacks. Cairo blamed the Libyan wing of ISIS and pledged to protect people, but the situation on the ground in Libya is complicated.
READ MORE: Egypt strikes militants in Libya after deadly attack on Christians Live updates
RT: Since the uprising against Muammar Gaddafi and the fall of the regime, the West has tried to set up a transition government in Libya to end the clashes between different armed groups there. Do you think these attempts improved or worsened the situation there?
John Graham: Nothing improved the situation there. Libya is becoming a completely failed state. As of a couple of weeks ago, we had three separate sources of power or three separate alternative governments; now it appears we may have a fourth. It is extremely difficult now to tell what is happening.
RT: Who is to blame for the ongoing chaos and bloodshed in the war-torn country?
JG: … There is no question that the NATO intervention was a spark, but, on the other hand, I don't want just to blame NATO either. I have lived in Libya as a political officer at the US embassy; I can tell you that Libya from its creation has always been full of factions, warlords, people of different tribes that hated each other; there was always a lid waiting to blow off in Libya. The NATO intervention may have helped spark it, but it is just a sheer nature of Libyan society, which also has a lot to do with the chaos there.
RT: What is the solution to the conflict in Libya? Will the latest UN-backed Government of National Accord help unite all the rival governments?
JG: … They've done a pretty good job. They do control some territory; they have the backing of the international community, but they have obviously done nothing to bring in the rival group from Misrata, that is to say, the group that is now controlled by Salah Badi, who is attacking them. They don't have the allegiance of a group in Tobruk, the one that is backed by the Egyptians, and they are doing the best they can. But it is an impossible situation; it is hard to know what to do…
RT: Going back to the history, what do you think really sparked the NATO bombing campaign in Benghazi in 2011, during the alliance's intervention in Libya?
JG: … If you remember back when all this happened, Gaddafi was battling some rebels. He was extremely vicious in attacking them, and they were vicious in attacking him. Gaddafi's forces were approaching the city in the east of Benghazi. Gaddafi told the whole world that he wasn't just going to be satisfied with military victory – he was going to kill everybody in the town because they approached him. That got a lot of people unnerved in the US and Europe, and that is what sparked the NATO bombing campaign. Initially, I do believe that there were some good intentions – that we wanted to save the poor people of Benghazi from being massacred by Gaddafi's troops. So we started the bombing campaign eventually rolled back Gaddafi's army so that a combination of NATO warplanes and a half a dozen rebel groups finally defeated him and killed him.
It would have been fine had the story ended there, and a government of national unity had been declared, and we got all to go home saying: "Job well done." But it didn't happen, and it never could happen, because, as I said earlier, the nature of Libya is a conflict...
Part of the problem also, I should say, was Gaddafi himself. He was leader for..39 years. And he felt that he was all that Libya needed, as a leader: he would make all the decisions; he would take care of his people. So he never made any effort to build up, for example, a competent bureaucracy. He never made any real effort to build up a competent security and army that would be loyal to the state, not just to a warlord, or even to him. He never built up a court system. He never built up or allowed to build up a competent and free press – all these things that it takes to make a democracy or a democratic state work. Gaddafi never did any of that. So when he was killed, there was a huge vacuum in Libya... And to expect it to suddenly become a competent, self-governing state was extremely naïve on the part of the Americans and NATO allies.
The statements, views and opinions expressed in this column are solely those of the author and do not necessarily represent those of RT.