'Likely response for Manchester attack – more aggression in Mideast, anti-immigrant policies'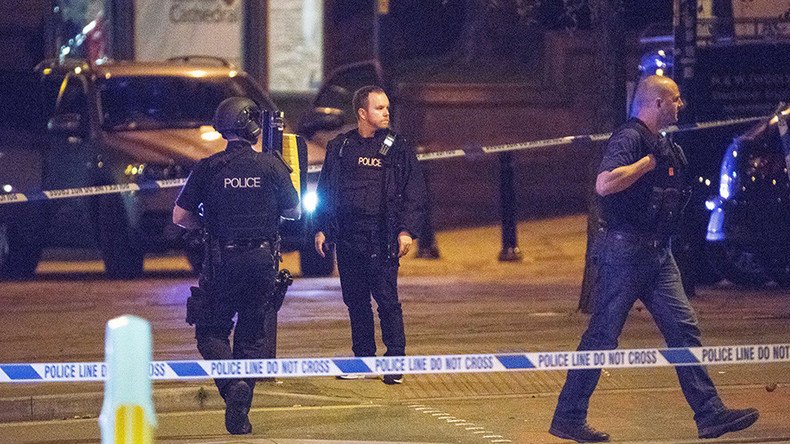 After the Manchester attack, the UK is likely to respond, like the rest of Europe, by ramping up police state powers, surveillance, anti-immigrant policies, and military aggression in the Middle East, said political analyst Dan Glazebrook.
"The real question we need to be asking: what is behind this huge global phenomenon?" says journalist Dan Glazebrook.
"It has to be said that unfortunately for the British government the carnage we saw in Manchester last night is nothing more than collateral damage from the policy which attempts to destroy the Arab world. For six years now the British government has openly supported the violent sectarian insurgency against the Syrian government, which has now morphed into what we call ISIS," he told RT.
"When we see this kind of sectarian carnage in Manchester and many other places, we must never forget that this sectarian violence has been carefully and deliberately nurtured by the British government as part of its policy, as a strategy of destabilizing and destroying independent governments of the Middle East."
European Commission chief Jean-Claude Juncker said in a statement following the attack: "Today we mourn with you. Tomorrow we will work side by side with you to fight back against those who seek to destroy our way of life."
RT asked Glazebrook whether any concrete actions might follow.
"It is not reassuring because we know how Western governments tend to respond to these kinds of tragedies," he said. According to the analyst, European governments tend to respond in three ways.
Britain is likely to respond "by ramping up of the police state powers of surveillance, and so on, given to the security services," he said, adding that those are "the very security services…that have facilitated the flow of fighters from Britain to Syria."
Secondly, Glazebrook went on to say, "there will be a ramping up of the militarization, of the anti-immigrant politics, that have sadly become the central feature increasingly of mainstream politics in the West."
"Thirdly, we can expect to see ramped up military aggression in the Middle East and aggression, which increasingly is not aimed at ISIS, actually, but is aimed precisely at the forces fighting ISIS…The recent US open attacks on Syrian government forces and their allies show the direction this is heading," he said.
'Terrorism will exist even in most perfect societies'
Security analyst Charles Shoebridge says a balance has to be struck between civil liberties and the need for security in "any kind of crowd situation," such as a concert or a sporting event, shopping malls or train stations, as "all of these targets can result in mass casualties from this kind of attack."
"The problem comes that if you put in place the kind of security that would prevent somebody getting into, for example, a concert venue with an explosive device. You simply displace the threat from inside the place that is being searched to outside or to target the queues people are forming for the event itself," he continued.
Shoebridge believes that in a situation where "intelligence systems fail to the extent that an attacker can get through to his target, particularity, where it is a soft target without armed guards" and where "somebody is prepared to die in an attempt to kill people and himself… there is very little that can be done in terms of physical security to prevent that attack taking place."
Despite recent attempts of boosting security measures across Europe, some of the biggest countries such as the UK, France and Germany are still on high alert and attacks keep happening.
The security analyst said "even in the most perfect of societies, that we can say don't exist… the most benevolent of nations, there would still be people who want to carry out terrorist attacks."
He added that countries will never get rid of terrorism completely.
However, Shoebridge went on to say, there are many questions that need to be asked, including, "the extent to which the systems by which the security services operate needs to approve."
"There will be people, politicians, the media, friends of the security services, MI5 in particular in this case, who will use this instance as they use all terrorist instances to call for yet for more powers more funding and resources for security services," he told RT.
"This will not be a situation of a lack of resources for the security services, but rather, a question of how they make their decisions as to how they are operating and how quite substantial resources are actually deployed," Shoebridge said.
The statements, views and opinions expressed in this column are solely those of the author and do not necessarily represent those of RT.
You can share this story on social media: