'Report on alleged Russian hacking is embarrassment to US intelligence profession' - fmr CIA officer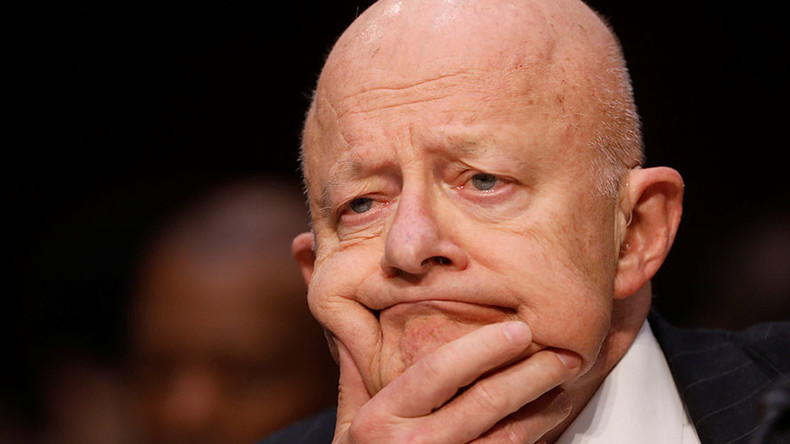 This week's public hearing on Michael Flynn was an embarrassment. It was sort of a reflection of what is called the 'Deep State' in our country. We had the CIA, the NSA, the FBI all working behind the scenes, said Ray McGovern, former CIA Officer.
Former intelligence officials from the Obama administration on May 8 testified before a Senate subcommittee on alleged Russian interference in US elections, and possible Trump-Russia ties.
And although no hard evidence has been presented to support these accusations, former director of National Intelligence James Clapper believes that Russia is "celebrating" its success.
Clapper, however, admitted there is no evidence backing the accusations that Moscow influenced voter tallies on Election Day. He also said there was no Republican Party data released by the Whistleblowing website WikiLeaks during the campaign.
DNI Clapper just misled or perjured himself to Congress saying that there was no release of Republican data. Proof: https://t.co/A2u3YFHShM

— Julian Assange (@JulianAssange) May 8, 2017
WikiLeaks co-founder Julian Assange was quick to deny that claim on Twitter, however, offering as proof documents that were published in August 2016.
RT: It seems today's hearing focused on the resignation of Mike Flynn - which is a separate issue - but wasn't the main issue supposed to be whether there was actual collusion between the Trump team and Russia?
Ray McGovern: There is very little evidence of this. Let me start by saying, I was five years old on Victory Day in 1945 and congratulations all around. I was twice that when Senator [Joseph] McCarthy held those hearings. And I remember vivid disputes in my living room between those who thought Senator McCarthy was on to the Red Menace, and those of a more persuasive character who said this was a fallacy, that it was a witch hunt.
Watching that hearing today was an embarrassment to me. It was sort of a reflection of what is called the 'Deep State' in our country. We had the CIA, the NSA, the FBI all sort of working behind the scenes, manipulating these senators, whose spokesperson, leading Senator in the Senate, Senator Chuck Schumer, said on air two months ago: "You know, Trump is very foolish to cross, or to go after the CIA." Rachel Maddow asked: "What do you mean?""Well," Schumer responded, "the CIA has six ways to Sunday to get back at you."
So I thought that Trump was a smart businessman, but now he has done something very foolish. Now, what is behind all this? You have Clapper there, who admits that he lied under oath four years ago, when he denied there was any eavesdropping of Americans.
And you have Sally Yates. Sally is sort of a sad character, because she did the exactly right thing in denying approval of Trump's anti-immigrant, anti-Islam move. But she's been sucked into this situation where she is overzealous, because somebody told them: "Oh, wow, we got Michael Flynn now!" And you can't possibly keep this undercover – you have to go tell the White House. And then - quite by chance - it is leaked to the Washington Post. Give me a break, they were out to get Flynn. They got Flynn, and that was the first blood that they drew on President Trump's wishes and his expressed intention to reach out to Russia.
They got two big things here. Number one: they were able to explain why Hillary Clinton lost – it was the Russians. There is no evidence, but it got to be the Russians. Number two: they were able to scuffle so far Trump's outreach to Russia, because if Trump, as he did, felt like everyone thinks he is a puppet of President Putin, well, in the first chance he gets as with that chemical event in Syria, he's going to lash out to show: "I am not a puppet of Putin. I am my own man, and I can shoot 59 cruise missiles, without anybody contesting it!"
So this is very mischievous to the degree they put Trump, who is not all that bright, on the defensive, and to the degree they make him prove that he is no puppet of Putin. Then a golden chance for rapprochement, for a day a detente, at least, between Russia and the US on this 72nd anniversary of the war we won together, is lost.
RT: Regarding the US intelligence report on alleged Russian meddling in the US elections, do you think enough evidence has been found to support the conclusion?
RM: The public report [on alleged Russian meddling] is an embarrassment to the intelligence profession. People have been saying, "Seventeen intelligence agencies approve this." Even Clapper admitted, no, it wasn't 17, it was only three: the FBI, NSA and CIA. And a select group of people were put together to write that report, which contained no evidence [of Russian meddling].
Lionel, legal and media analyst
RT: The hearing focused extensively on how Gen. Flynn misled the Vice President - which is a separate issue from whether there was actual collusion between the Trump team and Russia. Wasn't that supposed to be one of the main issues?
Lionel: … You've got to watch Clapper's reaction. If ever there was somebody who look like: "What am I doing here? ... I don't know. I am a private citizen. Yeah. Russia, yeah, can I... Are we done?" Just that alone said volumes. But let's go back to what this is about. Follow me through this. And I have been waiting and saying: "Please, somebody tell me some Russian evidence. I am dying to hear it. Did you get somebody, did you find someone who said: 'Here is the man. This person, who hacked into the computers. His name is Sergey whatever… Here he is, and we have a witness. And his testimony says: 'We hacked in. Donald Trump got three votes. Hillary Clinton should be the President...'"
RT: The senators and Director Clapper often quoted the intelligence report on alleged Russian meddling that was released in January stating its conclusions as a fact. But they were pretty sketchy on actual details weren't they?
Lionel: … I want a fact versus a conclusion. Here is something interesting: Wikileaks, February 16, 2017 – headline: "CIA espionage orders for the last French Presidential election."
Now that is information. That is, for example, according to this, if it is true, but this is details: this is what happened, this is how it worked; this is how the information was gathered; these people were surveilled… something. Again, and I am trying not to get too excited about this, because I visibly am shaken by the fact that, for how long have we been taking about this? Since before November? We still don't know: how, what, precisely… And I know can't go into too much detail. But what was done? Are you suggesting that Donald Trump is not the President? That the 63 million people did not vote for him? I still don't know, there is still no evidence as to what precisely was done, and how his presidency is somehow illegitimate. Call me crazy for asking, but there is no information.
The statements, views and opinions expressed in this column are solely those of the author and do not necessarily represent those of RT.