'Three years later, EU & Kiev still lack will to investigate Maidan tragedy'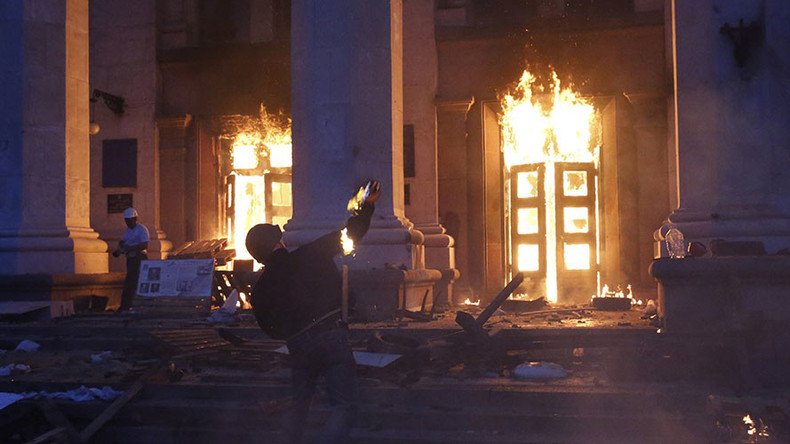 Neither the EU nor Kiev are interested in an investigation into the fire that killed dozens of anti-coup demonstrators in Odessa in 2014, but if there is one, it should be led by a neutral party, not the EU, says political analyst John Bosnitch.
Three years ago today, in the Ukrainian city of Odessa, a building where anti-Kiev activists were holed up was set on fire, killing 48 people. Despite lengthy investigations, relatives of the victims are no closer to finding out who was responsible for the tragedy.
RT spoke to political analyst John Bosnitch, who thinks those responsible would already be found, convicted, and sentenced if there was any motivation from the government in Kiev, or ultimately Brussels.
RT: How can you explain that all the investigations into the case have lacked real results?
John Bosnitch: There is a need of an investigation, not just of the events in Odessa, but other events that have been taking place in Ukraine since the Maidan incident. First of all, we need to know more about the Maidan shootings and who was responsible for them. The Odessa events were a follow-up to the Maidan. And we know that Right Sector extremists were implicated in Odessa, and naturally, there should be an investigation into those events. But the government in Kiev is not competent to conduct that investigation by themselves. There needs to be at least a joint investigation conducted by the Russian and Ukrainian investigators, and if not Russian and Ukrainian, then some other international balanced investigation force.
RT: Can we ever expect a deep and transparent investigation of the case?
JB: If there is a will to investigate an incident and to find the culprits, usually they can be found. If there is no real will to follow up, then there many excuses that can be used for the failure. The point is that there were dozens of people killed in the incident in Odessa. And those deaths need to be accounted for and the persons responsible need to be found. There are plenty of witnesses, there is footage from the scene; there is no doubt that conclusions can be drawn. It is a question of will. Is the European Union interested in this matter? Probably not. Is the government in Kiev interested in this matter? Definitely not. There are our problems in finding the real culprits responsible for the incident.
RT: Can we speak about the sort of 'selective justice' here? Western countries are blaming the Syrian government for atrocities that no one can confirm, but forget about a case that took over 40 lives and involved hundreds of witnesses?
JB: Obviously, there is a double standard. The EU was largely supportive of the events on the Maidan Square. And the EU was doing everything it could to destabilize the government of former President Yanukovich. So, the EU is not coming into this matter as a neutral party. What we need if there is going to be an investigation – and it is going to be an external investigation related to Odessa – then it has to be an investigation either from the two sides, in other words, the activists who were present there, or a broader international investigation. Certainly not an EU investigation, because the EU was actively supporting the people who attacked that building.
Whichever investigation takes place, it cannot be led by the EU because the EU has demonstrated clear bias; the EU has been attempting to bring Ukraine under its umbrella for years. And we know that that is linked directly to Germany. If we are going to have an international investigation, it needs to be conducted under the umbrella of the UN Security Council, in which there are international players who are not directly involved, and that includes China. And the investigation needs to be supervised by UN-approved personnel who are acceptable to the US and Russia. If such an investigation can be held, we could expect some results. As for the EU, the EU was directly involved in these events and cannot be considered a fair or neutral party for any investigation. We're talking about a UN-supervised investigation by an investigatory team approved by Russia, Kiev, and parties outside the region.
The statements, views and opinions expressed in this column are solely those of the author and do not necessarily represent those of RT.
You can share this story on social media: