Cologne clashes provide police & protesters 'dry run for upcoming G20 meeting'
Published time: 23 Apr, 2017 15:29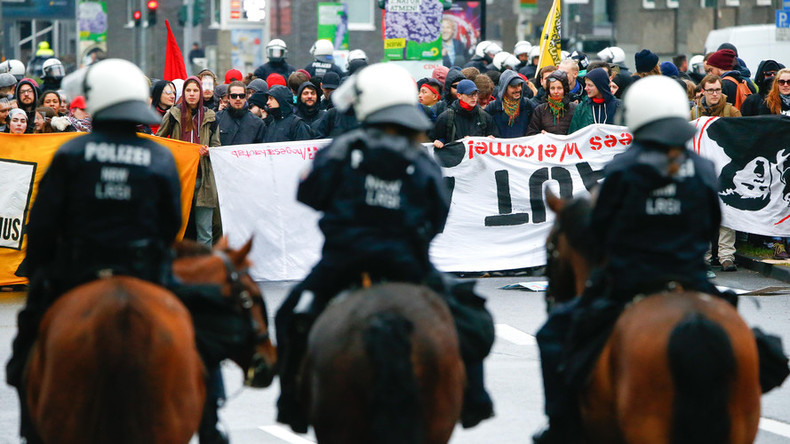 Angela Merkel has been backpedaling for quite a few months, as if nothing has happened, but many Germans will not forget that she was the one who got the country into this mess, Rainer Rupp, former German intelligence officer and publicist, told RT.
Several arrests were made on Saturday in the German city of Cologne during the protest held by the anti-establishment Alternative for Germany party (AfD). Scuffles broke out between protesters and officers after demonstrators tried to block AfD delegates from entering the congress venue.
RT: Thousands of protesters have turned out to demonstrate against this convention being attended by 600 party members. Is this another sign of how deeply polarized German society is?
Rainer Rupp: On the one hand yes. On the other hand, the current demonstration and the reaction and preparation by police in Cologne should be seen as a dry run on both sides: a dry run for the G20 meeting in Hamburg, which is coming up. There were 4,000 police deployed in Cologne and thousands of demonstrators - organizers talk about 10,000 demonstrators. Although according to police information, only 800 to 1000 of those people were prepared for violence. The rest of the 9,000 went on with a peaceful demonstration and gathered up somewhere outside of town, on a big meadow, listening to music… and lost all kind of political value apart from being there.
RT: The AFD wants to close German borders and restrict Islamic practices. How much support have those policies garnered inside the party?
RR: I think the support for this AfD would be much larger if they hadn't now this kind of strong internal frictions and in fact risking a split. The problem with the AfD is that one part, and it looks like the meaningful part, wants to have a fundamental opposition siding very strongly with right-wing activists being relatively close. They do not kind of try to keep distance from neo-Nazis. There is kind of mingling going on, while the other faction, the faction that is behind the beleaguered current party chairwoman Mrs. [Frauke] Petry. They try to run a reasonable "patriotic line." On the foreigners and migration issue they are putting their fingers in the loom without being nationalistic.
RT: Does the popularity of the AFD agenda force Merkel to change her policies? (If Yes) Is she losing popularity and why?
RR: Merkel has been pedaling back now for quite a few months, as if nothing has happened, she's pretending now. Yet, I do not think the people will have forgotten that she was the one who got the country into this mess, and it is a mess.
The statements, views and opinions expressed in this column are solely those of the author and do not necessarily represent those of RT.