St Petersburg Metro blast in mainstream media: 'Any conspiracies go if it's about Russia'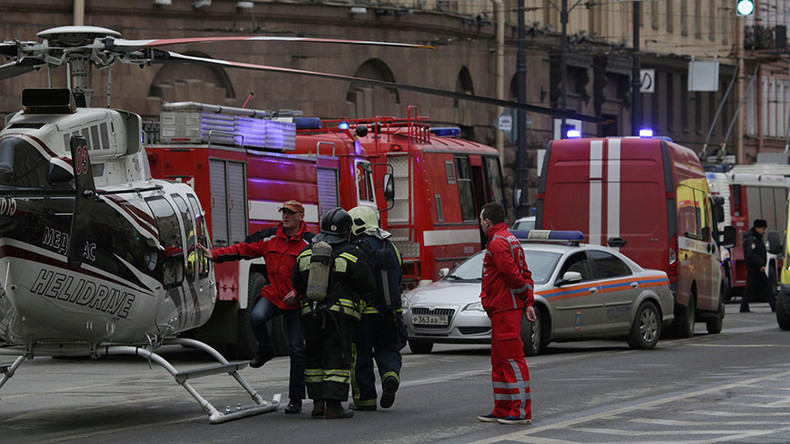 If anyone speculated about a 'false flag' operation in the West they would be denigrated as 'crazy conspiracy theorists,' experts say commenting on the media coverage of the St Petersburg bombing. However, if it's about Russia – anything goes, they add.
The death toll from the explosion in a metro carriage on Monday in the Russian city of St. Petersburg has reached 14 people, 49 others are still in hospital, according to Russia's Public Health Minister.
Three days of mourning have been declared in the city. World leaders voiced their solidarity with Russia and offered condolences to the victims' families. However, some Western mainstream media seem to be more interested in trying to take advantage of the attack for political motives.
RT discussed the coverage of the tragic incident in Saint Petersburg with experts.
Mainstream media, including CNN, were quick to allege the attack may have been planned to distract the public from recent protests in Russia against corruption.
According to independent MEP Janice Atkinson, "there's no basis" for such statements. In her view MSM "accounts and speculation of what might have happened in Russia, in St. Petersburg yesterday – absolutely awful speculation".
"And this just plays into the hands of ISIS. This is what the mainstream media: the Washington Times, the New York Times, and the left-wing media. In my country they should wake up and think about this playing into our enemies' hands," she told RT.
"[CNN] should remember that it just plays into the enemies' hands. They have no basis for this. Trying to undermine somebody like Putin, who is democratically elected, is a very dangerous game. They are trying to undermine Trump in America: they are trying to get him impeached, everything is negative. Rather than getting behind their country and their president, they seek to undermine him, and they are seeking to undermine foreign powers as well. That is a very dangerous game that they play," she told RT.
Also, Russia doesn't seem to be getting anything like the same level of compassion as other European countries - for example; Western landmarks lit up in the colors of the victim nation's flag.
Atkinson says such an approach surprised her as a human being, as all countries should be standing together to fight terrorism. As a member of the European Parliament, she is not surprised.
"Does it surprise me and upset me that our nations haven't done this? No, it doesn't. I am in the European Parliament. Number one person they absolutely detest is Vladimir Putin. The second person they absolutely detest is President Trump," she explained.
'CNN overtly pushes conspiracy theory when Russia is involved'
While Europe seems to show muted support for Russia in the wake of the tragedy in St. Petersburg, some US media even fitted it into an anti-Russian narrative inundating coverage with outlandish conspiracy theories, Richard Black, political activist, told RT.
Commenting on how the deadly blast in the metro in St Petersburg was covered in the American media, he said he "went through an entire day without anybody knowing about it and the first person who brought it to my attention brought it to my attention as a false flag operation."
He told RT that a lack of compassion toward the victims of the attack in Russia compared to the victims of similar events in Europe comes as no surprise to him.
"What is sad is politicians who are looking from a broad stroke sense and what they are forgetting or ignoring is that people actually lost their lives and people were injured during this attack," Black said. He added that politicians thus disrespect the memory of the people by "pinning it to some big political thing already before mourning the people who died."
Black is sure the "mainstream media is not going to properly cover this event and if they do cover the event, it's going to be with extreme leftist bias."
One of the examples of such coverage can serve that of CNN, which called Putin critic Garry Kasparov on the air who in turn linked the terrorist attack with the recent anti-corruption protests, alleging that it serves the Russian government's political agenda and will give it a perfect opportunity to stifle dissent.
"It just amazes me that organization like CNN that literally spent an entire year of 2016 trying to disprove conspiracy theories will go out there and overtly push for a conspiracy theory when involves Russia," Black said.
"It does not surprise me at all. It just further displaced their bias in that sort of affair," he added.
Speaking of possible causes of the attack, Black said: "I put my money on it. There is little doubt in my mind that it has something to do with Russian involvement in Syria and it is completely not justified."
Raising false flag conspiracy - 'Dishonest & disturbing'
Whenever an attack occurs in the US or Europe, you know about it as soon as you wake up, but it's a different story when something similar happens in Russia, says Darius Shahtahmasebi, legal analyst, and writer.
He told RT he learned about the St. Petersburg Metro blast through social media.
"In this instance, I found out it through Twitter of all places, and it is only because I choose to follow some sort of different people," he said. "I checked all the major news outlets: The New York Times, The Guardian, BBC, even Fox News… In the case of Fox News [hours after the blast], it wasn't the top story; it wasn't even close."
As for allegations that appeared in some mainstream media outlets, Shahtahmasebi said: "Some high-profile individuals with large followings took to sort of implicate the Russian president in the attack. When I say implicate I mean they are suggesting that he was behind the attack. If we were to say that about an American president, for example, without evidence, we would get branded as 'crazy conspiracy theorists.' It seems like anything goes when it comes to Russia and its president even with no evidence basically."
Investigative journalist Rick Sterling agrees that if "somebody did the same thing in the US – speculating that there was a false flag operation in the US – it would be immediately dismissed and denigrated."
However, 'it is fine to do speculation, conspiracy theories about that in Russia," he told RT, adding that "it is a sign of double standards, unfortunately."
"I watched PBS [Public Broadcasting Service] news hour [last night,] which is considered the best mainstream coverage here. They had some coverage of it, and they mentioned President Trump's communication with President Putin. But the New York Times – it was number eight of the things you need to be aware of today. So there is nothing like the extent of coverage that there was, for example, with the terrorist action in London a few days ago," he said.
Sterling is not surprised either over the lack of compassion toward the victims of the blast in Russia.
"It is nice to see they are at least sending condolences and regrets to Russia, but of course there is nothing like the extent of condolences and the solidarity they express to other Western European countries," he added.
The statements, views and opinions expressed in this column are solely those of the author and do not necessarily represent those of RT.