Britain ignores Bahrain's human rights record to pursue business interests with dictatorship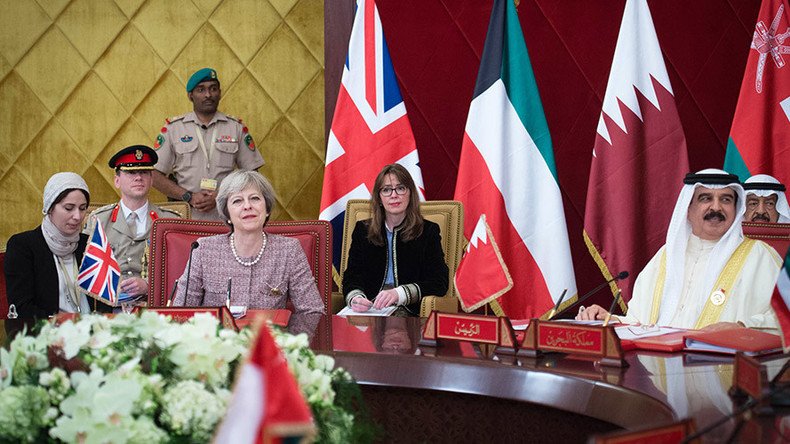 Britain's multi-million pound trade and aid strategy for programs in Bahrain needs exposed as the tiny gulf kingdom continues its chain of tyranny and torture against the Shia majority.
The British government's unreserved condemnation of torture and inhumane treatment and punishment seems to vanish when it comes to making more money. As kidnaps, imprisonments and political executions are on the rise in Bahrain, activists and Bahraini opposition figures are troubled by the fact that the UK government is spending taxpayers' money on these trade and aid programs, especially given the clear risk of complicity in abuse.
Habib Mohamed Habib is the latest Bahraini civilian to be kidnapped from his home the morning of Friday March 3rd 2017 as security forces deployed armored vehicles in and around Diraz, in a continuation of the Al Khalifa Monarchy's oppression against the Shiite Friday prayers as part of their uninterrupted crackdown on civilians since 2011 in the Bahraini capital Manama.
As Habib's family struggle to know the whereabouts of their son, traveling in and around Diraz is nothing less than a nightmare with traffic jams at every entry point of the town, which is witnessing an increase in tightened security at its checkpoints.
Meanwhile, since last June the citizens of Diraz have been experiencing an internet blockade everyday between 7pm and 1am as a result of a service restriction order from the Bahraini authorities. The citizens of Diraz are increasingly being cut off from the outside world. They cannot even contact emergency services, and somebody is caught aiding a fellow citizen he/she will disappear like Habib and hundreds of others like him.
Last week alone, the Bahrain Center for Human Rights BHRC documented a total of 17 arbitrary arrests, among whom were six children. In the same week, 129 marches took place in 40 villages in Bahrain to denounce the chain of repressions and kidnappings targeting peaceful protestors and Friday prayers' attendees. BHRC reported that 26 marches during the same week were attacked by the Bahraini riot police and a total of 19 persons were judged in 6 politically motivated cases.
It is an open secret in Bahrain that after 6 years of constant crackdowns on millions of protestors who clamored for social justice and political self-determination, the ruling Al Khalifa regime has managed to get away with brutalizing, imprisoning, torturing and killing their own civilians under nonsensical pretexts. Although the monarchy has often expressed its desire to negotiate a political solution, promises of change have translated on the ground to a systematic crackdown.
The Al Khalifa regime has utterly failed to bear its responsibility in creating a space of dialogue in order to foster harmony, cohesion and tolerance. Instead of pushing for respect of cultural diversities amongst its citizens as a fundamental basis of democracy and peace-building, the authorities have politicized freedom of religion and successfully used it as a pretext for the incitement of hatred, violence and racial discrimination against groups of individuals and religious minorities.
International community's deafening silence
Despite the fact that the Bahraini authorities have been only tightening restrictions on the rights to freedom of expression and association and continuing to curtail the right to peaceful assembly while detaining and charging several human rights defenders, banning others from traveling abroad, dissolving the main opposition group and stripping more than 80 people of their Bahraini citizenship, the United Nations Human Rights Council (UNHRC) has largely remained silent on the situation in Bahrain.
According to a joint NGO letter to Permanent Representatives of Member and Observer States of the UN Human Rights Council, Bahrain's courts continued to play a key role last year in issuing repressive orders and granting the authorities broad discretionary powers to revoke Bahrainis' citizenship, in some cases leaving them stateless.
The ultimate repressive order was issued on January 9, 2017 by Bahrain's Court of Cassation upheld death sentences against three protestors convicted of killing police including three police officers in a bomb attack.
Sami Mushaima (42), Ali Al-Singace (21) and Abbas Al-Samea (27), who were executed on the morning of January 15, 2017 by firing squad, were reported by Bahrain Center for Human Rights BHRC to have been tortured during interrogation to force them to confess to the bomb attack. According to the BHRC, the lawyers of the executed men were not given access to all the hearings against the defendants, nor allowed to cross-examine prosecution witnesses during court hearings.
The shocking part about the atrocities inflicting the Bahrainis is no longer the blatant violations of the Al Khalifa monarchy as much as it is the international community turning a blind eye to the Bahraini people's legitimate struggle for democratic rights.
UK government complicit in oppression
The US and the UK are two major western states supposedly committed to supporting human rights, democratic values, free speech and political self-determination, while, at the same time, are flagrantly partnering with dictatorships like that of the Bahraini Monarchy to advance their foreign agenda.
For instance, the government of the United Kingdom signed what the Foreign and Commonwealth Office (FCO) called a "landmark defense agreement" with the Gulf island kingdom of Bahrain in 2014. Clearly ongoing human rights abuses committed by those partners on their own citizens are not considered a shared strategic and regional threat especially when Bahrain is home to a major Royal Navy base. The multi-million-pound Royal Navy facility in Bahrain, which was founded in November 2016 housing up to 600 UK military personnel, became the staging-post for Britain in the Middle East and is designed to assert influence over the Gulf. Bahrain has paid most of the £30million-plus cost, with the UK contributing around £7.5million.
During the opening of the new Naval Support Facility (NSF) in Manama, Britain's first permanent military base in the region since 1971, the Telegraph published an OpEd by Fawaz bin Mohamed Al Khalifa, Bahrain's Ambassador to London, who claimed that King Hamad bin Isa Al Khalifa outlined the Gulf Cooperation Council's interest in a free trade agreement between the UK and the GCC, which would significantly increase the UK's access to the GCC's £1.3 trillion market; a market estimated to grow by a further £400 billion by 2020.
Relative to its size, Bahrain already hosts a large number of British companies. The Bahraini Ambassador to London put the figures at "500 British brands, 90 British company branches, and 350 Bahraini-British business partnerships". These businesses operate in some of Bahrain's key sectors, including banking, accounting, law and industry. Meanwhile bilateral trade between Bahrain and the UK generated a staggering £432 million in 2015 alone, which would simply explain why the UK would choose to remain silent on all the human rights violations in the tiny gulf kingdom.
These bilateral relations are signed and sealed with Bahraini blood, says Ali Alaswad, former Bahraini Member of Parliament who was elected in October 2010, but resigned in February 2011 in response to the Governments' crackdown on peaceful democracy protesters.
After his home was targeted by security forces, AlAswad left Bahrain and now resides in London where he continues his political work to achieve a democratic Bahrain. As I spoke with MP AlAswad, he emphasized that the UK's current disappointing stance towards ignoring the human rights violations in Bahrain provides "a green light to the Bahraini government to abuse the basic human rights of the civilians which permits it to become more violent against the Shia majority and the Bahraini opposition."
AlAswad told me "it doesn't matter who you are in Bahrain, if you dare to demand for your basic rights then you will be in grave danger, which is why if the UK government as a strategic ally to the Bahraini government doesn't use its ties as a strong card to support the oppressed Bahraini people to at least secure their basic human rights as enlisted in the declaration of human rights, then the UK is whitewashing the Bahraini authorities' shocking human rights record by deliberately blocking official criticism of the Kingdom especially at international forums like the UN".
The UK government is now seen by human rights activists and Bahraini opposition figures as a complicit in the tiny gulf kingdom's tyranny against the outcry of the legitimate and basic demands of the Bahraini civilians until an official statement is issued from the UK government to condemn the acts of oppression of the Bahraini monarchy against its people.
"How do you expect the majority of the population to react when they see their leaders and clerics being detained, unlawfully imprisoned and even sometimes deported from their own country?" asks MP AlAswad.
Sheikh Ali Salman, a Shiite cleric and head of the Al-Wefaq opposition party, is now sentenced to serve nine years in jail for allegedly inciting hatred and calling for regime change by force.
The Bahraini authorities then went overboard when they stripped the highest religious authority in the country Sheikh Isa Qassim, a 79-year-old cleric, of his citizenship in June 2016 over accusations that he used his position to serve foreign interests and promote sectarianism and violence. Tis happened a week after the government of Bahrain suspended the Shia opposition group al-Wefaq.
The implications of this arrest is sending shockwaves on the streets of Manama, Diraz, Sanabes, Karbabad, Karzakan and Barbar with protestors refusing to back down. This resistance is prompting even more oppression and kidnapping from the Bahraini authorities.
Earlier this week, Al-Wefaq Deputy Secretary General, Sheikh Hussein al-Daihi, said through his twitter account, that targeting Ayatollah Qassim is triggered by his brave and firm stances, to demand legitimate rights for the oppressed Bahraini people. The deputy SG also stressed that Ayatollah Qassim is a red line, and the repercussions of crossing that line would go beyond the country's borders.
The statements, views and opinions expressed in this column are solely those of the author and do not necessarily represent those of RT.
You can share this story on social media: