NATO's scaremongering about 'Russia threat' to Baltic States 'is all about money'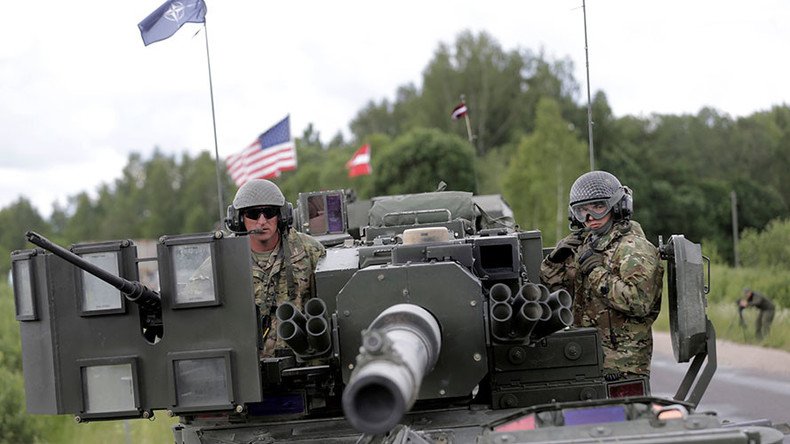 The US security establishment is trying to justify its existence, says Daniel McAdams of the Ron Paul Peace Institute, commenting on a new report which lists how NATO can help the Baltic States counter Russian 'hybrid warfare.'
The American global policy think-tank, the RAND Corporation, published a report that claims NATO should do more to counter the potential Russian threat and strengthen the Baltic countries' forces. The US government-funded body issued a report titled "Hybrid Warfare in the Baltics: Threats and Potential Responses."
The document raises concern over "Russian use of "hybrid warfare" best understood as covert or deniable activities, supported by conventional or nuclear forces, to influence the domestic politics of target countries."
The author of the report, Andrew Radin claims "these tactics are of particular concern in the Baltic countries of Estonia and Latvia, which have significant Russian-speaking minorities." He warns that there is concern Russia will seek to use these minorities to gain influence in the region, "use covert action to seize territory, use subversion to justify a conventional attack, or otherwise use deniable or convert means to gain influence in the Baltics and undermine the EU and NATO."
RT discussed the report with McAdams and asked him why potential "Russian aggression" is in the spotlight again. Is there a real threat?
In his view, what we are seeing is just another example of the national security establishment in the US "having to justify its existence."
"The report itself outlines many things that NATO has to do to help the Baltics. The Baltics are absolutely irrelevant to the security of NATO. Their only relevance is geographic. They are close to Russia. Therefore, NATO can hold exercises on Russia's border to provoke Russia. As far as the Baltics, look at Latvia, for example, if it is so concerned about Russian warfare or hybrid warfare, why do they spend 0.9 percent of their GDP on defense? They are clearly not worried. It really is just a ploy to get more free things from NATO. And for NATO to keep itself alive after it should have been shot down," McAdams said.
In his opinion, "hybrid warfare" – the report refers to - is a term used when there's no evidence that Russia has done anything wrong.
"It was hybrid warfare when Russia "invaded Ukraine." And that is just because we didn't see any Russian military in Ukraine. It was hybrid warfare with "the little green men" in Crimea. Well, those little green men in Crimea were already there legally as part of the leased base in Sevastopol. All of these things are made up, it's part of NATO's ongoing aggression toward Russia, provocation of Russia and it is desperate to keep itself alive, to keep its budgets raising," the analyst said. "And sadly, unfortunately, we are seeing that the US president who was rightly critical of NATO, calling it outdated, said in his recent speech to Congress that he loves NATO and thinks it's great. So, unfortunately, it looks like it is going to be propped up for a while longer. And yes, it is about money," he added.
The statements, views and opinions expressed in this column are solely those of the author and do not necessarily represent those of RT.
You can share this story on social media: