'France should not attack Marine Le Pen, but rather her program' - Jean-Pierre Thomas
Published time: 27 Feb, 2017 15:40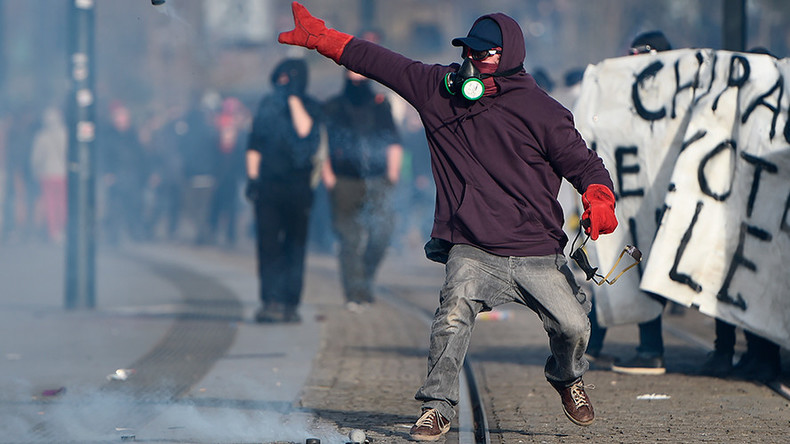 An election has to be peaceful; manipulations in the middle of the election are not useful. It is not the image of democracy we should show to the world, said former advisor to Nicolas Sarkozy and President of Thomas Vendome Investment, Jean-Pierre Thomas.
Scenes of violent unrest in Western France have marred the electoral campaign of French presidential candidate, Marine Le Pen.
Protesters tried to block her route through the city of Nantes with burning tires. National Front buses were also covered with white paint, and a group of radicals smashed up several vehicles.
On Saturday, another march against the National Front leader descended into chaos.
Polls place Marine Le Pen in the lead in the first round, ahead of Republican Francois Fillon and Independent candidate Emmanuel Macron. All three condemned have condemned the recent spate of violence.
Meanwhile, the French Prime Minister Bernard Cazeneuve has vowed to launch a campaign against Marine Le Pen and her policies.
RT: First, let's talk about this latest promise made by Prime Minister Bernard Cazeneuve. Do you think he actually has the power to stop the National Front from winning the presidency?
Jean-Pierre Thomas: First of all, to have an objective point of view with a little background, Mr. Cazeneuve is now the Prime Minister, he has more important things to do in terms of security, terrorism than to interfere in the campaign. In France now we give some lessons to the whole world about democracy. We have to show that our democracy works very well. And the campaign has to be independent of the government. Today, the governmental machinery is in favor of Emmanuel Macron, and in favor of Marine Le Pen and in favor of Francois Fillon. I don't think the action of the Prime Minister will be efficient. And to be effective against Marine Le Pen is to argue and to give objections to her program, especially economic program which is more than socialist, difficult for the socialist Prime Minister to do it than to explain that this party is not legitimate.
RT: But he has been publicly, vocally objecting to Le Pen. How effective do you think it is?
JPT: I don't think it is effective and it can have the reverse effect. Because when you are in the public opinion polls around 27 or who knows maybe 30 percent in the first run, you are legitimate to speak. We cannot attack Le Pen because she is the National Front or because she is Marine Le Pen, you have to attack and to argue and give objections to the program which they are not doing. It is not the role of the Prime Minister, it is the role of the other candidates.
This is the first time during the campaign that Marine Le Pen's fans have been attacked in such a way. The meeting did go through. We have to see if this is going to be the beginning of some violent acts from the left wing against the Front National… Definitely, the images that people will will see on TV, if mainstream media does show them, will not be in favor of these left wing militants. - Nikola Mirkovich, political analyst.
RT: We are repeatedly seeing large and sometimes violent protests against Marine Le Pen and her policies as she makes her way along the campaign trail. And Mr. Cazeneuve is traveling to the regions that she is going to. He apparently thinks that there is a need for him to do that.
JPT: He has to concentrate to do in order the mechanism of the election, and democracy is following in a peaceful way. That the meeting of Mr. Fillon, Mr. Macron, Marine Le Pen can take place in safety and peacefully, that is very important, which they don't do very well, objectively. What image we give to the whole world with France?...When our President Francois Hollande was always playing the White Horse for human rights and democracy. What is this image of my country with such an election? An election has to be peaceful. And all these affairs and scandals have to be before an election or after the election. But inside the election, in the middle, the last moment before the election, everybody can see is manipulation – it is not effective, it is not the image and the conception I have of what should be the democracy…
The statements, views and opinions expressed in this column are solely those of the author and do not necessarily represent those of RT.