'Humanitarian situation in Mosul is incredibly desperate' – UNHCR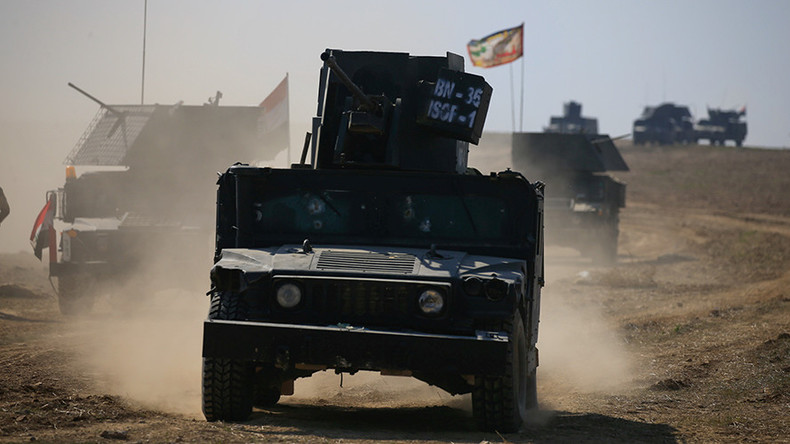 As US-backed Iraqi forces are advancing on ISIS-held western Mosul, the UNHCR says it's extremely concerned about the thousands of civilians trapped in the city, as there's a high risk of casualties, spokesperson Matthew Saltmarsh says.
Iraqi government forces have retaken Mosul's airport from Islamic State (IS, formerly ISIS/ISIL) and stormed a military base in a bid to enter the terrorist-held city, where up 750,000 civilians remain trapped.
READ MORE: US-backed Iraqi forces advance on ISIS-held areas of Mosul, as 750,000 civilians remain trapped
This comes as the Pentagon's Baghdad-based spokesperson, Col. John Dorrian, admitted that US troops came under fire in the embattled city.
"They have come under fire at different times, our forces... that have been in Mosul and other places around Iraq," he said at a press briefing on Wednesday.
RT: The safe evacuation of civilians from the city was promised by the US, and yet around 750,000 people are still trapped in the city. Have they been forgotten?
Matthew Saltmarsh: We're of course extremely concerned about the civilians who are still trapped in western Mosul. As you know, it is a very densely populated area. We're expecting that the fighting, when it does happen in western Mosul proper, will be intense and it could be street to street. So there is a high risk of causalities, and there is also a high risk of displacement. The government of Iraq has said that potentially up to around a quarter of a million people could be displaced from the city, could have to flee the fighting in the city. Our focus is entirely on preparing for that possible eventuality. We're doing so from the areas around Mosul with camp preparation and, of course, of the protection activities – food, water, and medical support – that we can.
RT: We know that one of the more effective tactics in this regard is the use of humanitarian corridors. Are we likely to see them in Mosul?
MS: We haven't got anything firmly confirmed on that, but we're in discussion with partners about trying to get as close as we can to those who are in need. We know that the situation, through reports and from speaking to some people – the few people who have got out – is incredibly desperate in the city: food is scarce, food prices are skyrocketing, and clean water is more or less unavailable at the moment. There are reports of people burning furniture, plastic, and so on. The situation is desperate, and we're preparing to help those who could well be displaced from this fighting if that eventuality has happened.
RT: Is there anything that agencies like yours, international organizations can do? Can they use their power to implement there and push for these humanitarian corridors, for something that can lessen the plight of those who are trapped there?
MS: Our focus in terms of planning has been around the camp structure. We have eight camps completed, and another one in the works. We're working with the government of Iraq. We think that perhaps 60,000 to 80,000 new places could well be available very soon. So the focus from our side at the moment is very much to help those who are displaced, who could be displaced, and to give them shelter and the support that they need for the immediate aftermath – if and when they are displaced.
RT: The offensive has been ongoing since October. How bad is the situation for those who have been unable to leave Mosul? Do you see the creation of the human corridors as a likely development, or will this be impossible to do under the current circumstances?
MS: It is very difficult to say under the current circumstances, because the fighting has been in the airport today. We are expected to move soon into the urban areas. We are obviously talking with all of our partners, with the government, with the military actors involved – to try and ensure that we can protect, as best we can, those civilians, who are, as I've mentioned, are living in very, very difficult conditions right now.
The statements, views and opinions expressed in this column are solely those of the author and do not necessarily represent those of RT.
You can share this story on social media: