'Bad joke that CIA awarded Saudi prince for fighting terrorism'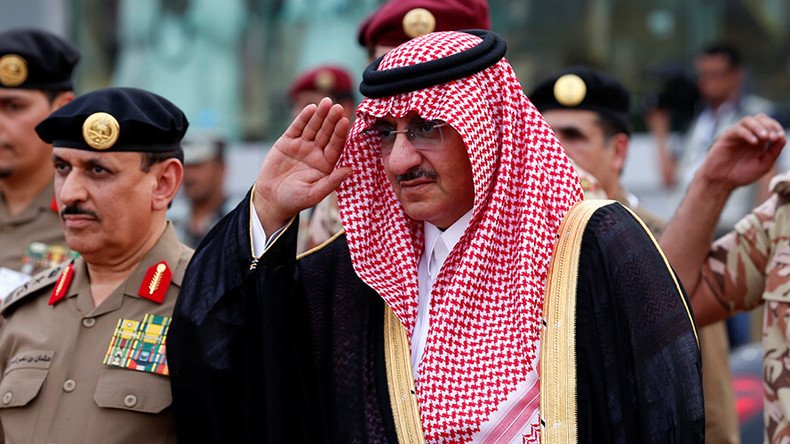 The award to Saudi Arabia's Crown Prince Mohammed bin Nayef by the CIA for fighting terrorism could be a US diplomatic overture towards Saudi Arabia, a message to Iran or a bad joke, says former CIA intelligence analyst Ron Aledo.
The CIA has awarded the crown prince of Saudi Arabia with a medal for his fight against terrorism. Saudi Arabia is widely accused of actually supporting terrorism with America itself among those making the charge.
RT: Saudi Arabia has clearly been very controversial on the issue of terror, however, might there have been reasons for the CIA's move?
Ron Aledo: It is true that Saudi Arabia have been controlling at least terrorism inside the kingdom. It is also true that Saudi Arabia has been promoting terrorism in other ways, for example, in Syria. Most of the Sunni jihadists have been supported by Saudi Arabia. It is absolutely kind of a bad joke that we give them the medal for fighting terrorism.
The thing is we don't know why they are giving this medal to this Saudi prince. We don't know the reason, we can only speculate. Perhaps, this is a diplomatic overture or some kind of honey approach to Saudi Arabia, they do help us control terrorists in Syria…
We obviously know that Trump knows this, Mike Pompeo [CIA Director] knows this, Lieutenant-General Michael Flynn knows this. Remember, Michael Flynn was fired from the Director of the Defense Intelligence agency by Obama. That is an open secret in Washington, D.C. that Obama forced Michal Flynn out of the DIA precisely because he told Obama 'Sir, there are no moderates in Syria. Moderates in Syria are a myth, they don't exist.' And now President Trump took Michael Flynn as his national security adviser.
RT: President Trump said fighting ISIS is his main geopolitical aim. How do you expect things to change in the relations between the US and Saudi Arabia in the future?
RA: Perhaps, this is again a diplomatic overture, a friendly gesture. Perhaps what they expect in return is for Saudi Arabia to cut the funds to Al-Qaeda. A lot of private citizens in the kingdom fund Al-Qaeda and associated groups. Perhaps they are trying to cut the funds to the jihadists in Syria. Perhaps they are trying to send a message to Iran: 'We are going to renegotiate the nuclear deal with Iran and if you don't work with us we might support the Sunnis.' We might to remember that there is a civil war in the Middle East, the Muslim war between the Sunnis, the Wahhabis led by Saudi Arabia and Shias led by Iran. So, perhaps this is sending a message to Iran. So, there are a lot of possibilities.
The statements, views and opinions expressed in this column are solely those of the author and do not necessarily represent those of RT.
You can share this story on social media: