One Flew Over the Super Bowl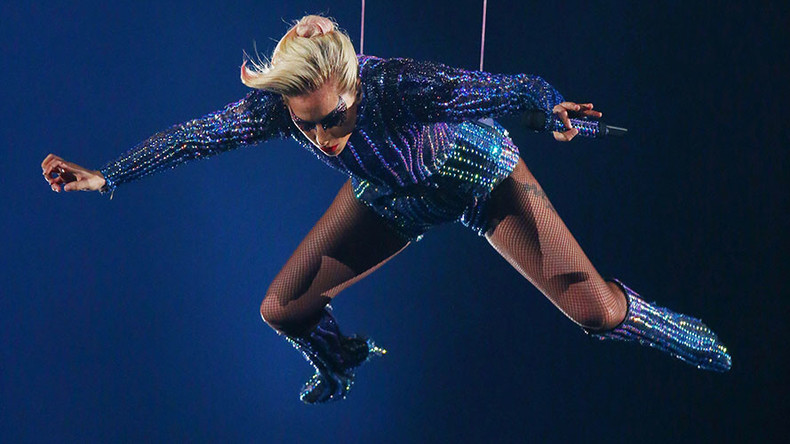 Lady Gaga flying, US VP Mike Pence booed, Irish Civil War, $5million adverts. Add doping, concussion and gender issues, and American Football's showpiece event has more drama than a Hollywood blockbuster. But don't tell Meryl it's All-American.
Settling in for the National Football League (NFL) season climax was going to be a little painful this year. Not just that it drags on until it's time to leave the house for work. I'm not particularly fond of either team. It's been 34 years since my first Super Bowl, and nothing positive stirred within me.
Partially I expected more of the hysterical attention seeking from unhinged individuals playing to the cameras (see at 0:07sec the sneaky look) only to morph into babbling buffoons when the opportunity to rationally discuss their point of view. The 51st Super Bowl could've been a lightning rod for the morons who love or loathe President Trump. So I reluctantly answered a 2am alarm.
Lace Curtain vs. Shanty Irish
The New England Patriots had the divisive Tom Brady as Quarterback who was supposed to have been destroyed after "Deflategate", a scandal where the Patriots let air out of footballs so Brady could throw them better. The only loser was Ryan Grigson, General Manager of the Indianapolis Colts (Patriots opponents in 2015). Grigson lost his job while NFL Commissioner Roger Goodell and Brady would be in Houston for Super Bowl LI.
Brady, a Californian married to Brazilian model Gisele Bundchen, personifies what is commonly known as 'Lace Curtain Irish,' or those who did well for themselves and turned Conservative. Pulling up the ladder after their ascent to respectability, they turn Republican, and sure enough, Tom wanted Trump to make America 'Great Again'.
Opposing him were the Atlanta Falcons' Matt Ryan at Quarterback and Head Coach Dan Quinn. Ryan and Quinn would be grouped with the 'Shanty Irish,' East Coast, Democrats, socially minded and underdogs. Ryan was brought to Atlanta in 2008 to win, and he began well without excelling. This season he returned to winning ways and looked good to take down the legend that is Tom Brady.
Democrat vs. Republican, Lace Curtain vs. Shanty, Trump vs. Obama, Legend vs. Underdog, Cheats vs. Non-Cheats. Lady Gaga at half-time, expensive adverts and maybe protests, I forced myself to tune in.
All about the Benjamins
In the lead up the economic aspect interested me as much as issues of player safety. Regular season salaries always tend to skew the way of the big names, Ryan earned $23.8 million, almost $8million more than team-mate Julio Jones. Brady pulled in $13.8million, roughly $5million more his next highest paid team-mate. In the play-offs, all players are on the same money. So Ryan and Jones will have the same paycheck today, and Brady and his subordinates too. Having been an athlete, coach, and manager, it is normal to see such inequality and equanimity.
When playing soccer in Canada I received more money than team-mates, yet in a knockout/cup competition, the prize-money was shared equally. In Russia, our company once had two players with the same club, a forward and a defender. The forward received three times higher salary and bonuses than the goalkeeper. Close in age and experience, the forward was more valued as he scored goals and goals win matches. Ryan and Brady control their offenses; they are the generals on whose skill their teams rely. Even grudgingly, team-mates accept this.
However, it was the plight of the 'window dressing' for American Football that caught my eye. Cheerleaders are part and parcel of US Sports from High School through College and into the Pro Leagues. In Russia, they are present in ice hockey, seemingly to 'entertain' but more commonly to annoy. In the NFL cheerleaders are synonymous with the glamor the sport brings. From the Dallas Cowboys Cheerleaders and their Texan bling to the glam of Miami Dolphins Cheerleaders, the profession has become more sanitized. Only six of the 32 NFL teams don't have cheerleaders, and there is a creeping pressure to remove them altogether. And a lawsuit might end the tradition altogether.
A lawsuit taken by a former San Francisco 49ers 'Gold Rush' cheerleader is chasing the NFL for up to $300million for underpayment. She, and others, claim that receive between $90-125 per game and usually receive their salary at the end of a season as a lump sum (with fines deducted). Given the billions earned by the League each year, the underpayment of an integral part of the circus seems more than unfair. As the NFL remains reluctant to deal with the triple epidemics of concussion, abuse of painkillers and doping, the undervalued cheerleaders might find themselves out of work before they get fair pay.
The main event
So began the 24th Super Bowl since 1983 and the 2nd since my Dad passed away. He was appalled by the singing of the National Anthem and this year, while he would have approved of Luke Bryan, it was more of the same torture, though not as terrible as before the Russia-Sweden World Bandy Championship Final yesterday. As with the "show" before the anthem, it was a little too much.
The coin toss was even more painful. Former President George Bush I was wheeled out alongside his wife Barbara (who rode a golf buggy) to do the honor.
Clearly confused, he looked a shadow of his former self, and the intense noise in the arena made it worse. After show, anthem and coin toss I considered going back to sleep, but there were half-time adverts, Gaga, and football to come.
With the Falcons leading 21-3 at half-time, the adverts rolled, and despite the NFL taking an apolitical stance with their broadcast partner FOX, there was some expensive hypocrisy. Audi's equal pay for women was at odds with the NFL's role in cheerleader pay suppression, 84 Lumber's video on illegal economic migrants crossing from Mexico had a clear angle - even minus the border wall - and Cam Newton's Buick advert worrying. Newton, some will remember, was brutally concussed by Atlanta last October. The less said about the 'alternative facts' poured forth from the Budweiser keg, the better.
The funniest and the most current advert was for Mexican avocados, though the military got their place with a 'live' advert.
For her half-time spectacle, Lady Gaga was praised for not being political, for championing drones, for pushing LGBT issues, to being part of a triumphant anti-Trump display. I was making tea while watching it and just wanted to see more high priced adverts.
Midway through the 3rd quarter, Atlanta made it 28-3. Those not in bed at half-time went then. While Pope Francis preached peace before the game, it was the Patriots 'Lace Curtain' Quarterback who got the Papal miracle. Scoring unanswered 32 points and winning in overtime, Brady equaled Charles Haley's record of five Super Bowl wins as a player. The finale led to Atlanta's choke job being called the "best ever", far from the truth though normal in our goldfish memory society. What will be forgotten, until the city goes bankrupt, is the cost of hosting the event. It will be remembered that for 30 seconds of airtime an advert cost $5.02million last night and that for the 1983 edition it was $400,000. A couple of good catches aside, the standard of football was average though the paid for articles and reports will convince us otherwise.
If Trump kicked out foreigners there would be nothing to watch but "football and mixed martial arts, which are not the arts" screeched Meryl Streep in her Oscar plea. I thought of this as the nail was put in the coffin of another expensive US entertainment event. Gisele Bundchen, Tom's wife, was so engrossed in exposing herself further, that she encapsulated all that is wrong with our society. Shooting a selfie as your husband finishes off his concussed Irish-American counterpart fits in with everything we've experienced in America and abroad in recent times. Egocentrism has taken over experience, and screeching has taken over discourse and celebrity is more important than substance.
I am glad I experienced Super Bowl LI. For nothing else than to see the bad guys win and prove that cheats do prosper. And my morning ended on a smile, Gisele dropped her phone. There was justice in Houston after all.
The statements, views and opinions expressed in this column are solely those of the author and do not necessarily represent those of RT.
You can share this story on social media: