Trump's 'Muslim ban': Ploy to stem refugee flow or strategy for war with Iran?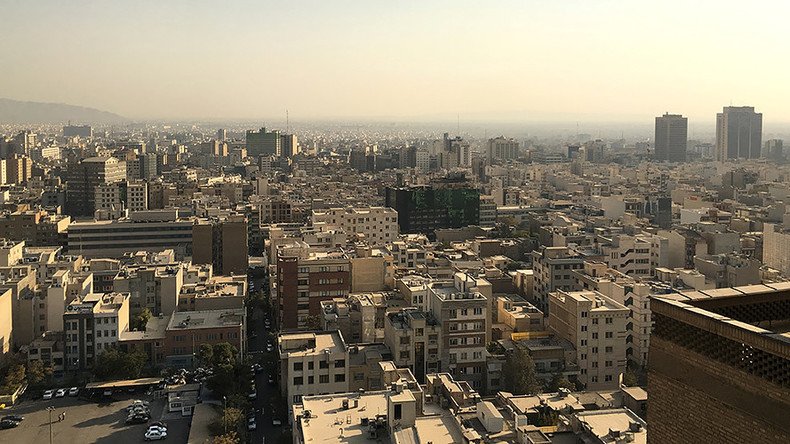 President Trump has insisted the ban, which has just been put on hold, is not about religion but rather controlling refugee flows. A close look at the countries he chose coupled with the fiery rhetoric suggests he may be preparing for war with Iran.
It appears something big is about to happen in the Middle East. And it might have something to do with Donald Trump's swiftness in how he has been conducting telephone calls with old allies in the Gulf Arab States, while shuttling his new defense chief Jame Mattis around the region - moves which are worrying some in this part of the word.
The White House signaled a tougher stance toward Iran when Michael Flynn, Trump's national security adviser, warned Tehran that it was putting Iran "on notice" after a recent missile test and senior U.S. officials said the administration was "reviewing" how to respond.
Could the haste in which Trump's team are moving about in the region conducting high profile talks and this latest announcement mean that the US is preparing for war with Iran?
It may sound far-fetched but Trump's policies never cease to shock. Furthermore, there is an increasing number of indicators that are causing some experts to believe war is imminent and that the sanctions are less a 'litmus test' to the regime in Tehran and more of a studious provocation.
The media in the US has blithely failed to point out any of these red flags, however, preferring to obsess over sad stories of refugees or those with green cards unable to enter the US. Is this a sinister tactic to tarnish Trump in an era so prodigiously dominated with fake news? Or is it simply that US media has taken its eye off the ball?
How could so few had failed to see clues to Trump's impending Iran foray?
The most startling, the fact that the so-called 'Muslim ban' actually only covered seven Arab countries - most of which are staunch allies of Iran?
Moreover, the nefarious reaction of oil rich Gulf Arab States who publicly supported the plan?
But there's much more, in fact, to alert the media to a war in the Middle East which will restore the old order and return Iran back to being a poor, ultra-conservative, backward country which, conveniently, will remain a foe of Washington, as well as America's two key allies in the region, Saudi Arabia and Israel.
With Trump in power, Israel now feels emboldened more than ever and its rapacious new settlement frenzy is an indicator of that. But now it is advising Trump on how to go about taking Iran down, following the appointment of defense chief 'Mad Dog' James Mattis and his national security adviser Michael Flynn - two individuals who are well known to want war with Iran.
For Trump, it's more about money and less about score-settling and geopolitics. He has bemoaned the fact that the US "should have taken Iraqi oil" as a spoil of war when it had the chance. Even more recently, he has repeatedly tweeted his revulsion about Iran being given $150 bn dollars from America, as a derivative to the Iran deal.
During Obama's term in office, Iraq didn't just give the US a raw deal, but also fell into the apron of Iran - financially, politically and ideologically - which some argue was the straw that broke the camel's back for Trump and his team.
It's true that US presidents wield far more power with foreign policy than domestic, but the sheer speed of how Trump's people are moving is extraordinary.
Could the explanation be that recent actions from Iran have provoked Trump and accelerated what would have been a military stance taken by the US at some later point?
Certainly the ballistic missile test carried out by Iran was both a catalyst to Trump's antagonism and an error on the part of Tehran.
But there's more to it than that.
Iran's hardliners welcomed Trump's victory at the elections as - with an Iran deal under way, sanctions being lifted and its proxy fighters Hezbollah leaving the battlefield in Syria as victors - Iran was feeling its newly gleaned power.
Perhaps the modern, West-looking government of Rouhani gave the old guard too much room to flex its muscles.
If US journalists are reporting on the new sanctions as a sort of test for Trump to play against Iran, they have failed to put into context what has also been going on in recent weeks. Iran started using weapons grade uranium in its new generation of submarines, which in itself was a two-fold message: we don't hold out much hope for the nuke deal and we too can also test America's patience.
Weeks later, Iran tested ballistic missile and a fuse jumped in Trump's camp. And just as a strategy was going to be put in place, Iran did the unthinkable, which is still not being reported by Washington: it is now planning to officially ditch the US dollar as a reserve currency. Previously, when both Iraq and Libya went ahead with similar plans, both countries were hit hard by the US military.
It seems almost as though Iran is going out of its way to attract the wrath of James Mattis and even Israel.
To scrap the US currency and opt for a basket of other international currencies for its central bank reserves is almost a greater enticement than taking a pot shot at a US warship in the Persian Gulf.
No one can say at this point with any certainty how far Trump will go in clipping Iran's wings. But military experts have told me the US would probably opt for an open conflict with its warships to see how far the Iranians want to take it as Iran's defense budget only stretches to tiny 30bn dollars compared to America's, which is twenty times greater.
But it's not about who has bigger and better guns. Trump is gambling on a number of factors, chiefly that Russia will not get involved. He is also banking on Iran not having the guts to launch rockets from Lebanon into Israeli cities, with the possibility of reaching Tel Aviv. Or not having the time.
His advisers who have close links to Israel may consider the possibility of hitting Hezbollah first in Lebanon - whose 20,000 disciplined fighters would be considered a key defeat for Iran if they were to be put out of action or sustain high casualties. Of around 7,000 wounded from fighting in Syria, 2,000 have lost limbs and this has had some impact on morale within the Lebanese Shia militant group, which has also gained considerable power inside Lebanon in recent years.
Iran is planning to go ahead with its move to offload its US reserves in March. It's unlikely Trump will wait to react as so far even his strongest adversaries are at pains to point out that he rarely strays from his own script.
Martin Jay recently won the UN's prestigious Elizabeth Neuffer Memorial Prize (UNCA) in New York, for his journalism work in the Middle East.
He is based in Beirut and can be followed at@MartinRJay
The statements, views and opinions expressed in this column are solely those of the author and do not necessarily represent those of RT.
You can share this story on social media: