Turkey nightclub attack possible 'tragic sign ISIS is losing the war'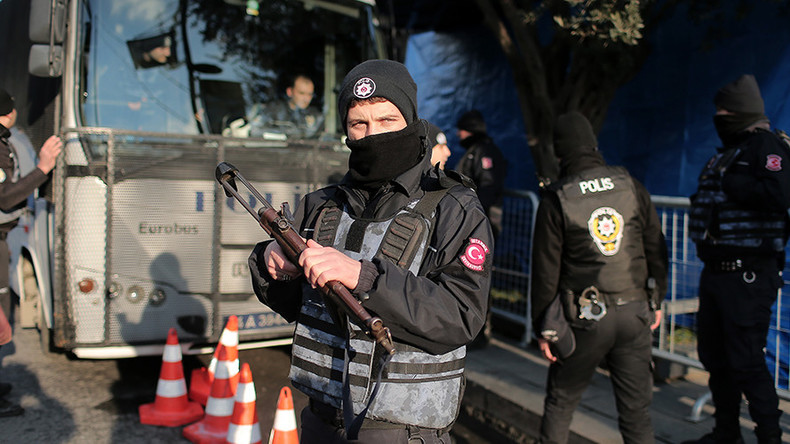 Many places where ISIS was once in control they are now under siege and in retreat, Karen Kwiatkowski, retired US Air Force Lieutenant Colonel, told RT. It's a possible response to ISIS ejection from Aleppo and what is happening in Mosul, she added.
An attack at the Reina nightclub on Saturday evening in Istanbul cut short the lives of 35 people who were celebrating the arrival of the New Year.
Istanbul Governor Vasip Şahin said that the incident - which happened just hours after the UN Security Council unanimously passed a Russia-drafted resolution that endorses a nationwide Syrian ceasefire - was being treated as a terrorist attack.
RT interviewed Karen Kwiatkowski, retired US Air Force Lieutenant Colonel, for her views on the latest act of terrorism to strike Turkey.
RT:It's been a terrible past year for Turkey in terms of terrorism - 275 killed in bombings and shootings in 2016. Most of those were blamed on ISIL and Kurdish separatists. Who do you think could be responsible for this latest attack?
Karen Kwiatkowski: It seems like an ISIS type of thing, particularly in that the targeting was on the European side of Istanbul and in this particular night club there would be… lots of tourists, both Turks and non-Turks together. So it seems like an attention-getting attack – they're calling it a terrorist attack, and it certainly seems to be – and one that is aimed at getting the attention and possibly the reaction of Western powers… I don't know for sure, but it sounds like ISIS. It's possible, you still have the Kurdistan independence movement and they have certainly been responsible for a lot of damage inside of Turkey, but I'd lean more towards ISIS as well given what we know.
There are so many marks that points toward this being an ISIS attack. The first point is that Turkey is now carrying out its operation called 'Euphrates Shield' in Syria and targeting mainly ISIS. And as we can remember, there have been multiple ISIS attacks in Turkey after this Euphrates Shield operation as well. Just a couple days ago, President Erdogan said that we are out there fighting directly with ISIS… so at this point, it is clearly an ISIS attack. I was in Paris when the November attacks happened last year when (terrorists) shot up a concert hall and this was the same exact style. So while there are signs this is an ISIS attack, no one has yet claimed responsibility for it - Alaattin Kılıç
freelance journalist based in Istanbul, to RT.
RT:Turkey brokered the Syria ceasefire deal together with Russia and the UN Security Council has unanimously voted for a resolution supporting that ceasefire. Could this be linked to the latest tragic events?
KK: I really do. I think that as the rest of the world looks at what is happening in Syria and pretty much agrees that the crushing of ISIS - that's happened under Russian leadership and with the help of the Turks as well - that this is the right thing for Syria. It is a rejection of the Western policy of regime change and to fight back the target makes sense as a response to this. As well as the evacuation of ISIS from Aleppo and what is happening very slowly in Mosul (Iraq) also against ISIS. You've got in many of these places where ISIS was once in control and now they are under siege… It may be a sad sign that the war against ISIS is being won.
RT:The owner of the Raina nightclub in Istanbul said U.S. intelligence warned that such an attack could take place. Are these things simply impossible to prevent?
KK: After the fact, to criticize... I don't know. I will say this: The US State Department travel restriction on Turkey has not been updated since October 29. And at that time, it warned that places like night clubs like this one were places that Americans should be careful with and should avoid. So this idea that the US had some specific intelligence a week ago or 10 days ago – as the night club owner had said – this is something to look into. Can it be prevented? It's very difficult to say. In Berlin, they put the concrete barriers up after the truck attack, so it seems we think about what we could have done just about a second too late.
The statements, views and opinions expressed in this column are solely those of the author and do not necessarily represent those of RT.
You can share this story on social media: