'Erdogan's accusations of US supporting terrorists a parting shot for Obama'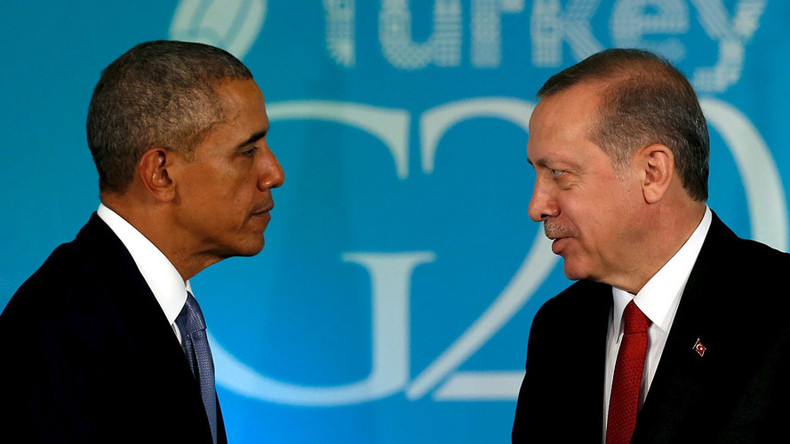 After Turkish President Recep Tayyip Erdogan accused Washington and its allies of supporting ISIS and other terrorist groups in Syria, RT discussed with analysts the timing of the claims and whether there will be any evidence to them.
"They give support to terrorist groups including Daesh (Arabic for IS)," Erdogan said.
However, US State Department Deputy Spokesperson Mark Toner called Erdogan's claims "ludicrous."
Syria commentator Danni Makki called Erdogan's statement "pretty staggering."
"Turkey is one of the most important US allies in the region. And it is interesting that he should actually say that because ISIS has grown into the most dangerous terror movement in the world under the auspice and, you could argue the presence of Erdogan in Turkey, it is growing from the strength to strength. This can definitely be seen as the start of a lot of discord between Turkey and the US," he added.
According to Makki, "it comes as rather more than just a statement – it is more of a parting shot for President Obama, essentially saying that 'You've got into this mess and we believe that you are part of the problem also.' If you remember at one point, Joe Biden also accused the Turks of supporting ISIS."
The latter, in Makki's opinion, "is probably more correct than arguing [that] the US supports ISIS" given Turkey's policies in the region in recent years.
There have been some problems between Ankara and Washington as well as Ankara and NATO, a lot of which revolve around Syria policy, he said.
However, the timing of Erdogan's statement shows that "Russia has now gone into the scene more powerfully and robustly, and that Turkey views Russia as a more crucial and significant ally in Syria rather than the US," Makki said.
Erdogan's move comes shortly after the talks on Syria between Russian, Iranian and Turkish foreign and defense ministers in Moscow.
READ MORE: Russia-Iran-Turkey alliance most effective in solving Syrian crisis – Lavrov
The three countries said in a joint statement they were ready to help broker a Syria peace deal and agreed that there is no military solution to the crisis. They also confirmed their commitment to fight against ISIS and Al-Nusra.
Earlier, Iranian Defense Minister Hossein Dehghan said in an interview with RT that the US was not fully committed to defeating terrorists.
Commenting on the claim, Makki said the US has created a vacuum in Syria "without having a very clear and coherent foreign policy."
He said the US lacks any real genuine allies on the ground in Syria, and "it has been pursuing vehemently its policy of arming and supporting so-called moderate rebels, which has over the previous three years only added fuel to the fire and only continued the rise of groups, such as ISIS, Jabhat Fateh Al-Sham (previously Al-Nusra Front) which is the official Al-Qaeda branch in Syria".
According to the analyst, a lot of this goes back to the fact the US has not differentiated between all of these groups in a proper manner.
'Turkey's accusations of US supporting terrorists in Syria disingenuous'
Michael Maloof, a security analyst and former Pentagon official, told RT that the US still supports ISIS to topple Syrian President Assad.
RT: These are quite serious accusations. Do you think there will be evidence produced to support them?
Michael Maloof: The evidence is quite ample, the US have been doing it for some time, including running secret CIA operations through Jordan, then through Turkey and then into Syria. It is very disingenuous of President Erdogan to all of a sudden receive an epiphany that the US is funding ISIS when it has been a known fact for quite some time. And this goes back to at least 2012 when we were supporting all the Sunnis including ISIS elements to topple President Assad. And it is still continuing. Erdogan is not without blood on his hands. He also has been supporting ISIS, there a long history of that… He is continuing to support Al-Nusra, he is also continuing to support Ahrar-Al-Sham, all those elements that fled to Idlib province which has a direct access to Turkey so that they can continue to receive arms and personnel to continue the conflict not aimed at ISIS so much but aimed at toppling the government of Syrian President Assad.
RT: Lots of parties involved here, saying one thing, doing another. Can they actually cooperate together in Syria? Can Turkey and the US work in conjunction?
MM: I think the US is really leading from behind unless the incoming Trump administration lives up to its promise to work with and coordinate with Russia and Syria and Turkey to do away with ISIS. But Erdogan has been playing another game. He has his own agenda. And of course, the Saudis have their own agenda. And you have Turkey which ultimately sees a potential threat from a Saudi influence over the Sunnis who do exist in Syria, which is about 80 percent…Erdogan continues to supply arms [into Syria] as well: his ultimate aim is to go after the Kurds and ISIS is secondary…
It is clear the US has been providing this kind of support for years, and it's even more dramatically increased since Obama waived the Arms Export Control Act and the Congress just put an authorization into the National Defense Authorization Act to allow MANPADS or shoulder fired missiles aimed at aircraft to be allowed to go to the rebels…
Jamal Wakeem, Professor of history and international relations at Lebanese University in Beirut, said that he doesn't believe that Erdogan's statement "will show any evidence" to support his accusations.
"This is part of his complaint against the coalition because of the lack of its support to his troops that tried to invade the city of al-Bab to the north of Aleppo…There were calls by Erdogan for the coalition to support his troops and especially to have air support which didn't occur. And this is part of American hostility to any Turkish incursion into that area, especially that they favored the Kurds over the Turks in northern Syria. And they are not very happy with Erdogan opening up to Russia and to Iran," he told RT.
Prof. Dr. Huseyin Bagci, from Middle East Technical University Department of International Relations, told RT that: "I think that President Erdogan's statements reflect… the reality that Turkey is very disappointed at the moment because it is alone to fight against ISIS. The Mosul and Raqqa operations have been canceled, and the Turkish troops are there. And this disappointment from the Turkish president will reflect in the long run that Turkey is on the way together with Russia and Iran to create much more stable Syria in the long run…"
The statements, views and opinions expressed in this column are solely those of the author and do not necessarily represent those of RT.