Revealed! Putin personally hacked DNC from surveillance aircraft with bear on board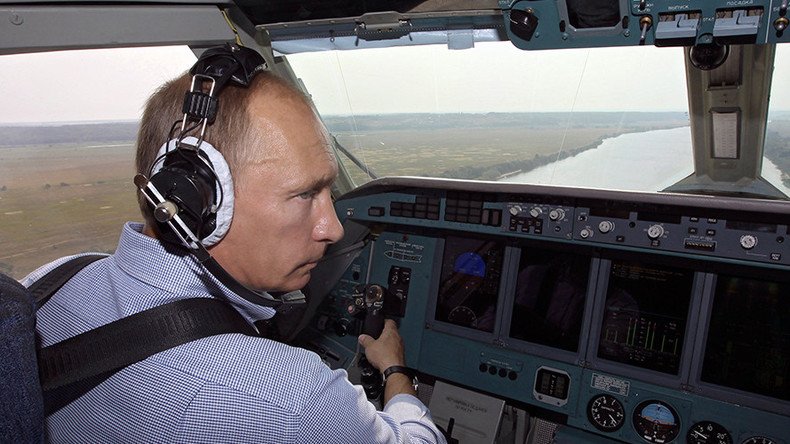 Shocking revelations earlier this week as US intelligence officials confirmed with "high confidence" that Russian President Vladimir Putin was "personally involved" in the hacking of the Democratic National Committee.
According to the anonymous sources inside the anonymous US intelligence agency, Putin's objectives were multifaceted, but the whole thing began as a "vendetta" against Hillary Clinton because she said some mean things about him a few times. Putin is also an "immature 12 year-old child," a former US official with links to the defense industry, who spoke on condition of anonymity, confirmed (with high confidence).
The high level, anonymous and completely trustworthy sources also told a major US news agency that Putin himself had piloted a specially-designed Russian spy plane across the Atlantic to personally direct the still-ongoing hacking operations from the air.
Satellite images seen by a separate anonymous NASA whistleblower are believed to show Putin in the cockpit of the spy plane alongside his co-pilot Boris, a lifelike robotic bear which has been under secret development in the depths of Siberia and has been programmed to attack Putin's enemies on command using a variety of lethal methods.
The NASA whistleblower did not provide journalists with photographic evidence, but the editors had a chat about it in their morning meeting and concluded that it's probably still true.
In fact, the American news agency could not verify any of the claims from the officials who commented for the story, but given that their sources used the term "high confidence" they took this to mean the evidence must be "nearly incontrovertible" and relayed the information to the public with this implication. An understandable decision, since, as we all know, only 100 percent factual information is ever released by anonymous intelligence officials.
Okay, let's rewind. Obviously that bit about the bear and the plane was fake news. And maybe a few other bits, too. But it all demonstrates a point. I've provided you with about the same amount of evidence as NBC has in its story this week claiming Putin personally rigged the US election: I made some allegations, I cited anonymous sources and then I conveyed it to you readers as "nearly incontrovertible" and suggested no further digging or investigation, or even a bit of healthy skepticism, was necessary.
Journalism is dying
There was a time when journalists needed more than 'maybes' and 'probablys' before deciding what their sources told them was "incontrovertible" and delivering half-baked conspiracy theories to the public. That time has apparently long gone.
Imagine for a moment that RT published a story about, oh, let's say Barack Obama personally hacking into Putin's computer. Now imagine the only evidence RT provided was "anonymous FSB officials" and told its readers the story was therefore practically indisputable because these anonymous sources were "confident" in the legitimacy of their secret evidence. Imagine the laughs that would get from sneering Western journalists. Well, that's pretty much exactly what NBC did. And they're not alone. The Washington Post has been at it too, reporting on a "secret" CIA assessment that Russia worked to get Donald Trump elected, quoting anonymous "top officials" and like NBC, providing no evidence.
Maybe I'm old-fashioned, but for something to be presented to the public as indisputable fact, there must be evidence made available to back it up. Neither the CIA or the FBI have provided any such evidence to the public.
Perhaps the saddest thing though is having to acknowledge that all our debates over fake news and real news really don't matter because the very people we are told to trust are the people who will most adeptly use the public's concerns over fake news to manipulate them. The CIA, for example, is hardly known for its long history of telling the truth. Its employees are literally trained in the art of deception and disinformation. They are hardly averse to creating a bit of fake news or making up 'evidence' where needed. Anything they say or do can be forgiven once someone utters the words "national security".
NBC's story claimed Putin not only wanted to embarrass Clinton with the DNC leaks, but to highlight corruption in the American political system; the emails showing, for example, how the DNC colluded with the Clinton campaign to ensure Clinton, not Bernie Sanders, would be the Democratic nominee.
Now, what better way to encourage people to ignore the corruption in the system than to focus their attention on the idea that Putin is the one who told them about it? Are people really reading these stories and convincing themselves that the CIA is the most credible source of public information on what the Russians are doing?
Clinton's long-shot
We've been hearing about Russian hacking for months, long before the election results in November, so why the sudden confidence in all this new and secret evidence? Why the new assertions that Putin himself directed the hacking? Look at your calendar. The Electoral College votes on Monday and it may be Clinton's last hope. It's a long shot, but in true Clinton character, she won't go down without a fight to the last gasp. Her best hope is to convince the Electoral College that Trump's win was influenced by a foreign power, is therefore illegitimate and that national security will be at stake if he takes office.
Amazingly, in the midst of all this, while Clinton's camp is still trying to get her elected through back-door tactics, Obama has pretty much called the election results legitimate.
Members of the Electoral College are expected to vote the way their states voted, but they are not required to. If Clinton can get enough members to flip their votes, Trump is deprived of the 270 votes he needs to become president. That's what this is really all about — and the media is serving as Clinton's willing accomplice.
The statements, views and opinions expressed in this column are solely those of the author and do not necessarily represent those of RT.
You can share this story on social media: