Athens' protesters mark anniversary of police student-slaying by going after 'EU financial elite'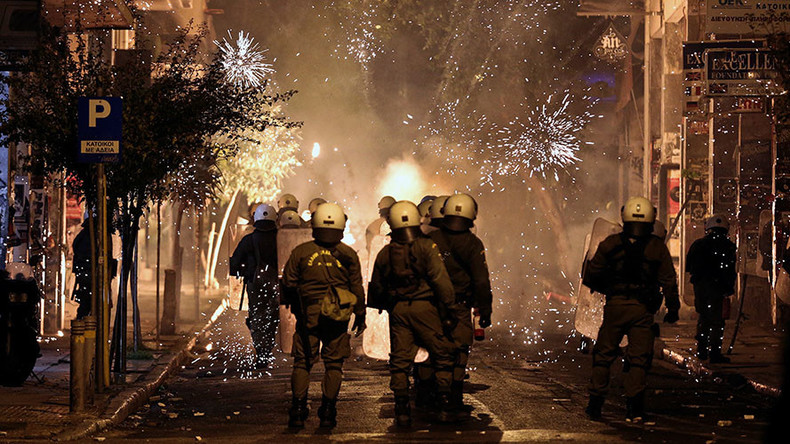 It may in the end result in a new, not so well-known figure in Greece becoming better known, because there is genuine frustration with the whole system here as there is in Italy; as there is to a small extent in France, Professor William Mallinson, former British diplomat, told RT.
Demonstrations in the Greek capital marking the eighth anniversary of the death of Alexandros Grigoropoulos, a 15-year-old student who was killed in 2008 by two Athen police officers, turned violent as protesters hurled Molotov cocktails and firecrackers at riot police, who responded with batons and tear gas in order to disperse the crowd.
An estimated 1,500 people representing student and school unions, as well as various anti-establishment movements, marched through the center of the Greek capital towards parliament earlier on Tuesday.
RT: Could you tell us about your experiences of these commemorations? You were caught up in one of them, weren't you?
William Mallinson: Yes, indeed. I was caught up with the first anniversary of the murder of Alexandros Grigoropoulos by very badly trained police officer. I just stood looking at my watch, and that was filmed and went around the world apparently. No one still knows who I was. However, like the French, Greeks have a greater habit of going out in the streets to express themselves. Now at the moment it is getting a bit worse because Greeks are very frustrated. They haven't got a focal point like the Italians have [Beppe] Grillo to protest about the big issues of the day. So they find an issue like this, which is a good issue. When they find it, they will go – many more people will be protesting generally, not only about the dreadful murder. I think it is important to recognize that. I suspect that many of the demonstrators will be going against the so-called financial elites of Europe, and will be expressing themselves in that way. It is also worth remembering that unfortunately it's being said that the police themselves often use people as anarchists, when they are not really anarchists, and they cause a bit of trouble, which then gives the police the excuse to overreact. That may or may not be true. I've heard many stories about it. That sorts of exacerbates the problem. The rioting will probably go on into the night, and fizzle out, as it usually does. Hopefully the police are better trained today than they were when they murdered the poor 15-year-old boy…
RT: Do you think the situation will escalate? Is frustration of the people growing?
WM: Yes, it does. As I said, it is a focal point, but it has got a ripple effect for much broader issues. There may even be an anti-Merkel element, for example. Many people are angry at the Germans for suffering from their excessive logic and feel that they've been destroyed by German influence within the European Commission. There will be a lot of those people. There will be presumably quite a few people from some of smaller political parties, but growing ones, such as EPAM [United Popular Front], which is moving.
It may in the end result in a new, not so well-known figure in Greece becoming better known, because there is genuine frustration with the whole system here as there is in Italy; as there is to a small extent in France. I think it should be looked at in that sort more international context, as well. Remember that the eyes of the world are often on this tiny country – Greece – whenever there is a riot. Well, of course because there is a danger for them of Greece leaving the Euro. That explains part of the massive publicity that Greece gets internationally whenever there is a sort of demonstration.
Read more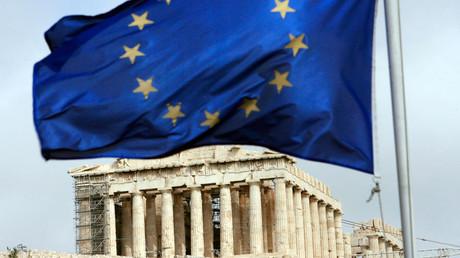 The issue itself is horrible, but it is being used - a cynic would say 'exploited' - by people with a much broader agenda, and not necessary a bad agenda. They are expressing their anger and frustration. The trouble about Greece they often start doing something well, but they never seem to finish properly. As in their football, they get up to the goal, but, they don't often put the ball into the goal. They are very good at making plans. There may be plans behind this demonstration: "Let's have another demonstration, let's get rid of the government, let's have another referendum," etc. But they somehow never manage to finish things off.
RT: What do you think about the way the authorities are handling the demonstration? On the one hand, they are allowing people to kind of vent their frustrations and that prevents things getting worse; on the other hand, though, maybe they will finish off what they start one of these years. Maybe one day it will spill over, becomes something that gets out of control?
WM: Indeed. It is nearly spilled over remember in 2011, it could have spilled over again when Tsipras betrayed Greece after the referendum – majority of Greeks said 'no' then they said 'yes' to Brussels. It's issues like that which can make things spill over a bit, and then you get a national crisis. And that is when either, as I say, you have someone who is well-known and becomes a Greek version of Grillo, or you have… martial law – something as terrible as that. These things have happened before. So there is no reason why there might not be a danger of them happening again. There are quite a lot of people in the armed forces, high-up, who are quite angry about the whole thing. Let's remember that it wasn't so many years ago that one political party, PASOK [The Panhellenic Socialist Movement], had an organization called Aspida - which is connected to [Andreas] Papandreou by the way, not the young George - and it is found out they wanted to have a military takeover. But in the end the right-wing people took over.
The statements, views and opinions expressed in this column are solely those of the author and do not necessarily represent those of RT.