'German provocations against Russia unthinkable without US support'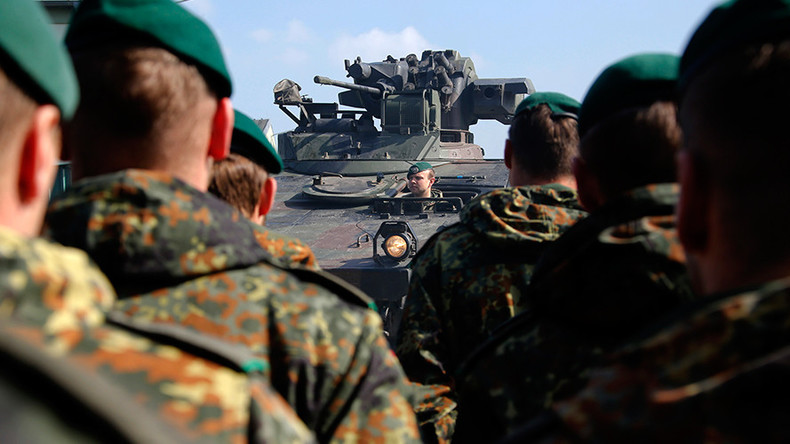 Germany's aggressive idea of encroaching on Russia's borders from the Baltic States would not have occurred to any German a few years ago. This stance largely depends on the US position, Rainer Rupp, publicist, former German Intelligence, told RT.
Europe should start thinking about its nuclear defenses, given US president-elect Donald Trump's ambiguous position on his country's commitments to Europe, according to Roderich Kiesewetter, foreign policy spokesman for the conservative bloc in German Parliament.
"If the United States no longer wants to provide this guarantee, Europe still needs nuclear protection for deterrent purposes," he said last week.
Kieswetter's words come at a time when some polls show that 93 percent of Germans want nuclear weapons to be banned completely, while many others are expressing objections to Germany's recent pledge to boost military expenditures.
In the 2017 federal budget plan, Germany has reportedly set aside 36.6 billion euro for defense.
Additionally, the German defense ministry has revealed it will recruit over 14,000 more troops.
While German Chancellor Angela Merkel has attempted to justify the expenditure, some politicians aren't too happy about the new developments, especially during a period of belt-tightening in the country.
Rainer Rupp, a publicist and former German Intelligence officer, provides his view on this latest development in the European Union's wealthiest member state. Rupp believes that the current shift in political rhetoric concerning the country's military is caused not only by internal, but also external triggers.
RT: Does Kiesewetter's statement signify that there is a change of heart among Germany's decision-makers whether Germany should pursue a more aggressive military component in its foreign policy?
Rainer Rupp: Yes, there is definitely a change in the attitude of the German political military leadership, but this change occurred before the election of Trump. The election of Trump had thrown the spanners into their works. Now, they do not know any more in which direction they have to go, which is very nicely reflected, for instance, with various confusing and shocking statements of our Minister of Defense, Frau [Ursula] von der Leyen. Before, they wanted to have the German leadership in a European army. As long as Brits were part of the EU – they couldn't even think about it. Now with only Germany and France being the two strongest powers economically and of course militarily in the EU, it is a different matter. Only to get these two countries under one hat, in order of decision making, especially in an environment where NATO or US guarantees for the Transatlantic Alliance – let's put in a question mark - is a completely different ball game.
On top of this, we have a situation in which economic interests in the main member countries are rapidly diverging, going in opposite directions. The EU might even end on September 4 – the beginning of the end if Mr. [Matteo] Renzi, the Prime Minister of Italy doesn't get his requested changes in the Italian constitution and they're going to be reelections. It will be ray from the window, and new forces will very likely take over in Italy – new forces that aim at getting rid of the Euro, getting out of the Euro. So the whole system is crumbling. So the Germans are struggling to save what can be saved. But I see very little chance of them succeeding.
RT: Do you think this means strengthening of militaristic rhetoric in Germany in general? What is Germany's and NATO's attitude towards Russia now? Might they take some actions against it?
RR: The foreign policy has become more aggressive in view of the forward moves towards the Russian border in the Baltic States, the deployment of forces, the follow-up forces for the so-called Rapid Deployment Forces followed up to 300,000 military personnel to be deployed within a relatively short term in Eastern Europe. All this is highly aggressive and the idea of doing something like that would not have occurred to any German a few years ago – no way. Now, this aggressive attitude however stands or falls with the support of the US. Without the US this attitude in Eastern Europe against Russia, these provocative moves against Russia will not have any substance.
The statements, views and opinions expressed in this column are solely those of the author and do not necessarily represent those of RT.