'FBI chief tries to cover himself between two elites, but not doing good job'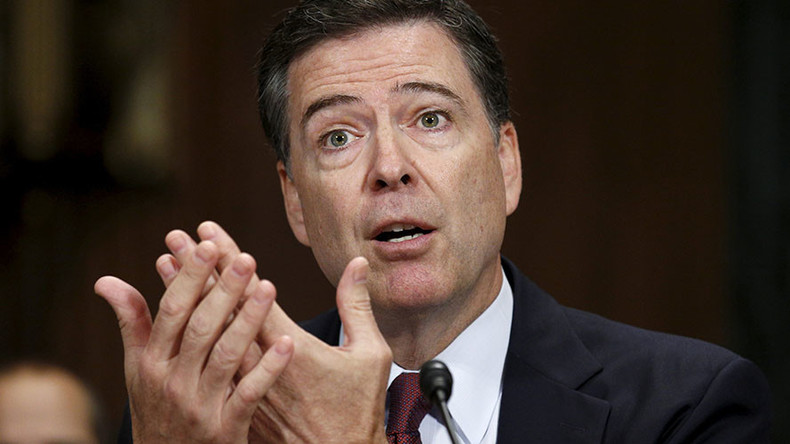 The FBI's latest twist in the Clinton email investigation shows a real split within the political establishment which is reflected in the national security organizations and the police departments, says Jack Rasmus, professor of political economy.
The FBI said Sunday it found no evidence of wrongdoing in its latest investigation into Hillary Clinton and her use of private email during her time as Secretary of State. The issue flared up 10 days ago when the head of the FBI James Comey told lawmakers new evidence had been found in the case.
Two days before the election Comey wrote a letter to Congress. It says the FBI has found nothing to change its conclusion expressed in July, and the agency will not be recommending criminal charges against Secretary Clinton.
The re-launch of the FBI probe was a major upset to the Clinton campaign. In late October, James Comey said agents had discovered new emails relating to the Democratic presidential hopeful on the laptop of Anthony Weiner, the ex-husband of Clinton's senior aide and close family friend.
RT: Comey threw the Clinton campaign into turmoil just over a week ago and now, on the eve of the election, he seems to be exonerating her. What do you make of the timing?
Jack Rasmus: To understand this whole affair with the FBI, starting in July, when FBI director Comey came out and pretty much gave a clearance to Clinton, you have to understand that the police establishment in the US is strongly pro-Trump. That is true within the FBI itself. And when Comey came out in July pretty much exonerating Clinton – it resulted in an internal firestorm within the FBI. And then Comey is caught in between both political wings of the establishment who are going after each other like never before. So, he came out with the statement about 10 days ago trying to balance the FBI's initial position. He obviously thought that the statement was worded cautiously and would not cause another firestorm - but it did. It has affected the Clinton campaign. So, now he is coming out once again and he is clearing the decks for Clinton. What it reflects is a real split within the political establishment and that is reflected within the national security organizations and the police departments and so forth. Comey is trying to cover himself in both directions internally and between the two elites, but he is not doing a very good job.
RT: What reaction do you expect from Hillary Clinton now?
JR: So close to election, she may not really say that much herself directly and just let her campaign people make a blunt statement. I don't think she wants to raise the issue at all. She probably wants to let the statement and the media speak for itself on that. I don't think that is going to have too much effect on the election at this late day one way or the other...But the damage has been done to her campaign already and it doesn't really matter that Comey at the very last minute sort of backtracks on it.

READ MORE: Trump says FBI rank & file 'won't let Clinton get away with crimes,' questions email review
RT: Huma Abedin is becoming a key player in the scandal. The emails relating to Clinton were found on a laptop belonging to her ex-husband. She is Clinton's right-hand woman and a close family friend. Born in the US, Huma but spent her childhood in Saudi Arabia. She served as a consultant to the Clinton Foundation and worked with Hillary Clinton for almost 20 years. She also worked at the Institute of Muslim Minority Affairs, which some media have accused of links to extremist organizations.
Do you think that if Clinton wins people will continue to scrutinize her?
JR: I think after this election in which we thought we saw instability going on and some remarkable conflicts between the two parties and they carried this before the election, I think this is going to continue after the election as well. If Trump loses, I don't think he is going to expect it. And if Hillary wins, I think the Democrats are going to go after Trump and to attack his economic interests as a way to try and to get him to be quiet and not protest the elections. I think we got a lot of instability coming after the elections…
The statements, views and opinions expressed in this column are solely those of the author and do not necessarily represent those of RT.