'Washington realizes Mosul offensive is not going to be very successful' – retired US AF Colonel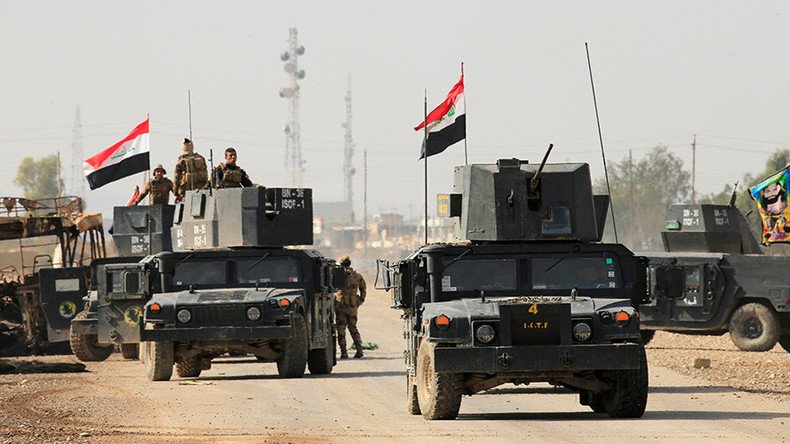 Civilians in Mosul appear to be left to fend for themselves, with no humanitarian strategy, retired US Air Force Lieutenant Colonel Karen Kwiatkowski told RT. The US-led coalition knows many will die and their city may cease to exist after it's freed.
Kwiatkowski believes that the US-led coalition's strategy for the Mosul offensive is inherently flawed and will inevitable result in mass casualties, as the civilians trapped in the city do not have any way to escape.
"They can't get out, they are stuck there. That is a recipe for a disaster. There is a recipe for civilian casualties," Kwiatkowski said, adding that she does not understand "why there would be a strategy that would force these people to simply wait and wait and wait."
In the meantime, the civilians stranded in Mosul are suffering from shortages of food, water, medical supplies, and electricity, Kwiatkowski said, adding that if their supplies run out, the situation will become unbearable.
"The people need a means of receiving aid. They need a means of self-identification and, possibly, there needs to be a way for them to exit the city, ideally, to the east," she said, adding that the civilians in and around Mosul have been "put in the position of being victims."
"The strategy just seems to be we'll just wait till ISIS [Islamic State, formerly ISIL] leaves and then we'll see what's left. And that's not really a good strategy, I don't think it's a fair strategy, I don't think it's a humanitarian strategy," she stressed.
"They [the US-led coalition] probably realize that the thing in Mosul is not going to be very successful," Kwiatkowski said, adding that, by the time heavily bombed Mosul is liberated, it "may not exist as a city."
Washington's claims that it is "unaware" of any collateral damage being caused by US-led coalition aircraft or the Iraqi army around densely populated Mosul do not seem credible to Kwiatkowski.
"I find it hard to believe that they are not aware of any civilian losses. I mean, they are conducting an ever expanding and ever increasing pressurized siege of the city that has a million people in it," she said, pointing out that the majority of the Iraqi city's residents are civilians, along with only a "very small number of ISIS fighters."
Doubts about the veracity of Washington's claims were raised after it was reported that a deadly US-led coalition airstrike in the village of Fadhiliya near Mosul killed a family of eight on October 22, including a pregnant woman and children.
Washington promised to launch an investigation only after being confronted with evidence on Monday, which Kwiatkowski believes may indicate that the US did not want news of the incident to be made public in the first place.
"Either they have very poor intelligence on the ground about what they are hitting and what they are not hitting, or they know it is not politically convenient to put this stuff out," she noted, adding that, while "statistically, we have to expect… a lot of civilian casualties," the broader public may only learn about the toll later, if at all.
While terrorists use civilians as human shields in both Mosul and Aleppo to make it almost impossible to avoid civilian casualties when attacking them, Washington rejects any parallels drawn between the Iraqi and the Syrian campaigns as "insulting."
"[It] really doesn't make any sense that they would deny the very obvious similarities between what's happening," Kwiatkowski said. She believes Washington is refusing to acknowledge the parallels because it is afraid that, in the end, such comparisons will not show the US-led offensive in a favorable light.
"I think Aleppo will be liberated at some point and the Russians and Syrian government will get the credit, and ultimately I think that's why they don't want the two compared, because if Aleppo is liberated more safely, more successfully, and sooner, Russia will get the credit for it, and the US, not."
The statements, views and opinions expressed in this column are solely those of the author and do not necessarily represent those of RT.
You can share this story on social media: