Let them eat cake? 'Calling French poor 'toothless lot' shows true colors of Francois Hollande'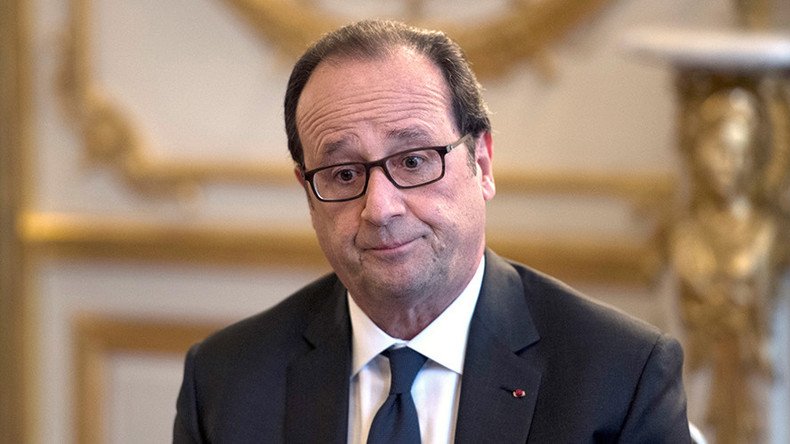 The only person in France who thinks that Francois Hollande might have a future as a president is Francois Hollande himself, says Patricia Chagnon, member of the National Front party.
"France has a problem with Islam and there are too many migrants", those are the views of the French leader which have been released in a new book entitled, 'A President Shouldn't Say That'.
The 600-page publication contains a selection of controversial remarks by Francois Holland that differ rather dramatically from his official tone.
The book, based on 61 private conversations Hollande held with two respected French journalists from Le Monde newspaper, took place throughout the time he has been head of state.
Critical media headlines suggest the book, appearing on book stands just six months before presidential elections, could spell political suicide for the French leader.
RT: What do you think about comments made by President Hollande regarding Islam as cited in the book?
Patricia Chagnon: After five years of catastrophic presidency, finally he is understanding that yes, France has got a problem with Islam. Not only this problem, but we have a huge problem with integrationist Islamists. He is right.
READ MORE: 'Problem with Islam': Tell-all book reveals Hollande's views from migrants to Sarkozy
RT: What do you think about the very idea of existence of "another language", the "true language" as opposed to the "politically correct language"?
PC: I have noticed that the political establishment is very afraid of the people. They try to sanitize their language and they sugarcoat reality when they talk to them because they are very afraid of how the people are going to react. And when you are not afraid of the people, when you are not afraid to talk to the people (…) you can speak the truth. And when we do that, when we speak the truth, we are called populists. So, basically what I am saying is the only people who really speak the truth are the National Front today in France. And yes, the political establishment is absolutely sugarcoating everything that they say because they are so afraid of the reaction of the French people.
RT: The author of the book told us that we cannot measure the consequences of this "another language" so far. Could you respond to this question more specifically?
PC: The consequences of the book are very clear. Francois Hollande has not been presiding over the country. He has been commanding the country all through the past five years; it has been a catastrophe here in France. And you can see in this book that he is totally self-infatuated and disconnected with the reality of what is going on in France. He has used a very strong term in this book which was used for the first time in 2008 when he actually qualified the poor people of France as the "toothless lot". And this has come back again and it shows the great despise that this man actually has for the people of France. And it connects to your previous questions in saying they despise the people so much that they can't even the truth to them.
So, I think the consequences of this book are going to be very large and we've been seeing it in the French media. He has put the judges against him. He said in the book that "the judges of France are all cowards". He had to right an apology letter today (…) The people of his own party, his own government are saying: "It is going to be really hard for this guy to be running for another presidency". Other people are saying: "I don't think I want to really be part of his campaign team." I think the wise decision for him today is to understand what the consequences of this book are, and how he is being perceived by the French people and by the people in his own camp. It is time for him to go, it is time to stop.
RT: How do you think this would affect Hollande's political future and where is he standing now in terms of it?
PC: … France is in an absolutely dismal state. The only person in France who thinks that Francois Hollande might have a future as a president, and that is Francois Hollande himself. I hope he reads his own book and understands that it is really time for him to go.
In the video below, RT discusses the newly released book, which shines an unflattering light on the French president, with French journalist and writer Alexandre Mendel and political and social commentator Mo Ansar, who provide opposing views on the matter.
The statements, views and opinions expressed in this column are solely those of the author and do not necessarily represent those of RT.
You can share this story on social media: