'Cancer connected with nuclear disasters develops in Yemeni children'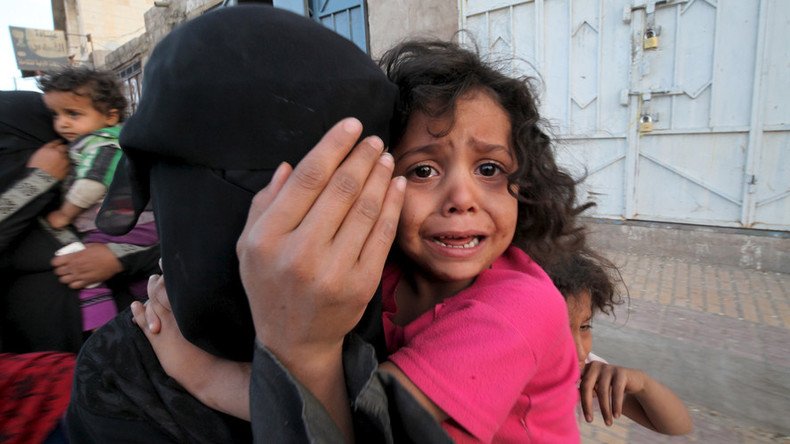 The humanitarian catastrophe in Yemen, where people are dying of famine, lack of medical supplies and chemical weapons, may amount to genocide if the international community doesn't act, says Kim Sharif of Human Rights for Yemen.
Saudi Arabia has blocked a UN request for an independent investigation into alleged crimes committed during the Saudi-led bombing campaign in Yemen.
The UN claims the inquiry spearheaded by the Yemeni National Committee is not enough.
Yemen is running out of food, fuel and medicine; and the number of malnourished children is skyrocketing. UN figures claim more than half of Yemen's 28 million population is suffering from a lack of food, and vulnerable children end up being the hardest hit.
Up to 400,000 children suffer severe malnutrition leading to a number of diseases.
A study reported by UK's Guardian newspaper reveals more than a third of all airstrikes hit civilian sites, including hospitals, schools and mosques.
Kim Sharif, director of Human Rights for Yemen describes the situation as a "humanitarian catastrophe on an unprecedented level."
"It may well amount to genocide if we don't act quickly and do something about it," she told RT.
Both the UN and UNICEF have been reporting the situation in Yemen, but "unfortunately it is all about talking and making reports and chit-chatting," the lawyer said.
The nineteen months of conflict has regularly involved airstrikes by the Saudi-led coalition battling against Houthi rebels, and the people of Yemen are dying of hunger and lack of medical supplies, Sharif said.
Yemen is heavily dependent on imports. But the blockade imposed by the Saudi-led coalition – which is backed by the US and the UK – has made it impossible for any goods to be imported into the country and "all commercial activity" in Yemen has been halted, according to the rights lawyer.
Sharif went on to say, "people are dying of chemical type of weapons, where children are developing very unusual cancers that are usually connected with a nuclear type holocaust."
"This is very shocking and so frequent in the northern parts of the Yemen that there is a disproportionate development of rare types of cancers that are usually connected with nuclear types of disasters," said Sharif.
She insists that an independent investigation into the situation in Yemen and the alleged war crimes committed by the Saudi coalition is necessary.
"We have campaigned for this forcefully at the UN last year in September. There was a motion supported by the Dutch government. Unfortunately, that was defeated spectacularly in the most horrific way because you have a situation where the coalition led by one of the biggest oil producing countries in the region are allegedly committing a lot of war crimes, genocide and crimes against humanity. The evidence has been piling up now for 19 months, has been put together and is there ready. The UN eventually ended up saying that we need to have the investigation carried by the Yemeni authorities themselves," Sharif explained.
That, in her words, is similar to "asking a murderer to investigate his own crime."
A report on human right violations was prepared by the Yemeni National Commission of Inquiry, which was set up a year ago. The body "supports the ousted Yemeni president Abd Rabbuh Mansur Hadi," Sharif said.
The decision has been harshly criticized by human rights activists.
"We are pleased to see that there is a very strong movement for an international, competent, independent team to investigate crimes in Yemen," Sharif concluded.
UN Humanitarian Coordinator in Yemen, Jamie McGoldrick agrees that it's important to "at some point" bring to account those responsible for what is happening in Yemen. However, he told RT, it's not his authority to decide who should be blamed for the situation.
He said that "the UN has been very consistent" regarding the developments in Yemen.
"We have always asked for protection for civilians, we have always indicated and stated quite clearly that the civilian infrastructures should be protected including schools and hospitals," McGoldrick said.
He underlined that all parties to the conflict should adhere to their obligations under the Geneva Conventions and international law.
The statements, views and opinions expressed in this column are solely those of the author and do not necessarily represent those of RT.
You can share this story on social media: