'Recent US attacks are consequences of irrational post 9/11 actions'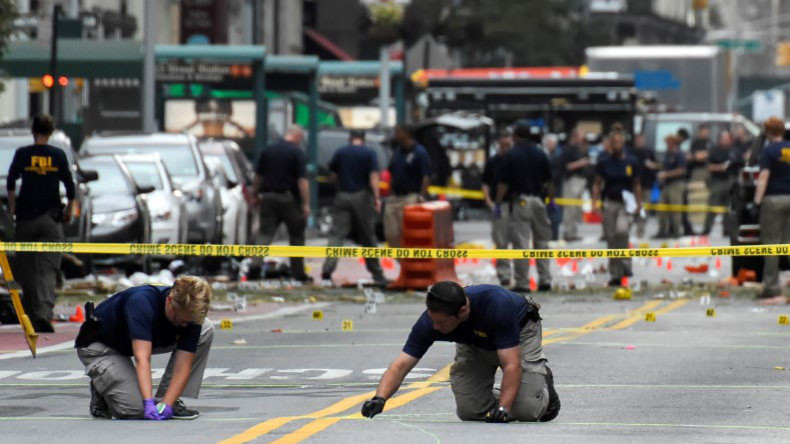 The war is coming home. We are dealing with the consequences from irrational post 9/11 actions, one of which was waging war on countries that had nothing to do with 9/11 and courting allies who were behind the attacks, says former FBI agent Coleen Rowley.
The US has seen a number of attacks in just two days with New York, New Jersey and Minnesota all targeted.
The bomb that went off in New York was planted in a dumpster in the Chelsea neighborhood on Saturday; 29 people were injured in the explosion. A few hours later, a second device which failed to detonate was discovered nearby. According to several reports, both of the devices were made using a pressure cooker.
In New Jersey, an explosive device was detonated by a police robot on Monday morning. A backpack with a number of bombs inside was found by two men who alerted authorities after discovering wires and a pipe attached to it.
In another separate attack in Minnesota on Saturday a man tried to stab people at a shopping mall. He was shot by police at the scene. Nine people were injured. That attack was claimed by Islamic State (IS, formerly ISIS/ISIL). Witnesses reported that before the assault the man made a reference to Allah and asked at least one person if they were Muslim.
A man suspected of being behind the New York and New Jersey bombings has been taken into custody after he was identified on Monday. He is 28-year-old Ahmad Khan Rahami, a US citizen of Afghan origin living in New Jersey.
The man who carried out the stabbing in Minnesota was identified as 22-year-old Dahir A. Adan, of Somali origin.
RT: Multiple attacks within 24 hours happened in the US. President Obama said everything will be done to prevent further incidents. Do you think he is reassuring Americans enough that the authorities can provide their safety?
Coleen Rowley: I don't think that any speech can allay the fears at this point when we see one attack after another… The war is coming home. And it is something I warned about for years that what the US was doing post 9/11 was increasing the level of terrorism worldwide. At first, I was alone in saying this but now quite a number of people are starting to see that it is true. I don't think that a speech is going to allay the fears. What will actually help is reducing the level of worldwide terrorism. And we can start by changing course.
RT: Where do you think the investigation's leading - home-grown terrorism or foreign connections?
CR:… Obviously, it is very easy to look online afterwards and get communications and get internet rants and raves that may have been posted. So, they will be able to find out. Many of the "terrorist" attacks actually are not even home-grown exactly - they are more of the copycats' senseless shootings like Omar Mateen and the Navy Yard and many of these others. It is hard to categorize them all. And when you get this level of incitement to violence worldwide that is going on, you are naturally going to get copycats. That just goes with the territory. I wanted to mention that something Obama didn't say, which I think is good on his part, was the same thing Bush said after 9/11. He said "we have to fight them over there, so that we don't have to fight them here." Some journalists should ask George W. Bush and Dick Cheney now about this statement since that has been proven terribly wrong. It takes time for these things to blowback and for the consequences to occur. But we are now dealing with some consequences from some very irrational post 9/11 actions. And one of which was launching war on countries that had nothing to do with 9/11 and also courting allies who were behind 9/11.
RT: The devices planted in New York, both reportedly pressure cooker bombs, are relatively easy to make. How can such attacks be prevented?
CR: I think the Boston bombers used pressure cookers and there are instructions how to make those online. In this case, they were lucky – they did not all go off. They were also very lucky the law enforcement obviously did a pretty good job but also they were enabled by the regular people who were on the street, in this case people who picked up these duffle bags and containers that carried the bombs. I think in New York this is almost is something out of a movie. The people took the bomb out and inadvertently disabled it, took the container and left the bomb. I go back to people; it is the public assistance that you often see thwarting terrorism...This is what is going to help: to get more people involved. It is not going to help necessarily to say that you can prevent all acts of terrorism which is not possible.
RT: The attack is being described as 'poorly planned'. What's your view on that?
CR: They don't have to be well planned. Look at Omar Mateen; look at even if you go way back to the DC snipers. It is not hard to institute terrorism even with one or two people, and as long as they have a weapon of some sort. In the St. Cloud mall it was nothing but a knife. That is the whole nature of terrorism; it does not need a nation state with nuclear bombs planning these things in order to be successful and institute fear and actually hurt a lot of people...
The statements, views and opinions expressed in this column are solely those of the author and do not necessarily represent those of RT.