Hillary-ous conspiracy theory: Trump & Putin behind Clinton health issues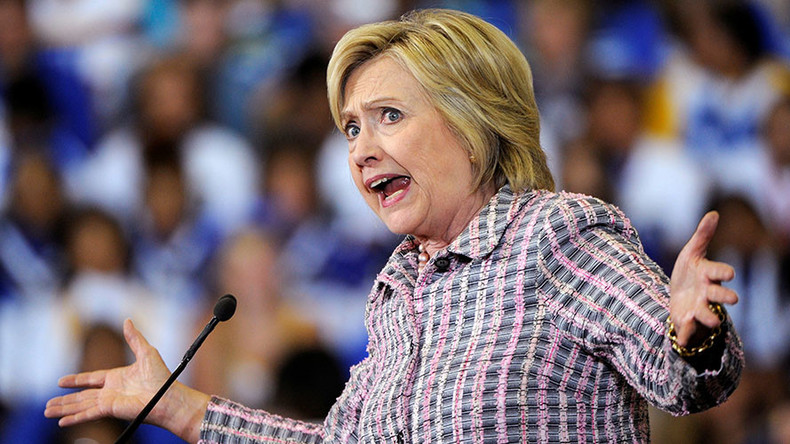 I would hope the Russian government and diplomats are smart enough to see through these US election year allegations and are able to work with US officials through back channels, author and political cartoonist Ted Rall told RT.
Vladimir Putin and Donald Trump are to blame for Hillary Clinton's latest spell of apparent bad health. At least that's the conclusion drawn by US neurologist Bennet Omalu, who suggested the duo might have actually poisoned the Democratic front-runner.

READ MORE: 'Hillary Clinton's health should be media focus, not Trump interview with RT'
Despite the sensational story grabbing headlines in top US news outlets, many people took to social media to express reservations over the allegations.
There was also much handwringing in the US media over Donald Trump agreeing to be interviewed by RT's Larry King, which even sparked comments from the American president.
RT: It is not only the US media that's fired up over Trump's appearance on this channel. Barack Obama used it as a battering ram while campaigning for Clinton. What's your take?
Ted Rall: There are so many ways in which this is strange and a little bit wrongheaded. First of all, the comparison of Russian President Vladimir Putin with deposed Iraqi dictator Saddam Hussein. Anyone who compares those two regimes obviously hasn't paid much attention. Those governments couldn't possibly be more different. And although the Russian and the American systems of the media and government are obviously different, the US shouldn't be casting a lot of stones. The US is a country that has two major political parties that can conspire to keep third and fourth political parties from ever having a chance at ballot access. It is not a true democracy in any real true sense of the word. And in terms of censorship of the media, you only have to look as far as major newspapers such as The New York Times and Washington Post or major media outlets like NBC and CBS to see that there are major sections of the American political spectrum that are not even represented…
The US has a lot of work to do; these kinds of remarks are not very helpful. And I think they are part of the reason that Donald Trump is getting some traction on the foreign policy front, even though he says a lot of things that are insane and foolish, bigoted and wrongheaded, this is a guy who has tapped into something very interesting even in the Republican Party, which is that most Americans want to get along with other countries, not constantly go to war or have Cold Wars against them as apparently more establishment politicians like President Obama seem to be interested in.
RT: It's not the first time the name of Vladimir Putin has been brought up in the US presidential campaign. Do you think many presidential candidates use the "Russian card" as a scaremongering tactic? How, in your opinion, does it affect US-Russian relations? Do you find it appropriate for President Obama to make such remarks about Vladimir Putin? Is it that it is the end of his term that allows him to pick his words loosely or is it something else?
TR: Obviously, President Obama and other mainstream politicians, particularly in the Democratic Party these days but also among Republicans are trying to gear up a new Cold War against Russia. I would hope the Russian government and Russian diplomats are smart enough to see through it and be able to work with American officials through back channels to say: "Listen, we know that you have to say this stuff for domestic political consumption, but hopefully we can work together on issues like Syria and other places." But frankly, I think it is pretty dangerous. That is not really the best way to conduct foreign policy. The best way to conduct foreign policy is in a straight forward way where you are not deliberately pretending to be enemies with someone that you need to work with as in places like Syria. It is really outdated; we've been doing this throughout the long time here in the US. It has never worked well and it really needs to stop at some point."
RT: A well-known US neurologist, Bennet Omalu, has claimed that Hillary Clinton may have been poisoned by Donald Trump and Vladimir Putin and even suggested Clinton should take a toxicology test. Doesn't this breathe life into some conspiracy-theory-type material back from the Cold War times?
TR: Sorry, I am laughing because this is such a hilarious theory. This is a low trust society and low trust societies like countries in the Middle East are prone to conspiracy theories, so we are getting them from the left and from the right. But we shouldn't take our eye off the ball. And namely what really has happened here is that Secretary Hillary Clinton has been caught lying about the state of her health. First she said she was perfectly fine. Then she said that she had allergies, then she said that it was incredibly hot and she was overheated. And now she said she had pneumonia and had been told two days earlier that she had pneumonia. So, naturally people are coming up with all sorts of outlandish theories as to what is really going on. Maybe she really has pneumonia, but probably that is the case. Although, having had pneumonia, I have my doubts myself. Pneumonia is very bad, it lays you low for a long time, it is hard to recover from. She is older than I am, I can't even imagine that's what she had. I don't see how pneumonia makes you collapse like that. So, something else might be going on. The problem is when you know you are being lied to over and over - whether it is about emails or Iraq or weapons of mass destruction, people just assume they are being lied to and they come up with ridiculous theories. Who knows what's going on? We're living in a society now where the average American citizen never knows whether they're being told the truth by their media or their government.
The statements, views and opinions expressed in this column are solely those of the author and do not necessarily represent those of RT.