'Syria truce might be used to resupply US-backed rebels'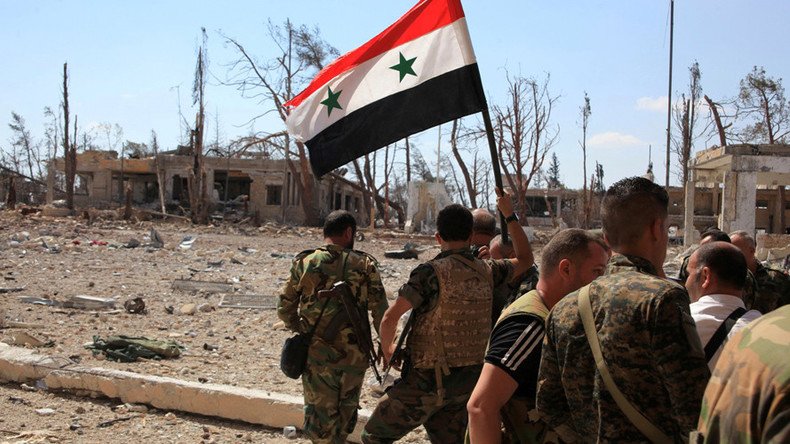 The US might use the new ceasefire in Syria to give so-called "moderates" a breather and provide them new weapons and equipment, Marwa Osman, a political commentator, told RT. If that is the case, the war will continue after the pause, she added.
On Friday, Russia and the US agreed on a breakthrough plan to decrease violence in Syria. A nationwide ceasefire will come into effect at sunset on Monday for a period of 48 hours.
According to political commentator Marwa Osman, despite the skepticism expressed by some analysts, the plan could work "because it might be Obama's last straw in trying to save his face before he leaves office."
"It also might go to plan if there will be some sort of reconnection between [Recep] Erdogan and [Bashar] Assad – if both Damascus and Ankara are willing to sit back together. If any hope of that is about to happen, then this ceasefire might happen," she told RT.
Under the agreement reached following marathon talks between Russia and the US in Geneva, a "demilitarized zone" will be established around the Castello Road into Aleppo so that aid can reach the besieged Syrian city.
In Osman's opinion, this key route will not be used only for the delivery of humanitarian aid, however. "The US and its rebel groups on the ground" also wanted this ceasefire because they "need to take a breath and get resupplied," she said.
"The Syrian Arab Army with the Syrian government did help [civilians in Aleppo] and give them that necessary aid. But now the Castillo Road is very, very important to resupply these groups that are supported by the US to be rearmed. If this is the case here, then we're going to see some sort of a pause and then going back to direct battle," Osman said.
Russia's Foreign Minister Lavrov has expressed concern over whether certain rebel groups will abide by the truce.
That, "of course," would be an obstacle to fulfilling the plan, in Osman's view.
She particularly noted that the group formerly known as the Al-Nusra Front, "for some reason" changed its name to Jabhat Fateh al-Sham in July.
"They changed their name and hope that they might by supported by the US. This was actually the plan – for the US to push for Jabhat Fateh al-Sham to be considered as 'moderate rebels,' but they failed to do so, because part of Jabhat Fateh al-Sham did also stand hand in hand with ISIS [Islamic State, formerly ISIL] at some frontlines and with other terrorist groups at other frontlines," Osman said.
"In our side of the world, there is nothing called 'rebels'– they are either terrorists, or the Syrian Arab Army," she added.
Osman said that there is also a question about some factions of US backed "moderate rebels," many of whom no longer trust Washington.
"Who will bring these factions together? Most of them don't even trust the US anymore. At the certain point when they retook certain areas – and I am speaking here specifically about the Kurds, the YPG [People's Protection Units] – these YPG groups were supposedly fighting alongside the US. When they took certain areas like Al-Hasakah, they were asked by the US to move back. So they were several times let down by the US. So how will they trust the US at this point of time, because the other side is obviously the Syrian Arab Army and the allies – they work all together in one controlled room. But the others are fractions, they are divided. Is there really a hope for them to come together and to support such a ceasefire – we will just have to wait and see," Osman said.
The statements, views and opinions expressed in this column are solely those of the author and do not necessarily represent those of RT.
You can share this story on social media: