Black Sea? Somewhere near Texas, isn't it?
Published time: 10 Sep, 2016 16:58
Edited time: 10 Sep, 2016 19:31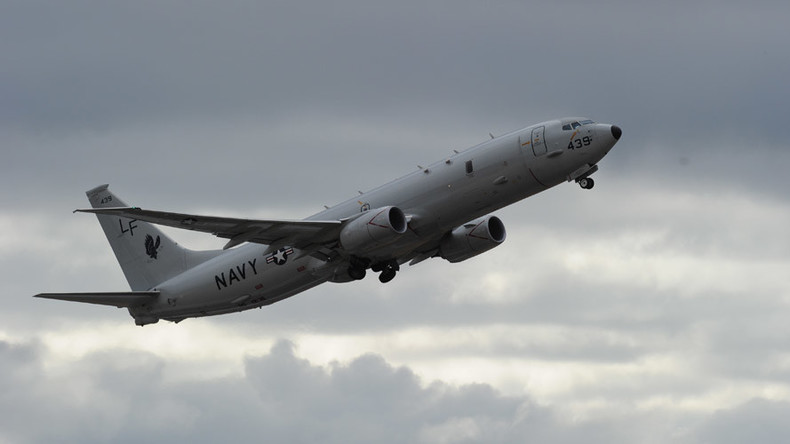 So here we go again. More "Russian aggression." At least for consumers of the Western press.
This week, Britain's bestselling newspaper, The Sun, declared: "Tensions soar... Russian fighter jet flies just 10 FEET from US spy plane." Meanwhile, its Rupert Murdoch stablemate, Sky News, announced that "Russian Jet 'flew within 10ft' of US Spy Plane."
And it wasn't just the Brits. Reuters led on "Russian jet came within 10 feet of U.S. spy plane: U.S. officials" and Al Arabiya went with "Russian jet flies within '10 feet' of US spy plane."
At the same time, Australia's ABC reached for "Russian fighter jet flew within metres of US spy plane in 'unsafe' intercept, Pentagon says," and their US namesake splashed with "Close Encounter Between Russian Fighter Jet and US Spy Plane."
What's particularly interesting about American ABC's article is the fact that it's accompanied by two news clips, the first 59 seconds long and the second one lasting one minute twenty-six seconds. Not once in the entire two minutes twenty-five seconds is the location of the apparent transgression mentioned.
Thus, ABC viewers are clearly given the impression that Russia is the aggressor and the Americans have nothing to answer for. Also, the broadcasts are heavy on "Putin this" and "Kremlin that."
So where did the mysterious incident happen? Was it near the gulf of Florida or off the coast of California? Or even someplace in NATO's European territory? Well, no.
What actually happened was that a US Navy P-8A Poseidon aircraft was flying over the Black Sea – on Russia's frontier.
Furthermore, Moscow's version of events suggested that the American plane was flying with its transponder switched off, which is exactly what the western media has lectured Russia about doing near the Baltics. By the way, Washington hasn't denied Russia's accusation. And at the same time, Moscow doesn't seem to dispute American assertions that one of the two Crimea-based Su-27 fighter jets it scrambled managed to fly within ten meters of the US plane.
Either way, the situation was dangerous, and a mistake could feasibly have ignited some sort of conflict, which wouldn't be a good thing. Worryingly, it's not even the first time this year that we've seen such a close encounter. Back in April, something very similar occurred near Kamchatka, around 9,000 kilometers away on Russia's pacific coast.
But what the Western media has done here is truly unforgivable. Rather than report that an American plane was right up against Russia's territory, probably with its transponder off, they've framed their reports to give the impression that only Moscow could be to blame.
There's another op-ed to be written about why the US plane was there in the first place, but this short piece concerns only the media reaction.
The Black Sea is Russia's southern border. It is thousands of kilometers from the US homeland. Now, if it were right beside Texas, and Russia was conducting sorties there, that could be a story where Moscow probably would be the bad guy.
In this case, it seems that the Americans first provoked Russia and the latter replied with a provocation of its own. Yet, media reports make it seem like there was only one aggressor and that America is totally blameless, and that's both unfair and mendacious. The biggest loser, of course, is the casual news consumer who, once again, is fed misinformation.
The statements, views and opinions expressed in this column are solely those of the author and do not necessarily represent those of RT.