US-Russia deal on Syrian ceasefire: 'Positive sign but questions remain'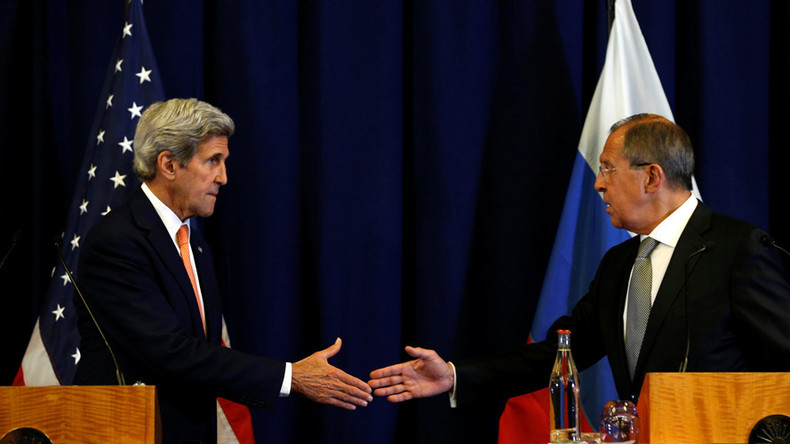 The Obama administration remains hostile to the Assad regime and the new US-Russia Syria plan is unlikely to change that, experts say. Whether opposition groups will cease hostilities or seek to undermine the peace plan is also a question.
Russia and the US have announced a new ceasefire plan to end the deadly conflict in Syria. After marathon talks in Geneva on Friday, Secretary of State John Kerry and Foreign Minister Sergey Lavrov said that the two sides had developed five documents that would help to reactivate a failed ceasefire in Syria. The agreement will also include a ban on government airstrikes in specific areas and collaboration on strikes against jihadists, according to Lavrov.
Gareth Porter, an investigative reporter and foreign policy expert, says it's unlikely that the Obama administration will budge publicly from its position on the Assad regime during the implementation of the new agreement.
RT: Sergey Lavrov expressed concern that some rebel groups may seek to undermine the peace plan. How much of an obstacle do they pose?
Gareth Porter: They are absolutely an essential, potential obstacle. Indeed, it is a question that deserves a lot of concern, because in the past the opposition groups that the US has supported and called legitimate opposition have refused to separate themselves from the Al-Qaeda franchise in Syria and have become closer over the last year or so to the Al-Qaeda forces. They have made it very clear that they have no intention of separating themselves from the jihadists in Syria.
Today I went to a program in Washington, DC, where former US Ambassador [Robert] Ford and Charles Lister, a specialist on the jihadists in Syria, both said unequivocally they did not believe that the opposition groups were ready to separate themselves from the former Al-Nusra Front, and that they intended to continue the alliance, because they regarded it as a matter of the survival of their forces.
RT: The Syrian government has agreed to comply with the US-Russia deal. This is the closest we've seen so far to some kind of understanding between Washington and Assad. It is unprecedented. What do you make of it?
GP: No doubt the Obama administration continues to be highly suspicious of and hostile to the Assad regime; this agreement is not going to change that fact. I think politically the Obama administration is committed to that position. It is very unlikely to budge publicly from it during the implementation of this agreement. One has to suspect that, for the US, there is a lot of difficulty in finding a path forward that is going to make a difference before the Obama administration runs out of time. A lot of people suspect that they are essentially running out of clock; that they don't really have a strategy that is going to be different here. We have to wait and see whether that is the case.
New US-Russian Peace Plan sign of trust
Will both the Syrian government and opposition forces adhere to the plan? Is it going to be applied just in the Aleppo area, or all over the country? These were all questions posed by Middle East historian Edmund Ghareeb.
RT: The US and Russia have agreed that the Syrian government should bring its airstrikes to a complete halt. John Kerry has even called it a cornerstone of the roadmap to a peace deal. How crucial is this condition?
Edmund Ghareeb: This is something very, very important. It would be a sign that there is trust; there is a willingness to move ahead with some kind of ceasefire. But the question is: will this ceasefire be just on the government side, or is it going to be on both sides, the opposition and the government? Is it going to be just in Aleppo area, or will it be all over the country? I haven't yet heard exactly. We still need to get more information about the specifics. But if it is in Aleppo, chances would be very good if the opposition also halts its fire. As was mentioned earlier, there was an agreement to get assistance, humanitarian aid to the people in Aleppo. There was an agreement that included the UN, that included the Syrian government, that included various [groups]… But then there were attacks. So basically it didn't hold. Now the government controls the Castello Road. There are new attacks, as we saw at the recent days, on the on the Castello Road. That is going to be a problem. But it looks like this is an agreement that has taken a long time; there were a lot of disagreements... The talks went on and on, and on various levels between experts on both sides: diplomats, military people, between Foreign Minister Lavrov and Secretary of State Kerry, and also between President Obama and President Putin.
But at least it seems that there is some positive sign. Most people, most analysts, who are following this were becoming very skeptical after the failure to reach an agreement over the past few days, especially after the meeting in Hangzhou in China. It shows that at least there are the basic points that are very important elements, not only the ceasefire, but both sides agreed that there is no military solution and there has to be a peaceful solution. Peaceful solution means that there has to be also negotiations down the road.
RT: Starting on Monday, the US and Russia will be working together on separating terrorists from the so-called "moderate opposition." How long might it take to reach that goal?
EG: That may take some time, but this was one of the main sticking issues between the Russians and the Americans. Basically, the Russians have been saying that the US has to take a stand and make sure that the "moderate" opposition forces, which are supported by the US, should distance themselves from Jabhat Fateh al-Sham, previously known as Jabhat al-Nusra Front.
It was very difficult to reach an agreement on this issue previously. What the US officials were saying – that there are moderate oppositions fighting, or are in the same areas [with] Jabhat al-Nusra, and they should not be attacked – this is something that the Russians from their perspective insisted, that there has to be separation. This may take some time, but if both sides really have the intentions of fulfilling this agreement, there is a chance.
We heard from the Russian and US officials that there is going to be pressure put on both sides – on the opposition and the government. If that happens, I think we might have a chance for a successful agreement that could be built upon to reach wider settlement and to begin the negotiations again.
The statements, views and opinions expressed in this column are solely those of the author and do not necessarily represent those of RT.