'Rousseff's impeachment - sad day for Brazil & democracy'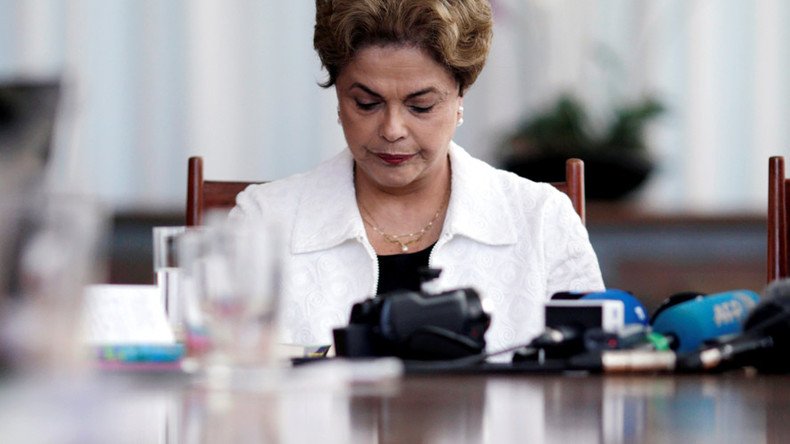 Was the impeachment process against Brazil's Dilma Rousseff justified? Is interim President Michel Temer credible? How will the people of Brazil react and are we likely to see protests escalating?
Suspended Brazilian President Dilma Rousseff was impeached on Wednesday, after the final vote in Senate. She was ruled to have mishandled Brazil's budget, and misrepresented the state of the economy prior to her reelection in 2014.
Michel Temer, former Vice President under Rousseff, became acting president of Brazil in May after the start of the impeachment of Rousseff.
Watchdog groups say about 60 percent of the country's lawmakers, as well as interim President Temer, who may potentially form a new government, have been accused of corruption and fraud.
Maria Mendonca, professor at the University of Rio de Janeiro called the impeachment of Dilma Rousseff "a very sad for Brazil" and "a very sad day for democracy". The result of the 2014 elections, when Dilma was reelected, "was not respected."
"It is a process that reminds us of the military coup in 1964. That was not a real trial, because most Senators already had a position – they made up their minds even before the whole trial started. There was no legal basis for the impeachment. The public prosecutor already had cleared Dilma of all charges in terms of the mechanisms of basically issuing debt to pay for social programs, which is a regular mechanism in Brazil and also in other countries," she told RT.
In her opinion, the impeachment was "a way for unpopular corrupt politicians to take power without going through an electoral process."
According to Mendonca, it is now difficult to predict how the situation is going to develop and whether protests by Rousseff's supporters – that have been going on for days now - may escalate.
"I think we're going to stay in a situation of limbo for a while, of uncertainty, because the main rules of democracy were broken," she said.
She added though that "the media in Brazil can manipulate public opinion," and has been doing so since the beginning of the impeachment process.
"But once people realize that we're going to have more instability: cuts in social programs, in health care, education, and we're going to have more serious economic crisis, then people will realize that this was a manipulative process to get rid of a president that was democratically elected; and to implement austerity measures that would make the situation even more unstable politically and economically," Mendonca said.
Good for Brazil in longer term
David Riedel, economic analyst from Riedel Research Group argues that Rousseff's impeachment "is a good move" for Brazil as in the longer term it would benefit from a more "business friendly government."
Dilma Rousseff has run "a very populist regime; she's been giving a lot of support to social programs and other things," he told RT. "I think you'll probably see some social unrest, as those goodies and those free benefits start to be taken away from the population. But it's a good move for Brazil in the medium and longer term. They needed to take this step. They were successful with the Olympics, which were great, and now they need to be successful in this transition of power to, I would argue, a more business friendly government, which is going to be very good for investors."
If Michel Temer - who is running the country at the moment and is likely to become the next Brazilian President – "takes advantage of this populist, very expensive spending that the Rousseff and [Luiz Inacio] Lula [da Silva], before her, administrations had under way – that can protect the currency; it can help improve the investment environment," Riedel said.
"International investors want Brazil to be a success – so they will give them the benefit without doubt if they see things headed in the right direction. So if they are business friendly and investor friendly and cut back on the profligate spending that has been such an issue across Latin America, I think that investors would give them a second look," the analyst said.
Absolutely no justification
An independent investigation found there were no grounds for launching action.
Political scientist Daniel Shaw from the City University of New York says there's "absolutely no justification" for the impeachment "from the prospective of millions of Brazilians who voted for Dilma Rousseff and now see the democratically elected president unconstitutionally removed from power."
But in the minds of the Brazilian rich, the bourgeoisie –"they feel like they don't need justification to continue to push things in a rightward direction and to continue to exploit the majority of Brazilians," he said.
WikiLeaks has revealed that Brazil's new interim president, Temer, was an embassy informant for US intelligence.
Some also suggest that the US could have orchestrated the "coup" against Rousseff.
Commenting, Shaw said: "If we look critically at the history of US foreign policy and how they'd been involved in supporting dictatorships from Pinochet to Somoza across Latin America, when all of the FOI requests are complete in 10-15 years, there's no question there'll come out the role that the US State Department played."
"They are against the leftward trend that's been going on since 1999 with Venezuela at the helm and, of course Cuba, Bolivia, Ecuador. This is a blow, an attack not just on the Brazilian people but on the entire progressive current that was sweeping across Latin America," he added.
The statements, views and opinions expressed in this column are solely those of the author and do not necessarily represent those of RT.
You can share this story on social media: