US defense industry lobbyist delivers a major Daily Mail fail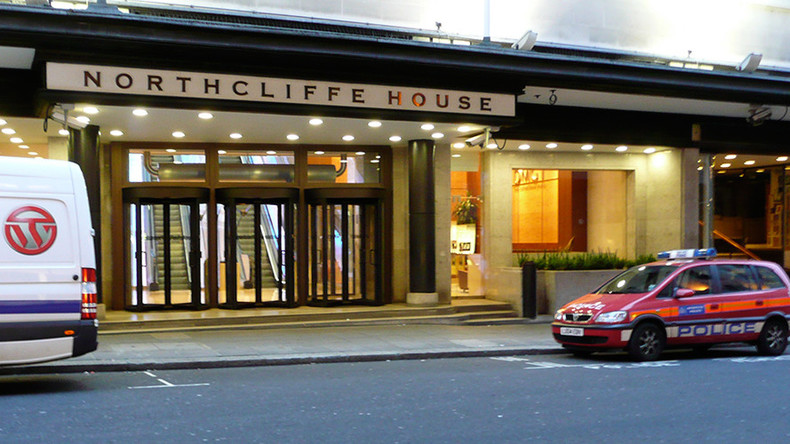 The UK's most popular mid-market daily, The Daily Mail, has long tried to straddle the line between serious political content and crowd-pleasing tabloid fodder. Sadly, in recent times quite a lot of its Russia coverage has been falling into the second category
This is particularly true when it comes to using Vladimir Putin's name to generate internet traffic, with click-bait pieces focused on the Russian President. Indeed, no less than 18 articles graced their special "Putin" section in the first 20 days of August alone.
While most of this constant innuendo is harmless enough, recently things reached a new low. With the headline "Is Trump a Russian agent? Top Kremlinologist presents a tantalizing and disturbing dossier on why the presidential hopeful could have closer links to the Kremlin than it may appear," the Mail gave ample space to a lobbyist for US defense contractors to publish a factually challenged, and heavily biased, essay on Russia.
The entities that sponsor the author's activities include Bell Helicopters, Lockheed Martin, the Raytheon Company, and Sikorsky Aircraft. In other words, precisely the same people who benefit the most from renewed tensions between Russia and the West. This support is neatly dressed up in a pseudo-academic sounding enterprise called CEPA (Centre of European Policy Analysis). But don't be fooled – CEPA is no different from any other lobbying vehicle.
Think Tank Not Thinking
At no point did the Mail explain Edward Lucas' connections to the armament manufacturers, instead describing him as a "senior editor at the Economist," which is true, but only half of the story, and very little of it when it comes to Russia. Lucas, together with his fellow lobbyists at CEPA, which include Peter Pomerantsev and Anne Applebaum (who also moonlights as a columnist at the Washington Post), is an experienced activist, who knows how to play to the gallery.
The column itself is extraordinary in its mendacity and inaccuracy, and it is worth highlighting a few examples.
Assailing US Presidential candidate Donald Trump, who is nominally the subject of the diatribe, Lucas seems upset that not only is Trump "friendly to Russia, he is also bitterly critical of American leaders." Given that the businessman is a presidential nominee of the party that's been shut out of the White House for the last eight years, it would be somewhat bizarre, in a healthy democracy, if he were not disapproving of what is essentially his opposition.
Next, the writer states that "for years, Russia has cultivated connections in Washington in the hope of gaining political knowledge and leverage." This is exactly what the US and UK do all over the world, including in Russia. "The Russian government and Kremlin-friendly bodies hire lobbyists, donate money to think tanks, and promote politically influential commercial ties," he goes on. This is, in fact, the rather logical foundation of foreign relations by all countries.
The Menace of Hypocrisy
Now, to indulge the absurd irony here, this could easily be re-written, so let's have a go. "For years, America has cultivated connections in Europe in the hope of gaining political knowledge and leverage. The US government and Pentagon-dependent defense contractors hire lobbyists, donate money to think tanks and promote politically influential commercial ties on a scale times bigger than Russia can afford. For example, in Warsaw, where Lucas himself is employed as a lobbyist by CEPA, which is funded by the State Department and US defense contractors."
Indeed, in a recent opinion piece in The Nation, American journalist William Greider explained this process. "Why should we care who owns Ukraine? The answer may shock some innocent Americans. It's about gaining a larger market for the US military-industrial complex. That is, recruiting more customers for the planes and other war-fighting equipment manufactured by US companies," he wrote.
"After all, that was the real reason for NATO expansion after the Cold War ended. Contrary to its assurances, Washington pushed hard to expand NATO membership eastward, right up to the Russia border. Former Soviet satellites were happy to join, though this was sure to be understood by struggling Russia as a hostile act. Putin's aggressive posture was his response.
"The true winners were Boeing, Lockheed Martin, Northrop Grumman, and other major arms makers. I know this because as a reporter I attended Washington issue forums where the US companies and their congressional lackeys laid out the arguments for expanding NATO. There was no plausible threat at the time to justify it; Russians were suffering through their horrendous post-Cold War depression," Greider continued in a rather enlightening piece.
All The World's a Kremlin
Lucas also makes a rather astonishing association with respect to Trump's relatively insignificant business interests in Russia (especially when compared to Clinton's) to ask "is Donald Trump a Russian agent?" This is never properly answered, and instead a hilariously meek "the answer may be no" is offered, followed by this nonsensical explanation: "Trump, say former intelligence officials, is just the sort of 'asset' the Kremlin's spy services would cultivate." This supposed Russia specialist finds it absolutely plausible that Russian special services might be keen on recruiting flamboyant celebrities known for having loose tongues.
What's the tell-tale sign of Trump's sinister ties to Russia? Apparently, "in 2013, he brought the Miss Universe content to Moscow." Reality check: Trump controlled the pageant for 19 years and in that time the event was held in 18 other places: Panama, Ecuador, Thailand, Mexico, Vietnam, Bahamas, Brazil, Russia, Cyprus, Trinidad, Puerto Rico (twice), and eight times in the USA. Perhaps Trump is so good at multitasking that he is moonlighting as a secret agent for all of these countries at once.
Throughout the lengthy essay, no mention is made of Trump's warnings that America may have to start shooting down Russian jets, or the Clinton Foundation's well-documented connections with Russia, because its purpose is not to inform or educate – it's to whip up fears that bolster the agenda of the author's patrons, which is selling weaponry.
The Daily Mail describes the writer as a "top Kremlinologist," which just serves to emphasize that cold-warriors like Lucas cannot leave the past behind. "Kremlinology" was necessary in the Soviet era when government was conducted behind closed doors and seating positions at official events offered clues to political machinations. In the 21st century, if you want to figure out what Russian leaders are thinking, you can read their speeches and essays online.
You'd imagine that the American defense industry could find lobbyists who are capable of reading the Kremlin's website. This thrift shop John Le Carre stuff is far too old fashioned these days.
The statements, views and opinions expressed in this column are solely those of the author and do not necessarily represent those of RT.
You can share this story on social media: