Terror strike on Kurdish wedding in Turkey appears 'politically motivated'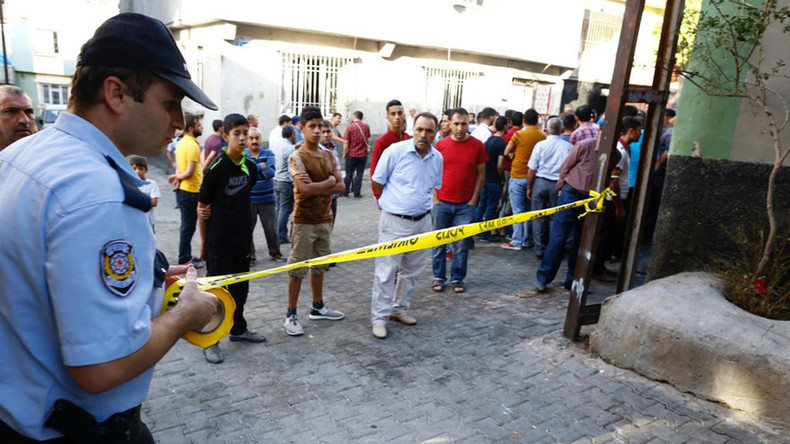 The situation in Turkey's neighborhood is dramatically shifting, with a lot of Islamic State and other armed opposition groups inside of Syria being driven out, Abayome Azikiwe, editor of the Pan-African News Wire, told RT.
Turkish President Recep Tayyip Erdogan blamed Islamic State for carrying out a suspected suicide bombing at a Kurdish wedding in southeastern Turkey, which has killed at least 50 people, according to local officials, as cited by Reuters.
This is the deadliest act of terrorism to have hit Turkey in 2016.
The suspected bomber is believed to have detonated a suicide belt at a Kurdish wedding party in the city of Gaziantep, not far from the Syrian border.
RT: We have no official statement on the presumed attacker yet, but there are already some allegations claiming ISIS might be behind the attack. What is your take on that?
Abayome Azikiwe: We'll have to see how they respond to these attacks, but there has been an escalation of fighting in this area, which is largely populated by the Kurds and I think it represents the escalation of violence inside of Turkey since June with the attacks on the airport and then of course with the breaking down of the ceasefire between the Turkish government and the PKK. Nonetheless, this attack is directly aimed at the Kurdish population. This is taking place amidst what appears to be a realignment of forces between Turkey and Moscow, and perhaps alienation between Ankara and Washington. So it's very, very interesting and we'll have to wait and see who claims responsibility for these attacks.
RT: This particular blast was carried out at a Kurdish wedding ceremony. What do you make of that?
AA: Well, obviously they are trying to rein terror down on the civilian population. Apparently this event was taking place outside when this alleged suicide bombing took place. It appears to be politically motivated. What is the motivation? Is it being done by the Turkish government, or is it being done by Islamic State? We know there have been clashes over the last two years between Kurdish fighters and members of Islamic State and extremist organizations that have been operating in Syria. We know that the situation in Syria is shifting, driving out a lot of the Islamic State and other armed opposition groups inside the country. This of course is the manifestation of a very complex geopolitical situation in the southern regions of Turkey.
It looks like [the attack] came from Islamic State. This family in the 1990s was driven out of its home in the Kurdish areas of Turkey and went to Gaziantep where they sought refuge. They are supporters of the Kurdish party. So the Kurdish community feels this is ISIS taking on the Kurds; because they were defeated in Syria they want to hurt the Kurds in Syria. - Kani Xulam from the American Kurdish Information Network
RT: We have seen a string of terrorist attacks taking place around the country recently. What has prompted the latest wave of terror, in your opinion?
AA: Well, one aspect of this latest development is the recent attempted coup last month in Turkey, which President Erdogan has blamed on the United States, saying that Fethullah Gulen, the leader of an Islamist movement in Turkey, is being supported by the CIA and they are attempting to overthrow the Turkish government. The United States has denied this, however, at the same time, they are refusing to return Mr. Gulen to Turkey, saying there is no evidence that he is actually involved in this coup.
Now the airbase there in Turkey – according to the government – was a base of operations for those who attempted to overthrow the government on July 15. So it's a very complicated situation. On the one hand you have the war between the Kurds and Turkey in the southern part of the country; you have a shifting military and political situation in Syria; and at the same time you have this conflict and strain of relations between Ankara and Washington. There is also a rapprochement between Moscow and Ankara. So it's going to have to be sorted out. We have not heard of anybody claiming responsibility for these attacks.
The statements, views and opinions expressed in this column are solely those of the author and do not necessarily represent those of RT.