Yemen bombing 'calculated war on entire people'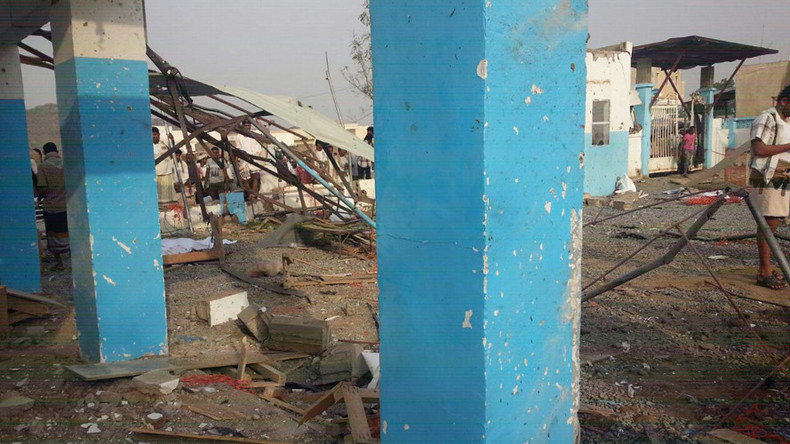 The Saudi-led coalition bombing Yemen knows the location of hospitals in the country, experts say, meaning the recently-hit MSF facility was likely a deliberate target and that both the bombers and the US - which coordinates the strikes - are responsible.
Saudi-led coalition air raids hit a Doctors Without Borders' (MSF) hospital in Yemen on Monday, according to MSF. At least 11 people were killed and 19 wounded.
Sara Flounders, from International Action Center, shared her thoughts with RT.
RT: This isn't the first strike on a civilian facility. With modern military equipment, isn't it possible to avoid miscalculations and to better plan targets of air raids?
Sara Flounders: It is not only possible, but it is absolutely urgent. It is impossible to imagine that these four strikes on different hospitals, four different times on hospitals in Yemen, and we should also bring in the Doctors Without Borders' hospital hit in Afghanistan. Even though again, and again and again they send the GPS coordinates and connected directly to US command.
But in Yemen – who really runs the whole bombing operation? Who refuels Saudi planes? Who gives GPS coordinates – that is the US. Saudi Arabia couldn't fly one plane without US assistance – both from military contractors and directly from the Pentagon. They can't refuel their planes without US assistance. The naval blockade is carried out by the US Navy. So they have mapped every corner of the globe and they have certainly mapped Yemen.
Just imagine that these strikes on hospitals, on schools, on food processing plants, and on water, which is the most precious resource in Yemen. Again and again what is being destroyed is the civilian infrastructure. It is a calculated war on the entire people, but especially hospitals. Hospitals are absolutely prohibited to strike under international law for any reason whatsoever. That goes back to the Geneva conventions, 1949, Article 19, and reiterated in 1977. The US has signed this, the world has signed these international conventions on war, and yet they are being directly violated. A hospital is a known location… So to imagine that it's an accident that they are hit and not just once… We know who is responsible: it is both the Saudi bombers, but it is also the US who is coordinating the Saudi bombing.
RT: The US State Department has already expressed concern over Monday's strikes, saying that they condemn all attacks on medical facilities. But they were supplying Saudi Arabia with weapons. How does their relationship work?
SF: It really works because it is profitable, for example, to General Dynamics. A new military contract, $1.5 billion in weapons sales to Saudi Arabia. That is not for the benefit of anyone except General Dynamics and their profits... The US is the largest weapon seller in the world today and that is the way weapon sales works. Any concern that is expressed – they know exactly who they are hitting.
Who, though, does the US fear in Yemen, and who does Saudi Arabia fear? They really fear the Ansarullah movement, which is an independent movement that is for democratic change in Yemen, and it is a large coalition force. That is what Saudi Arabia most fears as an absolute monarchy trying to press down the population that has no rights whatsoever. They fear a movement anywhere in the region that has independence and that represent the people in anyway whatsoever. In Saudi Arabia they are against the parliament in Yemen even convening a meeting again, which they have not been able to do for two years… they wanted to re-establish the parliament [but] Saudi Arabia opposed it.
Mistake excuse is long gone
Journalist Steve Topple believes the MSF hospital in Yemen was likely "a deliberate target."
"MSF's own statistics from last year say that 63 of their hospitals were bombed on 94 separate occasions. MSF give the coordinates of their facilities to both sides. The excuse that this is a mistake is now long gone in my opinion," he told RT.
The UN chief has urged a probe into an airstrike that killed 10 children just days ago.
RT asked Topple whether the international community is doing enough to investigate cases like this.
"The problem is – we've been here before," he said. "The conflict died down somewhat, and then we've seen this escalation are going in the past few weeks. Until there is a political solution to this, nothing is going to change. All sides need to get around the table. The UN has to intervene now, because it is starting again to get out of control."
Saudi Arabia has repeatedly been accused of war crimes; and yet the UK and the US are still selling their weapons to the country. According to Topple, the explanation for this is that "too much money" is involved and many decision-makers have interests in arms companies.
"Just a few weeks ago the US signed off an over US$1 billion contract to Saudi Arabia, which the US Senate suggested and now is considering blocking. However, the UK is wholly complicit in this. We sold nearly £3 billion worth of arms to Saudi Arabia since the Yemen conflict started," Topple said.
"You have to look at who's involved with this. If you look at the House of Lords in the UK, which is equivalent of the American upper house – around 20 percent of the peers who sit in there, the lawmakers, have vested interests in arms companies. When you have the likes of the Royal United Services Institute, RUSI, who advise the UK government and the US government on defense policy – they are sponsored by Lockheed Martin, Babcock, British Aerospace, Raytheon… The bottom line – too much money is involved in this. Unfortunately, what happens – children's lives go out of the window," the journalist said.
The statements, views and opinions expressed in this column are solely those of the author and do not necessarily represent those of RT.
You can share this story on social media: