'No graceful exit for Debbie Wasserman Schultz from DNC'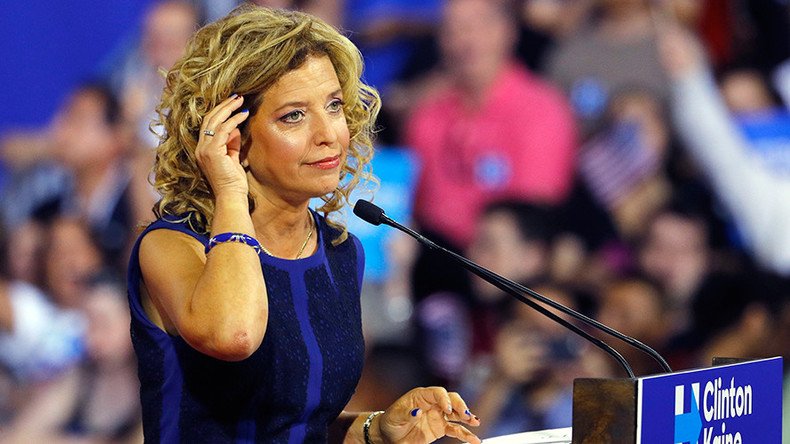 It's clear that Debbie Wasserman Schultz was using DNC resources to monitor our campaign, which would violate federal law, Florida Congressional candidate Tim Canova said on Larry King's program, Politicking.
Canova is accusing Wasserman Schultz, the ousted chair of the Democratic National Committee, of illegally using her former position to spy on his campaign against her.
Schultz was forced to step down following the release of leaked emails from Wikileaks. However, she remains an honorary chair of Hillary Clinton's presidential campaign and is an incumbent candidate for Florida's 23rd congressional district. Her primary challenger for that seat is law professor, Tim Canova, who was endorsed by the former presidential candidate, Bernie Sanders.
Canova has filed a complaint with the Federal Election Commission (FEC) against the former DNC chair.
Larry King: What facts do you have in the complaint, Tim?
Tim Canova: Our lawyers are preparing a complaint and we expect to file it early next week. When you look through the Wikileaks email releases you'll see my name comes up dozens and dozens of times. And it's clear that Wasserman Schultz was using DNC resources to monitor our campaign and develop strategy on how to respond to our campaign. The use of party resources for her personal campaign seems that would be a violation of federal law and we are preparing a complaint to the FEC.
LK: Have you been challenging her only since she got in trouble or have you been there from the start?
TC: From the start. I jumped into this race in early January and we picked up steam pretty quickly. We raised a million dollars before May 1st, if I remember correctly, all in small contributions. I have not taken a penny from any corporate interests. I've said I will not take money from political action committees that are funded by corporations… I challenged her to a series of debates months ago and she still has not responded whatsoever…
LK: Hillary Clinton has named Wasserman Schultz honorary chair of her presidential campaign 50-state program. What do you make of that?
TC: I think they were trying to find a graceful way out for Wasserman Schultz but there really was not a way for her to gracefully exit after this scandal hit. I can't imagine Clinton coming down here to campaign for Wasserman Schultz. You saw the kind of reception she got from the Florida delegation. She's highly unpopular around the country. I think she would drag down the ticket if she were to be very active publicly campaigning for Hillary Clinton. Hillary Clinton should be hoping I win this primary. We will bring a lot more voters to the polls than Wasserman Schultz…
LK: What do you make of the allegations that the DNC was hacked by Russian operatives that Putin is attempting to meddle in the election to help Trump?
TC: Your guess is as good as mine. I'm not sure what to make of it. We've seen over the last few years some major hacks of US government computers by the Chinese, maybe by Russians as well. So it's certainly possible. While I don't condone foreigners hacking computers here, I've been more focused on what the revelations actually have been. And it has been disturbing. It really reflects poorly on Wasserman Schultz's judgment and her character. You know, I'm not sure how folks will trust her in the future.
The statements, views and opinions expressed in this column are solely those of the author and do not necessarily represent those of RT.
You can share this story on social media: