'ISIS militants not happy losing human shields in Aleppo'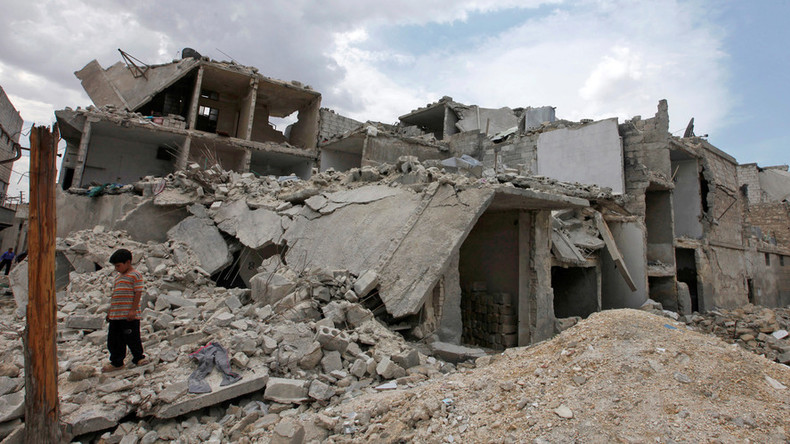 A Syrian-Russian humanitarian operation in Aleppo provides a chance for innocent civilians to move to safety, but risks remain high, Peter Ford, former UK ambassador to Syria, told RT.
Syria and Russia have launched a large-scale humanitarian operation to help civilians trapped in Aleppo.
Escape routes for civilians and militants ready to lay down arms will be created to exit the war-torn city.
"To assist civilians taken hostage by terrorists, as well as militants who chose to lay down their weapons, the Russian center for reconciliation of the warring parties, together with Syrian authorities, will open three humanitarian corridors there," Russian Defense Minister Sergey Shoigu confirmed on Thursday.
RT: What do you think of the Syrian-Russian aid initiative in the city? Will it help?
Peter Ford: Yes, it should help. A similar operation was carried out in Homs, extended over several months. And I fear that similar length and period will be needed in the case of Aleppo. But in the end it worked. And in a very bad situation it is something. So, there is some possibility for innocent civilians of Aleppo at last to move to safety, although they will continue to need humanitarian aid once they do move to safety.
RT: Do you expect militants to not get in the way of the aid operation?
PF: I would expect some of these groups to try to prevent civilians and their own fighters from taking advantage of the amnesty and the safe corridors which have been established. These groups have become masters at using civilians and the so-called moderate opposition fighters as human shields. They will not be happy losing the human shields. So, they may try to prevent it.
RT: What do you view as the main obstacle to a ceasefire in Aleppo?
PF: The main obstacle is Al-Nusra, the main group of fighters affiliated to Al-Qaeda. And the numerous so-called opposition groups, which collaborate very closely with Al-Nusra.
Meanwhile ISIS has released a gloating propaganda video showing drones, computers, bazookas and machine guns captured from Western-backed Syrian rebels.
Asked about how reasonable it is to send weapons to Syria given the risk of them ending up in the terrorists' hands, Ammar Waqqaf, the managing director at Gnosos, a think-tank specializing in Syria and the Middle East, told RT that "the issue is they are trying to be prudent about which weapons they would supply. They are trying to send weapons that wouldn't cause much havoc should they fall into the wrong hands. We've seen that there is much reluctance to send, for example, anti-aircraft, shoulder-held manpads."
"But at the end of the day they've realized that whatever they send, it is going to be falling one way or the other into the wrong hands whenever a battle takes place. But the most interesting thing about this video was not the weapons because that's pretty much what happens all the time. But ISIS captured videos of training by American and probably also British trainers to those people on how to use their bi-languages and what sort of messages they will be sending to fighters. This reveals a pretty much intense training operation that is taking place. And I think that is the main value of this video", he added.
The statements, views and opinions expressed in this column are solely those of the author and do not necessarily represent those of RT.
You can share this story on social media: