Belfast post-Brexit: 'We need national conversation regarding N. Ireland's future'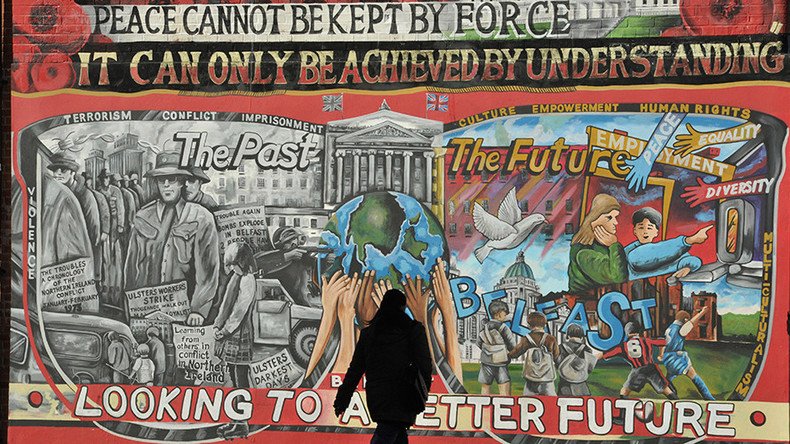 The Brexit vote has overturned the democratic will of the people of Northern Ireland to remain within the EU, which is a subversion of democracy, Declan Kearney, Irish Sinn Féin politician from the Northern Ireland Assembly, told RT.
Northern Ireland's Deputy First Minister has called for a referendum on the reunification of Ireland.
Sinn Féin President Gerry Adams - accusing English voters of dragging Northern Ireland out of the EU - has also called for a ballot to remain within the European Union.
RT: Do you think there's a chance that there will be a referendum on a united Ireland?
Declan Kearney: What has happened in the last 24 hours is a decision taken by the people of the north of Ireland to remain within the EU. We find ourselves in a situation where that democratic will is being subverted as a direct result of a vote which has been taken in England, which is effectively overturning the democratic will of the people of Northern Ireland to remain within the European Union. That dramatically changes the political and the economic circumstances within the North and for that reason, our party is now going to intensify our calls and campaign for the immediate invoking of a border poll under the provisions of the Good Friday Agreement.
RT: If Northern Ireland gets a referendum, how likely is the political landscape to change?
DK: The purpose of a border poll would be to a national conversation about the future constitutional makeup of the entire island of Ireland. What is very clear is that the subversion of democracy which has arisen as a direct consequence of this European referendum outcome, is that the Brexit decision is effectively for people in the North of Ireland the price of continued partition on the island of Ireland.
RT: Northern Ireland is an extremely complex and volatile issue. Can it be decided on one basic question, though?
DK: It is important to record the fact that the greater number of citizens who voted in the north of Ireland during this referendum supported the proposition to remain within the European Union. That means that Republican and Unionist citizens voted for that position: Catholic, Protestants, and those who have no political or religious affiliation. The greater majority of citizens stated that they clearly wished to remain part of the EU. And we do live in a divided society and significantly on the basis of transcending those divisions we made a decision that our future was best secured in the EU. That's what we mean when we say the circumstances have been changed dramatically. For those reasons, we are arguing that there now should be a border poll. Because we now have a situation where a majority of citizens - across the community and across political bases - are saying that they want something different for themselves. And in these circumstances that democratic expression is now being overturned as a result of a vote within England. The same thing is happening in relation to the people in Scotland.
RT: Do you expect anyone in Westminster to take notice of your calls?
DK: … The effect of this decision is that the projected 3.5 billion euros, which we would expect to see invested in Northern Ireland between now and 2020 from the European Union will now be placed at risk. And we are looking at a situation in the circumstances of a Brexit where there will be massive repercussions for the violability of the all-Ireland economic operation. There are currently 200,000 jobs on the island of Ireland which directly and indirectly depend on 1.2 billion euro worth of trade between the North and South of Ireland. And all of that now is being placed in jeopardy as a result of this decision. So for, a British spokesperson such as Theresa Villiers to assert that there should be no basis for a border poll and that she can say no circumstances which justify the requirement for a border poll, I say to that that is a position and an assertion without any credibility whatsoever.
The statements, views and opinions expressed in this column are solely those of the author and do not necessarily represent those of RT.
You can share this story on social media: