'France under orders from EU, won't back down to protester demands'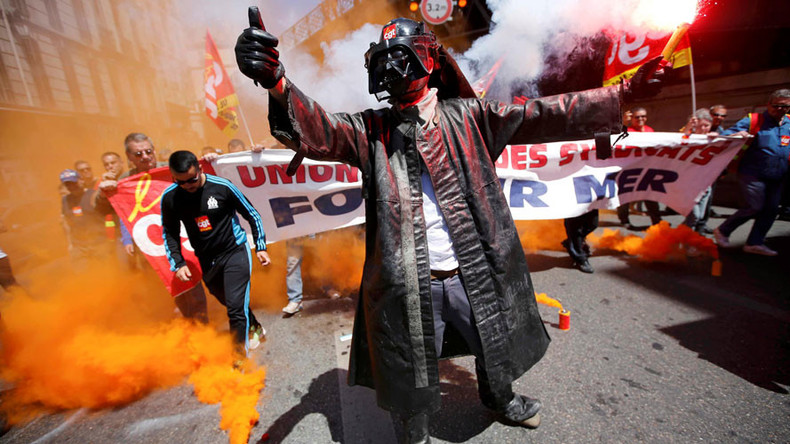 The strategy of the French government is to divide the population from the demonstrators because the majority of the population is against this reform, Claude Rochet, a professor at the Institute of Public Management in Marseille, told RT.
In France, almost half of the country's rail services have ground to a halt during more industrial action over labor reforms intended to extend working hours and loosen-up pay regulations. Other sectors are also disrupted as the stand-off between unions and the government escalates.
According to trade unions, around 30,000 protesters have gathered in the French city of Le Havre to protest against the controversial labor law plans. Some demonstrators used smoke bombs, bricks, and flares.
RT: Activists say that a few radicals are trying to hijack peaceful protests. Why would they do that?
Claude Rochet: I think the strategy of the government is to make a divide between the population and the demonstrators because the majority of the population is against this reform. This reform is imposed by… the French government for the modernization of the labor market and it is very unpopular.
RT: There seems to be a number of troublemakers participating in the protests with the purpose of stirring up trouble...
CR: Of course, but that it is a very old strategy of introducing provocateurs into peaceful demonstrations, a very old strategy. People are very angry against this reform, so the provocateurs gain momentum to make trouble with a double purpose – dividing the population and provoking anger among the policemen, because many of the policemen are not entitled to react to these provocations.
RT: Is there a chance the government will listen to the protesters' demands? If not, could the violence escalate?
CR: I don't think the government will give up – it has nothing to lose. Perhaps, it will dissolve the National Assembly so the right will win the new election and will have to carry out this reform. But they won't give up because they are under orders from the European Union.
The statements, views and opinions expressed in this column are solely those of the author and do not necessarily represent those of RT.