'US should run with Moscow's offer to cooperate in Raqqa'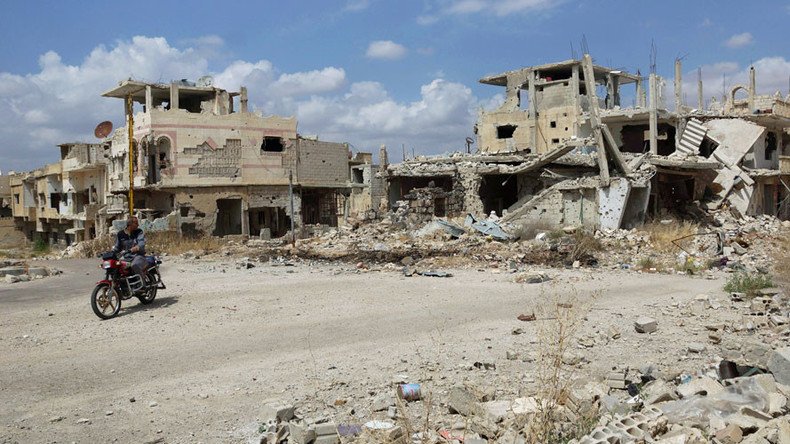 If defeating ISIS was truly a US priority, it would be logical to run with Russian FM Lavrov's offer to coordinate air support and ground forces in Raqqa, Syria, says Patrick Henningsen, geopolitical analyst at 21st Century Wire.
As an alliance of Kurdish and Arab fighters began an offensive on ISIS's de-facto capital, Raqqa, in Syria, RT discussed with experts what triggered the action and why it wasn't possible earlier.
RT: What in particular has played a major part in making this offensive on Raqqa possible after almost two years?
Michael Hughes, foreign policy analyst: Obviously, the Syrian Kurds are finally taking the initiative, going off on their own and saying "enough is enough". And that is a key part of it. And it is part of their goal - they want to establish a kind of their own federal republic in Syria. They want to drive out Al-Qaeda and ISIS. The Syrian Democratic forces… ironically a couple of weeks ago I had the pleasure of interviewing their president – the Syrian Democratic council co-president, and she was saying that the Kurds are deathly afraid not only of ISIS but Al-Qaeda establishing a headquarters in Syria. And she was saying that Al-Qaeda has been there since the beginning, but now they want to make it a base of operations. The Kurds are a big part of this and obviously the US strikes supporting them help. But Russian help, Syrian help could definitely and easily make this a quick battle.
RT: Russia has been pushing for cooperation with the US for a while now. Why do you think Washington was reluctant to coordinate action to free Raqqa before?
MH: I think they made a commitment to not coordinate with the Russians militarily because it is politically not feasible for them. De-confliction is ok. Maybe there could be a turn… [Earlier, Mark] Toner said that they were discussing it. He hinted that they heard Lavrov's comment about coordinating in general, not in Raqqa – he wasn't sure about Raqqa. But against ISIS in general, he said – "yes, we are discussing it" before even they were acknowledging his statement. The fact, that they are discussing it - it doesn't mean a whole lot but it is better than nothing. It is not the outright rejection, but the US certainly isn't eager to cooperate. Russian Foreign Minister Lavrov put that offer out there and it just seem logical for them to run with that if ISIS was truly their priority. And that's the question…
Russia prepared to coordinate w/ Raqqa offensive. Liberation could come earlier if US were more open to cooperation. pic.twitter.com/hPpHquin88

— Russian Embassy, UK (@RussianEmbassy) May 25, 2016
RT:What has changed to make this offensive on Raqqa possible after almost two years?
Patrick Henningsen, geopolitical analyst: There has been a lot of maneuvering especially on the part of the US really running air cover over this part of Syria now for almost two years. We have a split really between the two different Kurdish groups: in the north-west we Afrin Kurds and they are very close to Russia and Russia's forces right now. And we have the Rojava Kurds on the other side along the Turkish border who the US is working very closely with trying to form coalitions with the YPG and a number of other new groups which they call 'rebel groups' or the 'Syrian Democratic forces'. So, the US seems to be very intent on controlling the outcome of what happens in Raqqa in building the "Arab militia forces" or "friendly Arab forces" on the ground, but all the while completely ignoring the Syrian Arab army and the government forces. So, clearly the US is very interested in investing in certain outcome with regards to what happens in Raqqa and around Raqqa.
RT: Russia's Foreign Minister has said any operation to liberate Raqqa would be more effective if the US coordinated better with Russia. Why do you think Washington continues to be reluctant to do that?
PH: I think it was a very wise diplomatic move by the Russian diplomatic delegation to make that challenge to the US knowing for well that the US will reject it and deny it. What Russia is doing there is really exposing the US position. The US position has always been to try to create a situation where they would partition Syria at the end of this…
The statements, views and opinions expressed in this column are solely those of the author and do not necessarily represent those of RT.
You can share this story on social media: