Empty promises: Japanese rapes by US military 'just keep happening'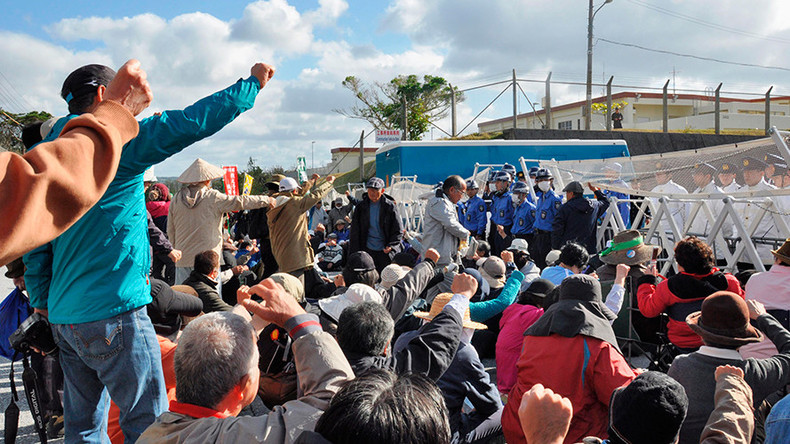 The only case that we've ever heard about was when somebody was able to win a court case, basically within the last 15 years was only my case. So what happens to the rest of the victims, asked Catherine Jane Fisher, rape survivor and women's rights activist.
Japanese protesters rallied on Friday after an American military worker confessed to killing a young Japanese woman. The former US marine is under arrest over the murder on Okinawa Island. Japan's Prime Minister Shinzo Abe also expressed his outrage about the incident.
RT: A large amount of people took to the streets to protest in Okinawa lately. How can you describe people's feelings?
Catherine Jane Fisher: At the moment everybody is really outraged about what has happened. This young woman should never have died. It's stunningly clear that these rapes and murders have been happening for over 70 years. The death of this woman is a responsibility of the Japanese government.
RT: Japanese Prime Minister Shinzo Abe said he is outraged at the murder of a 20-year-old Rina Shimabukuro. What do you make of that? Do you think that some measures are going to be implemented any time soon?
CJF: I think that the same rhetoric has been happening for the last 70 years, when the Japanese prime minister would come out, and the US military or government official would come out, and they will say the same thing over and over again: "We are angry about what has happened and this will never happen again!" But it has happened again. Now Ms. Rina Shimabukuro is dead, and that is just the same thing that keeps on happening every time.
The sad thing about it is that every time that there is an article in the media about how another woman was raped, then we never hear about the case ever again. What happened to all of these victims? The only case that we've ever heard about was when somebody was able to win a court case, basically within the last 15 years was only my case. So what happens to the rest of the victims?
RT: In your opinion, what should be done here for those situations not to occur again? How should the government act?
CJF: … I do believe that communication really needs to start happening. They need to stop trying to cover up the cases and we have to just start from the beginning. We really need to start educating people, starting from the police to the medical practitioners, to the judges, to government officials. Because they have basically said in conversations with me that they do not know how to handle military rape cases. Each time that it happens US military and the Japanese government ensure that it never happens, but it just keeps on happening.
I have the scroll. This is a data from, I guess, 1945, and there are young babies who have been raped; women who had babies on their back, women that were digging for potatoes; men that were rape victims…
Someone needs to start walking the talk. We need to have 24-hour government-funded rape crisis centers. And I have been advocating for that for the last 14 years. Each time the Japanese government says they are going to do something, and they haven't. I have also taken that into my own hands. And if the Japanese government is not going to set up these centers throughout Japan, then I have decided that I would make it myself. I have proposed to have it established in January of 2017, where victims of crime will be able to come to the center, and that they will know that they will be able to receive justice, receive medical help, be able to be put in touch with the legal team that would be able to help them.
This actually was the responsibility of the Japanese government to do this, and they have failed us all. Injustice to one of us is injustice to all of us. People who are not outraged about this, they are just not paying attention. The light has not been shone on Okinawa, but the more rapes that are brought to light then the less likely that these rape crimes are going to happen. Unfortunately, in the last 70 years the victims are just too afraid to speak out.
The statements, views and opinions expressed in this column are solely those of the author and do not necessarily represent those of RT.