'Suburban militants trained by Soros-backed groups to fight against French police violence'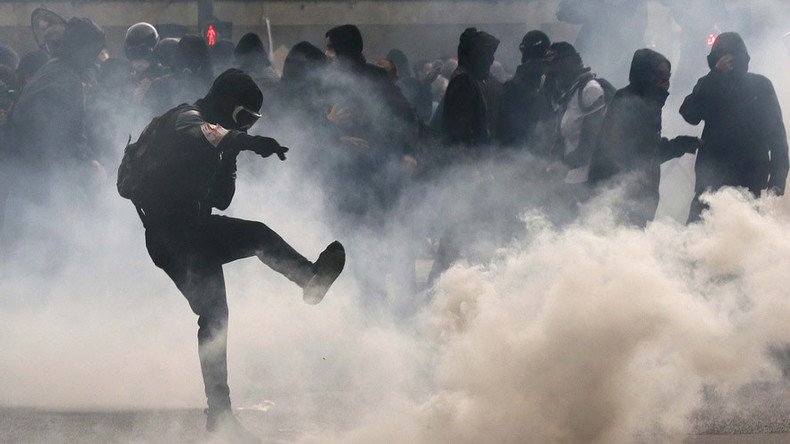 The violence in France today might be organized provocation, said Bruno Drweski, Nat. Inst. of Languages and Eastern Civilizations. It is easy to manipulate people's discontent, especially in the current situation of hopelessness, he added.
A number of French cities were hit Thursday by violent protests over government plans to reform labor laws.
RT: Do you think the government will be forced to listen to the peoples' demands?
Bruno Drweski: You really don't know what the government will do. Anyway we have in France very strong discontent. To a certain extent the way the manifestations are unorganized, it's helping the government in a certain way. There is no organized movement, organized strong social movement and organization against the law on labor regulation, which is very unpopular. So I don't exclude the government is using violence as a pretext to force its policies.
RT: Following weeks of protests the French government still managed to survive a no-confidence vote, does that mean support for President [Francois] Hollande is still in a reasonable state?
BD: I think the government is forced to a certain extent to introduce this law because of the European Union laws. The French government has no real power anymore – it's decided at the Brussels level. So they will be forced to organize that process of desocialization of the working laws. In that situation violence is helping them to a certain extent.
I don't exclude even that quite a lot of that violence is a kind of organized provocation. And it is not only limited to France. Two or three years ago I met suburban militants, which were trained in the US by [George] Soros foundations to fight against what they call 'French police violence'. So in a certain sense it has already been planned for a long time.
RT: And if it is working, do you think violence could escalate?
BD: Yes, of course it can escalate, because it is to a large extent an unorganized movement. And with an unorganized movement it is very easy for a provocation group to do what they want. You have a lot of people, and especially young people, which are strongly discontent about the situation in France. They tempt to violence.
It is very easy to manipulate their discontent, especially in the situation of hopelessness. And we are in a situation of hopelessness, because it is obvious that the French government doesn't lead the policies in France. France is part of the globalization; France is part of the EU process; people know that the different political parties existing now in France are not able to change anything.
The statements, views and opinions expressed in this column are solely those of the author and do not necessarily represent those of RT.
You can share this story on social media: