'NATO hardware in Moldova – cynical attempt to distort past for political purposes'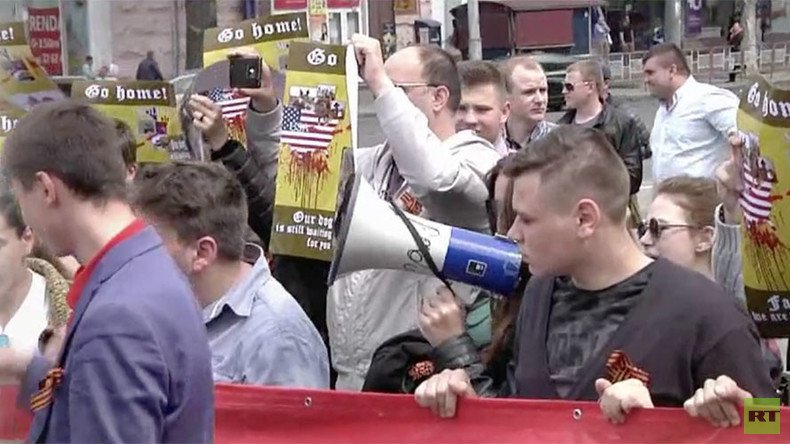 NATO's military vehicles on display in Chisinau, Moldova, on the eve of V-Day is yet another attempt to distort the past, to demonize Russia and undermine its image, says Srdja Trifkovic, a foreign affairs editor for Chronicles magazine.
Thousands of people were marching with photos of their relatives to remember those who took part in WWII in different cities all over the world. During the march of the Immortal Regiment in Moldova's capital, people paying tribute to their loved ones came face to face with NATO vehicles. After protests from the locals, vehicles were withdrawn and retreated outside the town.
RT: What were the motives for putting NATO vehicles on display and was timing ill-judged?
Srdja Trifkovic: It is to distort the historical memory because what we are looking at is a perfectly cynical attempt to distort the past for the sake of serving political purposes of the present. The one historical fact that these people don't remember is that 85 percent of German losses in WWII were incurred on the Eastern Front. President Obama stated amazingly on the occasion of the 70th anniversary of the landing in Normandy in June 2014 that it was the turning point of WWII. Had it not been for the D-Day landings, the Red Army would have washed their boots in the English Channel in the spring of 1946. There is no dispute among serious historians. What we are looking at is the attempt to systematically distort the past and to demonize Russia today.
RT: Who is pushing it? The President of Moldova earlier urged the country's Ministry of Defense to abandon plans to parade US military hardware and vehicles on Chisinau's main square on Victory Day. But it looks like the president was overruled. Who's calling the shots then?
ST: We don't even know who exactly is pushing it. We know the broad picture…In the memory of WWII, a pernicious role has been played by the key players in the Western media and public discourse who are systematically trying to undermine the image of Russia.
RT: Does Moldova need full NATO membership? What are the perceived dangers?
ST: NATO is not needed at all. NATO has been expanding ever since the promise by James Baker [former U.S. Secretary of State] to Mikhail Gorbachev more than a quarter of century ago that it will not expand. Because NATO's only purpose of existence is to turn Russia into a threat. And …as [long as] there is Russia in whatever shame and form, NATO has the only raison d'état, the only excuse for existence. But I am sure that unresolved issue of Transnistria also plays a role. But…it is not the threat to Moldova's existence…
The statements, views and opinions expressed in this column are solely those of the author and do not necessarily represent those of RT.
You can share this story on social media: