'If Merkel wants refugee labor, let them fly to Germany on Lufthansa!'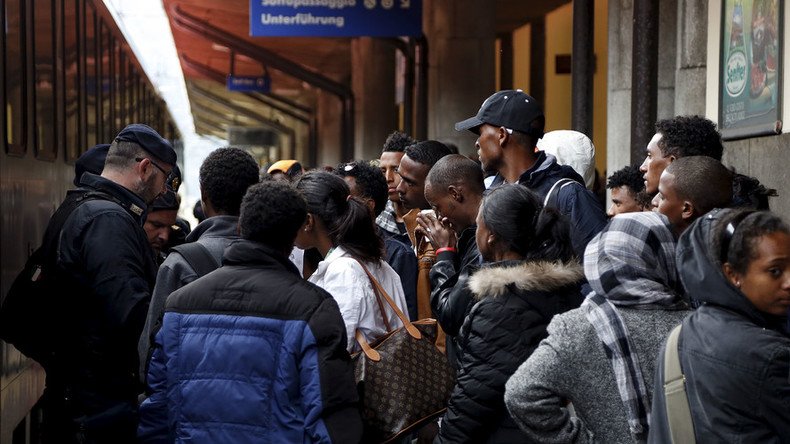 Europe wants a restrictive policy on refugees because small countries like Austria cannot handle unlimited number of arrivals, Laszlo Maracz, assistant professor of European studies at the University of Amsterdam, told RT.
Tensions are rising at the Brenner Pass between Austria and Italy. Earlier, Austria announced it was putting up fences at one of the busiest routes between the two countries in anticipation of a large influx of migrants. Italy and Germany are opposed to Austria's plan.
RT: Do you think we'll see more countries start to lock down their borders?
Laszlo Maracz: Basically, a number of countries already have installed a border controlling regime. This can be tightened further, I think. But the most important thing is whether the external borders of Europe – the Schengen borders - will be protected. And we see that after a failing Greece, now we have a failing Italy. Italy is clearly the weakest element in this chain. So, I think Italy should reconsider to leave the Schengen zone because it is not ready or not able to protect its borders.
RT: What do you think has been thought of before? The Schengen zone, this territory of the number of EU nations that allowed people in the EU to move in and out without being stopped. It has been in place so many years now. Why do you think there was no any kind of preparation for this?
LM: I don't know. What I can see is that some countries have been benefiting from this human trafficking - like Greece, Turkey – receiving all these euros from Berlin and Brussels. Italy also made a good business out of this in the past year. By closing the Brenner Pass they might lose the business and the refugees might be stranded in Italy.
RT: But it's not as though those countries have been attracting these people coming in. Italy and Greece and a number of other countries have suffered with the number of migrants just arriving, they've had to cope on their own until now…
LM: Of course, they could have asked for help but they were not ready to do so. The Italian border guard has been acting actually more like a rescue team, which is understandable because of the human tragedies in the Mediterranean Sea. But on the other hand, their legal duty is to protect the borders of Europe. So, if countries are not willing or ready to do so, then the question is: should Europe intervene or should other countries like Austria have the right to close, for example, the Brenner Pass and erect its own border protection in the heart of Europe?
Alexander Markovics, spokesperson, Generation Identity (Identitarian movement) told RT: "Barbed wire is not a scaremongering but simply political realism, since we have seen the terrorist attacks in Brussels, in Paris and the so-called 'Shame of Cologne' when more than a thousand refugees raped and sexually harassed women, so barbed wire is the only solution to guarantee the security in Europe."
RT: They've kind of stuck now: on the one hand, Austria is going it alone and Brussels and other EU countries can't really turn around and support Austria…It would just open the gates for others to do it?
LM: I don't think Austria is alone. We have seen the Visegrad four countries building a really important massive robust block protecting Europe. The Balkan route has been closed because of the Visegrad countries - Hungary, Poland, Czech Republic, Slovakian and Austria- have been cooperating. So, I think if Austria will be in need, I don't think the Visegrad countries will leave Austria alone because Austria has also supported these countries in closing the Balkan route.
RT: What next? Where is this going to take Europe?
LM: I think the citizens of Europe want to have a restrictive policy. Because it is quite clear that small countries like Austria and the Netherlands cannot have unlimitedly many refugees or migrants pouring in. That's impossible. We ask for a more soft policy and more restrictions. If countries are in need of labor force like the Germans have said all the time, then they should go to the refugee and migrant camps and pick up these people with Lufthansa. But to have this stream of illegal migrants wandering through Europe and bringing a lot of insecurity, I think that's not right way to go. The leaders in Brussels they speak about the symbolic value of the Brenner Pass, the symbolic value of Schengen, but we are a bit tired of symbols, we want to have concrete actions, we want to have a restrictive policy, we want our leaders to show that they are in control of these issues.
The statements, views and opinions expressed in this column are solely those of the author and do not necessarily represent those of RT.
You can share this story on social media: